Sweetnight Prime Memory Foam Mattress – four comfy beds in one, somehow
A remarkable memory foam bed with four different firmnesses, suiting pretty much everyone.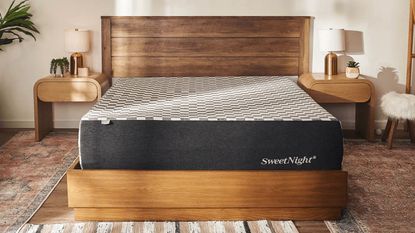 (Image credit: Sweetnight)
This innovative mattress suits almost everyone and is ideal for couples with varying preferences of mattress firmness/squishiness.
Reasons to buy
+

Supportive all the way to the edges

+

Four sections of varying firmness to appease everyone

+

High quality stitching and fabric to last
Reasons to avoid
-

If you roll around quite a bit and end up on the other side, you won't be in your firmness zone anymore

-

You can't combine a very firm and very soft setting all on one side
You can trust Homes & Gardens. Our expert reviewers spend hours testing and comparing the latest products, helping you choose the best for you. Find out more about how we test.
Sign up to the Homes & Gardens newsletter
Decor Ideas. Project Inspiration. Expert Advice. Delivered to your inbox.
Thank you for signing up to Homes & Gardens. You will receive a verification email shortly.
There was a problem. Please refresh the page and try again.
I had to look twice when I saw an email about a mattress with four different firmness levels – how was this possible? Would my partner and I finally resolve our decades-long bickering about what makes a 'good' mattress?
The SweetNight Prime Memory Foam Mattress has four 'firmness profiles'. There's a soft layer on one side, which you can flip over for a firmer surface. If you then rotate the mattress, you can change the profile for side sleepers or for back sleepers. That means four different firmnesses all in one mattress.
I tested this mattress for several weeks and found that by just flipping the mattress you can find the exact surface to meet your needs. It's a great choice if you aren't quite sure which softness you need. It's also great for someone person who might have changing needs and preferences throughout their time using the mattress.
For example, if someone has a hip injury, and needs a softer mattress for a period of time while they recover, they can do that without having to purchase a new mattress. While it's probably overkill to buy a whole new mattress for pregnancy, I happened to be pregnant as I tested this and found it helpful to change the firmness of the bed as my body changed. It's also great for a guest room, because you can fit your guests' exact preferences and make sure they get a great night's sleep.
About this review
About this review
Alex Frost
Alex is a 35-year-old mom, wife, and journalist in Cincinnati with five kids under age eight, an old, achy, back, and a passion for product reviewing. She tested this product for more than a month at home and in her camper, and continues to admire its support and quality during longer term testing.
Product specs
Swipe to scroll horizontally
| | |
| --- | --- |
| Firmness: | 4 profiles |
| Type: | Foam |
| Construction materials: | Gel memory foam |
| Sizes: | Twin, Full, Queen, King |
| Height: | 10" or 12" |
| MSRP: | $919-$1532 |
Who would it suit?
Side, back, and front sleepers
Most beds can't do it all, but with the varying profiles and firmnesses, this one can accommodate each of these types of sleepers. As someone with hip issues, I choose the softer quadrant when those are flared up, but when my back is hurting and I need a more structured sleep, I move to the firm quadrant. The mattress has enough support to keep a stomach sleeper from having an uncomfortable arch in their back, as well.
Partners who can't agree
The entire point of the mattress is to accommodate multiple people or one person with multiple needs. So it's great for partners with differing needs, unless you are this specific combination: someone who wants a very soft mattress and someone who wants very firm (those two quadrants aren't on the same side).
Those who struggle with motion transfer
Unlike some other mattresses I've tested, this one has little motion transfer. I tested this by having one kid jump around while I tried to rest on the other side — relaxing, right? It actually wasn't bad, because I wasn't sinking into the middle or being physically disrupted by the extra motion, which is rare.
People who run hot at night
This mattress is much more breathable than some other memory foam options, with that top layer of gel infused cooling memory foam. It allows for heat to dissipate rather than increase your temperature further, so it's ideal for sleepers who run hot.
Spaces where more than a few people are using the mattress
If you run an AirBnB, have a guest room, or otherwise need a mattress that can accommodate many preferences, this is a helpful choice. My family owns a camper and lots of different people use the space, so I tested this mattress for some of the time in there. Some of the feedback from friends and family who used it included: "Supportive" and "Cool that it has different sections." However, one couple mentioned that they wish they could have a firm and soft side together for those with vastly different opinions.
Is a SweetNight mattress worth it?
If you are finished bickering with your partner about mattress firmness, or you are in a stage of life where you have varying needs for different days, months, or potentially in the upcoming years, then this mattress is for you. The four-quadrant system is ideal for giving you variety and the ability to customize your sleep experience, the multi-layer system is high quality, and the mattress is exceptionally supportive.
Setting up the Sweetnight
Buyers should feel good about giving this one a go, as it has a 10 year warranty and a 100 day risk free trial, with the promise of a full refund if it's not for you. Also, most of the time the mattress is delivered in 3-5 days, so there is limited wait time between purchasing and using.
The mattress comes in a convenient box, and it was ready and at its full size much sooner than anticipated. I only know because my kids were elated to find a new jumping pad in their playroom, where I thought it would need much more time to off-gas and expand. The mattress survived their shenanigans unfazed, and headed to the bedroom. If my kids love a mattress, it's generally supportive and has lots of great give, as opposed to some that are like flat, limp, foam pads. So through my annoyance with them I was glad to see I was dealing with a supportive product.
You can set up your mattress with or without a box spring, and you really don't need to wait the 72 recommended hours, because the mattress is at full expansion much earlier than that. But the company recommends waiting at least six hours to ensure there aren't any new product odors or compression from the transport process. Set up simply involves opening the box, giving it this time to air out, and then it's ready to go.
What it's like to sleep on?
Potential buyers might wonder how firm is 'firm'. I'd say the firmest layer is far from the firmest bed I've ever tried, which in most cases is a benefit. I've often thought I want a very firm mattress until I try the firmest in a mattress store, and realize it's a bit like sleeping on a rock. This is not quite that firm, and doesn't exacerbate or contribute to flare ups of painful pressure points. Similarly, the softer settings aren't so soft that you aren't supported, so all four quadrants are helpful levels of firm. The company promotes the mattress as a "high density" option, and it feels exactly like that when you sleep on it. This isn't a light or airy mattress, but one with lots of depth and support.
I happened to be at the end of my fifth pregnancy for part of the time testing this, so pressure relief and support was top of mind. In pregnancy, your hips, back, stomach, legs, and pretty much most of your body needs some assistance to truly relax and sleep pain-free. I was pleased to find that each quadrant offered various help with this, from softer quadrants supporting the hips to firmer ones easing back pain.
This is bed has amazing edge support, and you can tell just by tying your shoes as you sit on the edge of it. You won't sink off the sides, because the support goes all the way to the edges, especially on the firmer sides. This is helpful if you are someone who sleeps on or near the bed's edge, so all parts of the mattress are equally high quality.
Some mattresses claim to be breathable, but both the material of the cover and the top layer contribute to this one actually deliver on this promise. I wasn't as hot on this mattress, which is also partially because I didn't sink overly far into the soft quadrants, which can also contribute to too much heat.
The multilayer design contributes to this mattress' supportive feel. In addition, it's designed with safety in mind, as the high density foam is certified by CertiPur-US and it's fiberglass free. In addition, the cover is antislip, which is helpful if you have a bed frame without sides (a drop-in style). The product also has a OEKO-TEX Certification, and is eco-friendly.
How does the SweetNight Mattress rate online?
On their own website, the product has received 4.8 stars, with 40 reviews. One calls it the 'most comfortable mattress I've ever slept on,' elaborating on the memory foam conforming to their body, and contributing to pain relief. Another says while it isn't a 'complete game changer' it has dramatically improved their sleep compared to their old mattress. Many reviewers speak to waking up with less pain and more energy.
Sign up to the Homes & Gardens newsletter
Decor Ideas. Project Inspiration. Expert Advice. Delivered to your inbox.
Alex Frost is a Cincinnati-based journalist and content marketing writer who specializes in medical/health, mental health and wellness, parenting and relationships, education, trends, business, and lifestyle writing. You can find Alex's work in Huffington Post, The Washington Post, Glamour, Parents, Women's Health, Reader's Digest, Popular Science, and Today's Parent, among other publications.