What is a mattress in a box? Is it the right choice for you?
This is everything you need to know before ordering a mattress in a box. Learn more about the price, performance, and whether a cheaper bed is truly worth the investment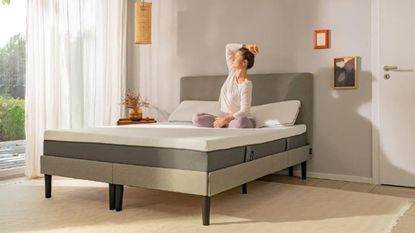 (Image credit: Emma)
Sign up to the Homes & Gardens newsletter
Decor Ideas. Project Inspiration. Expert Advice. Delivered to your inbox.
Thank you for signing up to Homes & Gardens. You will receive a verification email shortly.
There was a problem. Please refresh the page and try again.
A mattress is a box is a fairly new phenomenon to the mattress world. Where once you had to work out how to get a bulky mattress into your home – requiring planning, logistics, measurements, and usually help from a second willing participant, a mattress in a box takes away the hassle. You can simply order a mattress online and have in delivered, in a box, to your doorstep.
Not only are mattresses in a box easy to order and set up, they also tend to be one of the cheapest mattresses available, but this puts some people off who worry that a lower price means lower quality.
However, that doesn't mean that there aren't loads of great quality options out there, some of the best mattresses we have tested have been delivered to us in a box and there are types to suit all sorts of sleepers.
Here, we break down exactly what is a mattress in a box, plus the pros and cons so you can decide if it's the right mattress type for you.
What is a mattress in a box and how do they work?
Good sleep shouldn't be complicated, and the mattress in a box is a testament to that. 'It is a mattress that's compressed, rolled up, and shipped in a box,' explains Jill Zwarensteyn, certified sleep science coach at Sleep Advisor. 'They are typically sold online and are exactly the same as other mattresses – the only difference being that they're shipped to you in a box.' This is as opposed to a mattress that arrives already unfolded, which, as you might know, can be trickier to transport.
In terms of material and structure, they vary. The mattress in a box name refers to how they are packaged, but they can really be any type of mattress, apart from an interspring mattress as these aren't exactly rollable. The most common and usually the best box mattresses are memory foam and hybrid mattresses.
There's another key factor to beware of – you usually can't sleep on them straight away. 'When the mattress arrives, you have to unwrap it and then let it unroll and expand to its full size,' continues Zwarensteyn. 'The time it takes to fully decompress will vary among brands, but most reach their full size within a day or two – if not sooner.' Something to consider, if you don't have another option to temporarily sleep on.
Jill is a Certified Sleep Science Coach and the Editor for Sleep Advisor. She is enthusiastic about providing helpful and engaging information on all things sleep and wellness. Based in Los Angeles, Jill is an experienced writer and journalist who enjoys spending her free time at the beach, hiking, reading, or exploring.
What types of mattresses can you buy in a box?
Choosing a mattress in a box may be a cheaper and more convenient option, but that doesn't mean they aren't quality products, and they can provide the perfect mattress for better sleep. You still have plenty of options in terms of material and construction so can find a mattress to suit you and your sleeping position.
'You can find all types of mattresses in a box, such as memory foam, latex, hybrid and innerspring beds,' points out Zwarensteyn. 'Companies that stock them include budget and high-end brands, as well as everything in between.'
What are the benefits of a mattress in a box?
'When a mattress arrives at your home in a box, it can make it easier to transport it from your doorstep to your bedroom,' explains Zwarensteyn. 'They are also usually sold online, directly from the mattress manufacturers rather than in retail stores – this is helpful because it cuts down on overhead costs, which often means lower prices for consumers. Most online mattress brands offer generous trial periods that give you plenty of time to test it out at home.'
And there's variety too. There are not so many options that you feel overwhelmed, but most brands will do at least a couple of options for mattresses in a box to suit different styles of sleepers. As you would when buying a traditional mattress look at the firmness (most box mattresses have a soft medium - medium firmness) and note any other features too, like a cooling top layer and what the construction of the layers are so you can get an idea of what level of support they offer.
We will say, overall we have found box mattresses to be very comfortable to sleep on. Of course. comfort is subjective when it comes to mattresses but if you opt for a good quality mattress in a box, from a reputable brand (we know it can be tempting to save here, but remember a mattress is an investment piece that will get a lot of use so don't go too cheap) you will find it provides great night's sleep. Mattresses in a box are usually made up of layers and tend to be memory foam and as we have mentioned you can find options that include cooling layers and more specific qualities if you need them.
Are there any drawbacks to buying a mattress in a box?
'After the mattress is unwrapped and starts expanding to its full size, it often produces an initial chemical smell,' warns Zwarensteyn. 'This is because it's been compressed in order to fit into the box, which means the chemicals in the mattress are trapped. After unboxing, those chemicals are released into the air, which is known as off-gassing.' While it's a normal process – particularly with memory foam and polyfoam – that usually goes away within a few days, it can be bothersome to those who are more sensitive to smell or who want to use the mattress sooner rather than later.
Additionally, while many brands usually offer a generous trial period, not all do, so read the small print. 'One of the cons of buying a mattress in a box is that you don't get to test it out in person before purchasing it,' notes Zwarensteyn. 'If you're going to buy one, I recommend making sure it has a good trial period and return policy just in case you don't end up liking it.'
Also, consider your current bed frame type. Box mattresses may need a more supportive base as they do have a tendency to sink into whatever surface you put them on. Platform beds are ideal for a mattress in a box, and if you don't have this set up you may need a box spring to up the support of your current frame. The manufacturer should offer these kinds of details when you buy, so be sure to find out what base your mattress needs before you buy as it will vary.
Finally, if you are a hot sleeper, a mattress in a box may not be the best option. As with any memory foam mattress, the risk is that hugging, sink-in feeling will not help with regulating temperature. However, you can find box mattresses that balance this with a cooling layer, so if you sleep hot look out for that spec.
How do you unbox a mattress?
'My first recommendation is to have someone help you move the mattress to the bedroom, unbox it and place it onto your bed frame,' says Zwarensteyn. 'Even though it can be easier to transport the mattress when it arrives in a box than a traditional mattress, the larger varieties can still be pretty heavy, and you want to avoid sustaining any injuries while setting it up.'
Zwarensteyn continues: 'You should also check with the manufacturer to see how much time they say the mattress will need to expand to its full size, and then give it the appropriate period to fully decompress. Also, if you purchase one that contains synthetic materials like memory foam or polyfoam, you should let the mattress air out before placing any sheets or other bedding on it to help get rid of the chemical smells – and I would also leave a window open for better ventilation.' You'll be ready for a good night's sleep after all that...
The best mattresses in a box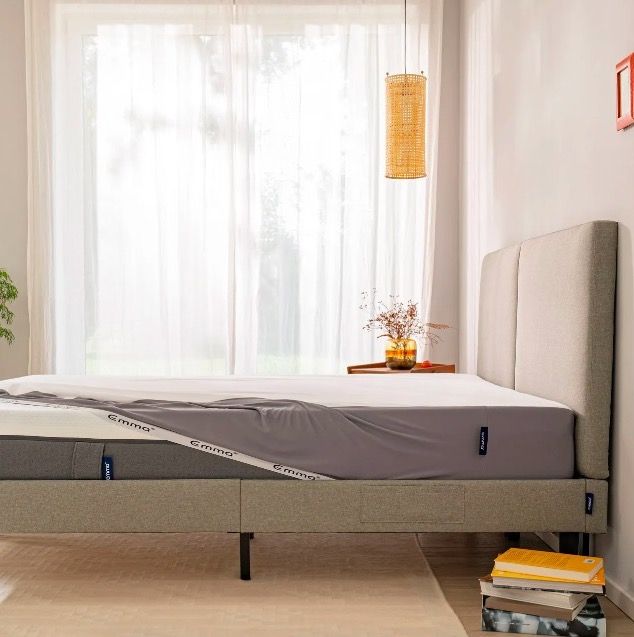 Sizes: Twin, Twin XL, Full, Queen, King, Cal King
Depth: 10"
Type: Memory foam
Comfort: Medium-firm
Sleep Trial: 100 nights
Warranty: 10 years
This mattress 'instantly impressed' our tester Chiana Dickson, who found that even just sitting on this box bed was comfortable. A medium-firm bed, it gently cushions you without the sinking feeling of some memory foam mattresses. It's springy and responsive, bouncing back to form, and always feels stable and secure.
We have a full Emma Original Mattress review for more details.
Sizes: Twin, twin XL, full, queen, king, Cal king
Depth: 10"
Type: Memory foam
Comfort: Medium
Sleep trial: 180 nights
The stand out feature of this mattress is its price. While, mattresses in a box are generally cheaper than innerspring or non-box types, the Siena is a great mattress for under usually $500. It's new to the market and already has great reviews – our tester was impressed by its performance despite the low price.
Find out more in our full Siena mattress review.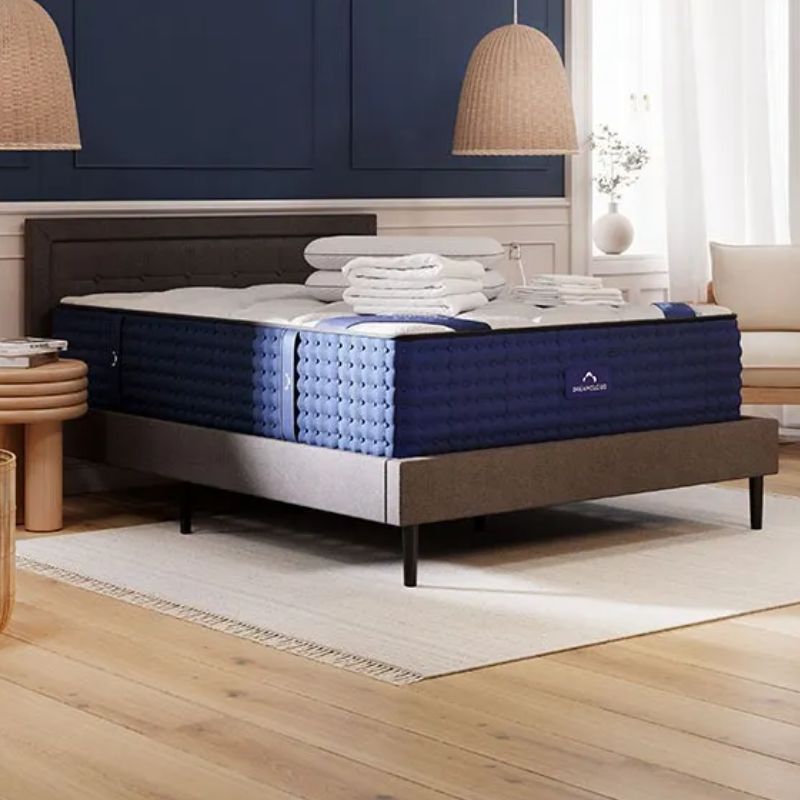 Size: Twin, Twin XL, Full, Queen, King, Cal King
Depth: 14"
Type: Hybrid
Comfort: Medium (6.5)
Sleep Trial: 1 year
Warranty: Lifetime
Not only does it look the part, but its cashmere-topped cover will keep you warm in the winter and cool in the summer, and the quilted memory foam offers great pressure relief. For around $800 this mattress suits pretty much any sleep style. It skews to medium-firm, sitting in the sweet spot between too-firm and too-soft.
There's more info in the full DreamCloud Luxury Hybrid review.
Mattress in a box FAQs
What are the costs of a memory foam mattress?
A mattress in a box can be a really affordable mattress option and prices can start from around $150 and the higher quality options can be over $1,500. So the price really does vary. The cost will of course be determined by the size you are after and what material and construction will suit you best.
How long will a mattress in a box last?
The fact that a mattress in a box, comes in a box shouldn't really affect the life span of your mattress, it's more about the quality and the materials used. On average a mattress should last around eight - ten years.
---
Beds in a box are a great choice, but while they're cheaper and easier to set up than other mattresses, they may not work for you. If you'd rather not skimp on something that you'll use every night, it's worth considering the best luxury mattresses, too.
Sign up to the Homes & Gardens newsletter
Decor Ideas. Project Inspiration. Expert Advice. Delivered to your inbox.
Lauren Clark is a freelance writer and editor with more than eight years of digital and print journalism experience. She covers all aspects of lifestyle, specialising in health and wellness topics, and her work has previously been published in titles such as Women's Health, The Times, Daily Telegraph, Stylist, Woman & Home, Grazia and Dazed.