Café Couture Oven with Air Fry Review: looks like a beauty, cooks like a beast
The Café Couture Oven with Air Fry effortlessly combines form and function for effortless cooking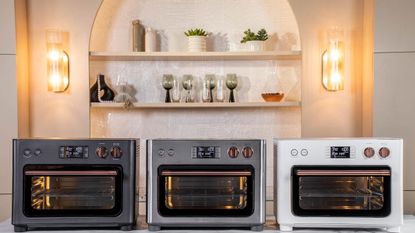 (Image credit: Café)
This space saving multi-functional toaster oven can air fry, broil and oven cook, so long as you don't want to cook for a crowd. It performed pretty well in our tests but there are a few frustrating features and the air fryer mode was unimpressive.
Reasons to buy
+

Fancy-schmancy design

+

Wi-Fi connect enabled for SmartHQ App

+

Remote enable feature

+

Lightweight

+

Cord wrap on rear of oven

+

Control lock feature

+

Adjustable alarm volume and brightness display

+

14 cooking modes
Reasons to avoid
-

Pricey

-

Could be too small for large families
Why you can trust Homes & Gardens Our expert reviewers spend hours testing and comparing products and services so you can choose the best for you. Find out more about how we test.
Next to the oven – and then the microwave – the invention of the countertop oven is perhaps the best thing to happen in the world of cooking. A countertop oven cooks food as well as a full-size oven, and like a microwave, is much smaller and much faster. But unlike a microwave, it cooks evenly and doesn't make food taste rubbery.
The Café brand is known for making stunning kitchen appliances that work as well as they look. In February 2022, Café introduced the Café Couture Oven with Air Fry, and I was excited to see if it would continue the tradition of effortlessly combining form and function among the best countertop toaster ovens. I tested the appliance for several days, making some of my favorite dishes.
I have also had the opportunity to review the Café Affeto Automatic Espresso Machine and also the Café Specialty Drip Coffee Maker. Both received a 5-star rating for an elegantly-designed, high-quality coffee appliance that's an absolute pleasure to operate.
Below I describe what I liked and didn't like about the Café Couture Oven with Air Fry.
Café Couture Oven with Air Fry specs
Model Number:
Capacity: .8 cubic feet
Cooking modes: Air fry, convection bake, convection broil, bake, broil, warm, toast
Temperature Range: 80°F-450°F
Size: 13.1 W x 5.0 H x 12.4 L inches
Weight: 28 pounds
Power: 1800 W
Accessories: Heavy-Duty Wire Rack, Baking Tray, 12-inch Pizza Pan, Air Fry/Dehydrate Basket, Crumb Tray
Warranty: 1 year
Our reviewer
Our reviewer
Terri Williams
Terri hates cooking – but loves testing kitchen appliances. She's tested over a dozen countertop ovens, and has written buying guides on countertop ovens and other kitchen appliances and home goods for several popular websites.
Terri was allowed to keep the Café Couture Oven with Air Fry, so she'll be able to test it long-term, and if necessary, will provide updates on the appliance's performance.
First impressions
The Café Couture Oven with Air Fry was packaged so securely that the box was too tall to fit on my kitchen countertop. For a brief moment, I was concerned that I wouldn't be able to test it. However, once I got the oven out of the box, I had plenty of clearance.
The appliance has a striking appliance. It's made of cast iron aluminum, and I have the model with the stainless-steel finish, but it's also available with a matte black or matte white finish. Each model has polished copper blade knobs, and a brushed copper tube handle with polished copper end caps – continuing Café's tradition of copper accents on all of its appliances.
The Café Couture Oven with Air Fry includes a variety of accessories, including a heavy-duty wire rack, baking tray, 12-inch pizza pan, air fry/dehydrate basket, and crumb tray. There's also an owner's manual and recipe book with a variety of recipes, including Maple Cayenne Wings with Aji Verde, Pimento Cheese Stuffed Sweet Peppers with Hot Honey, Miso Sesame Salmon with Wasabi Cream, and Lemon Cream Tartlets with Roasted Strawberries.
The 1800-watt appliance has a temperature range of 80 degrees to 450 degrees. The oven's capacity is 0.8 cubic feet making it smaller than some 1 cubic feet competitors, but it can hold a 12-inch pizza, a 9 x 13 inch pan (with no handles), or up to 6 slices of toast.
The oven has a built-in WiFi module, and there's an option to download the SmartHQ App, which is convenient for remotely monitoring and controlling the oven. Using the app, it's easy to adjust the oven temperature, adjust the cooking time, and stop the cooking cycle.
However, there's also an additional step required before the oven can be remotely started: the remote enable mode must first be activated as a safety measure.
Use of the SmartHQ App is optional, and the oven can also be controlled via the oven's control panel.
Cooking in the Café Couture Oven with Air Fry
The controls are on the front of the oven, and include the start button and cancel button on the left side of the control panel. The square in the middle of the control panel contains the buttons for the oven light, settings, convection fan, and crisp finish – and the control display is also in this section.
The control display shows the temperature, remaining cooking time, cooking mode, and also indicators for convection, WiFi, remote enable, oven light, control lock, preheat, crisp finish, and the press start reminder and progress bar.
On the right side of the control panel are two copper dials: one is for cook mode, and the other is for the cooking settings (temp/time and slices/shade).
The Café Couture Oven works with the brand's SmartHQ app, which enables you to operate your oven via your phone and applies to a wide range of GE appliances. The app also enables voice control and remote programming, and facilitates software updates.

Air Frying Salmon in the Café Couture Oven with Air Fry
Since the oven has an air fryer, my first cooking test was to air fry some salmon so I could brown it. The air fry mode does not require preheating the oven. I lightly seasoned the salmon, put it in the oven, and chose the air fry mode – which also turned on the convection fan. In addition to a timer, there's also a progress bar that makes it easy to see what stage of cooking the food is in. I was pleasantly surprised how well the salmon turned out. The exterior was slightly firm and the interior flaked quite easily.
(Note: there's also an option to turn the convection fan off if you don't want to use it, and the volume on the oven alarm can be adjusted as well.)
Baking Pizza in the Café Couture Oven with Air Fry
A few days later, I used the pizza mode (instead of the bake mode) to make a pizza. The pizza mode is generally used for cooking frozen pizza, but I tried it with a fresh, semi-homemade pizza. This pizza consisted of store-bought pizza dough, and then I added tomato sauce, shredded Mozzarella sauce, chopped peppers – and then I threw half a cup of chopped pears on top for extra flavor.
I kept checking on the pizza to be sure it was cooking evenly, since the pizza mode also turns on the convection fan. There's an oven light button, but I also opened the door once or twice. Note: whenever I opened the door, the cooking time paused and the oven stopped heating (so I stopped doing that!) but everything resumed when I closed the door. When the pizza was done, the crust was browned and crispy, and the Mozzarella cheese (my favorite part of any pizza) was melted to perfection, while the other toppings were baked just right.
Broiling Chicken in the Café Couture Oven with Air Fry
When I grabbed the bag of refrigerated chicken to broil in the oven, I discovered that some of the pieces had frozen (good to know my fridge is working!). So I actually cooked a combination of refrigerated and semi-frozen chicken at the same time (which is admittedly tricky). The broil function does not require pre-heating, so I placed all of the chicken pieces on the tray and put it in the oven. I took the tray out when the refrigerated chicken was done to take a photo. (The refrigerated chicken is on the right and the frozen chicken is on the left.) Then I took the done chicken off the tray and put the tray back in the oven so the other pieces could finish cooking. Both times, the chicken was juicy and flavorful.
Baking Cookies in the Café Couture Oven with Air Fry
I used the cookies function to bake cookies (instead of the baking function). Baking cookies requires preheating, and after that cycle was over, I put the tray in and set it for 12 minutes. The cookies came out crunchy on the outside, and the chocolate chip morsels were gooey and delicious. I should also note that even with cooking modes that require preheating, if you press the start button again, it skips past the preheating mode and starts cooking immediately. There's also an option to turn the preheat setting off completely for all cooking modes. I'm not sure why someone would want to do this, but wanted to let you know that option does exist.
Cleaning the Café Couture Oven with Air Fry
A soft cloth (or sponge) and soapy water are all that's needed to clean the oven's interior and exterior. The removable crumb tray can also be washed with a soft cloth/sponge and soapy water. However, it should not be placed in the dishwasher. The company states that the other accessories can be put in the dishwasher but recommends handwashing to prolong their appearance and lifespan.
How does it compare?
I've tested dozens of countertop ovens, including June, Wolf Gourmet, Breville, Tovala, De'Longhi Livenza, Fotile Chef Cubii, Tovala, and Ninja. The Café Couture Oven with Air Fry certainly has what it takes to compete with the best of them.
Just being a smart oven is a feature that puts it in an elite class. Admittedly, it doesn't detect food like the June Oven – but it's also several hundred dollars cheaper. In terms of actual function, the closest competitors are Wolf Gourmet, Breville, and De'Longhi. Wolf doesn't have any many functions – but does have a temperature probe (and swappable knobs), although it's also more expensive. The Breville Joule is also smart and has guided recipes, but that one is also more expensive. The De'Longhi Livenza is closest in price (and has 10 functions), and in a head-to-head matchup, it would be hard for me to choose between the two.
Should you buy the Café Couture Oven with Air Fry?
Most of the countertop ovens in this price range are durable and attractive. However, if you like bells and whistles, the Café Couture Oven with Air Fry is definitely worth a long, hard look. It's stunningly beautiful, and will definitely look good on any countertop. Beyond that, it's a smart oven, and can be operated remotely. The control lock feature, along with the ability to adjust the brightness and volume are other features that increase functionality.
The countertop oven is lightweight and has a smaller interior – and for large families this may be a negative, but for those without a lot of countertop space, it could be another factor in the oven's favor. Bottom line: it looks good, it cooks well, and it's smart.
Terri Williams is a journalist with real estate, home improvement, and product review bylines at Architectural Digest, Real Simple, Realtor.com, Bob Vila, Yahoo, MSN, The San Francisco Chronicle, The Houston Chronicle, and Apartment Therapy. She also covers business topics, with bylines at USA Today, The Economist, US New & World Report, Verizon, and several other brands that you've probably heard of. Follow her adventures on Twitter.