Explore Christian de Sica's magnificent villa in Capri with views over the Bay of Naples
D.H. Lawrence was once a frequent visitor...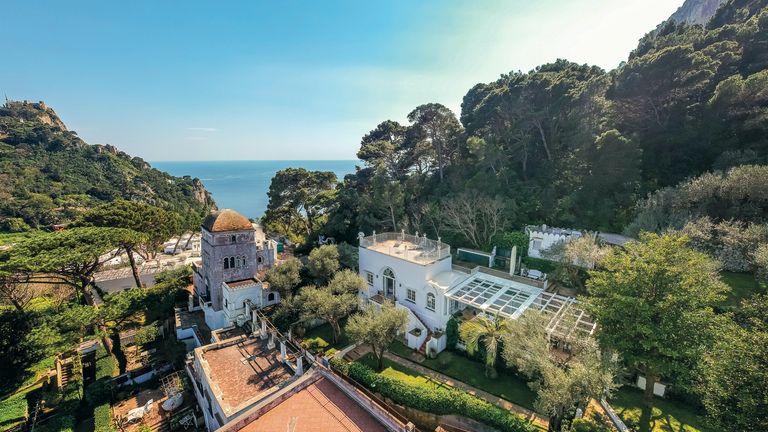 (Image credit: Lionard)
An incredible villa on the exclusive island of Capri owned by Christian de Sica has come to the market for the first time since 1996.
The home boasts panoramic views over Capri, the Bay of Naples and the Gulf of Salerno, and there are two terraces from which to soak up the glorious views of the azure sea.
Surrounded by a splendid garden with citrus and olive trees, lemon trees, and lavender and rose bushes, you're surrounded by the fragrant scents of the island.
See: World's best homes – tour the globe's most amazing houses
'The first time I saw Capri was when I was nine,' says Christian De Sica. 'I went there with my mother to visit my father Vittorio De Sica on the set of the film The Bay of Naples in which he starred with Sophia Loren and Clark Gable.'
Since then, the island of Capri has been the protagonist for much of the private life of the famous actor, comedian and showman Christian De Sica and his wife Silvia Verdone.
The villa is part of the historic residence 'The Four Winds', one of those that contributed to the myth of Capri, designed and built by the American symbolist painter and poet Elihu Vedder, between 1900 and 1903, on the slopes of Mount Solaro.
The Four Winds was a long-stay residence for the writer D. H. Lawrence who worked here on the drafting of his famous book Lady Chatterley's Lover here.
The entire property changed hands again at the end of the 1930s, and continued to be frequented by many artists, including Joseph Beuys (who has dedicated one of his famous works to Capri) and Cy Twombly.
See: Living room ideas – clever ways to decorate living spaces
Spread over 250sqm, the villa is divided over two floors and boasts high vaulted ceilings and large windows, creating a bright, light-filled space.
On either side of the expansive living room, two large terraces offer the perfect spot for al fresco lunches and lounging.
The roof boasts another amazing terrace while, nearby, an outbuilding with pretty mosaics is used as a spa.
The villa is a short walk from the famous Piazzetta di Capri, and offers a rare opportunity to own an exclusive home on an upscale island.
See the full listing at Lionard Luxury Real Estate.
Who is Christian de Sica?
Christian de Sica is an Italian actor and director, known for known for The Tourist, Faccione, and Il conte Max. He is the son of the great Italian director Vittorio De Sica-best known for his landmark post-WWII neorealist films Shoeshine and Bicycle Thieves.
Ruth Doherty is an interiors writer who has worked for Homes & Gardens and Ideal Home magazines among many others.