WOW!house 2023 launches at London's Chelsea Harbour – see the work of the world's best designers
It's that time of year again, we take a tour of the much-anticipated WOW!house event at the Design Centre, Chelsea Harbour in London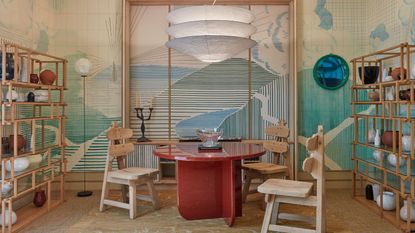 (Image credit: WOW!House / James MacDonald)
Sign up to the Homes & Gardens newsletter
Decor Ideas. Project Inspiration. Expert Advice. Delivered to your inbox.
Thank you for signing up to Homes & Gardens. You will receive a verification email shortly.
There was a problem. Please refresh the page and try again.
London's Chelsea Harbour plays host to WOW!house again from this week. Building on the success of last year's inaugural event, WOW!house 2023 showcases 18 extraordinary rooms by world-class designers – some, such as Nicky Haslam, established luminaires; others are rising stars – all in a huge show house space.
The rooms, designed in collaboration with 12 luxury brand room sponsors, take visitors on a journey of discovery – calm and classical spaces are juxtaposed with dramatic and elaborate rooms. Each concept has a design takeaway, so visitors will leave with fresh ideas and inspiration for their own homes.
Here, we take a closer look at what you can expect to see – plus you can book talks, private room tours and more – H&G is hosting a tour and ceviche class in the Martin Moore kitchen by Henry Prideaux on Monday 19th June – at the WOW!house talks page. WOW!house closes after Thursday 6th July.
The Legend Room by Nicky Haslam and Colette van den Thillart
Invited to create the inaugural WOW!house Legend Room, interior designers Nicky Haslam and Colette van den Thillart have conjured up a theatrical salon to delight the eye.
'This room is a prelude to the many to come,' says Haslam. 'It needs to have diverse areas to suit diverse activities... reading, studying, gaming'.
The dining room by Joy Moyler Interiors
New York-based interior designer Joy Moyler has combined a bold color palette with strong architectural details to create a space that will tempt you to stay long into the night.
'I carved this niche in the Dining Room as an ode to Christian Dior,' states Joy. 'I love the idea of stealing away from the crowd after a wonderful meal for a little bit of a gossip,' she adds.
Look up for a beautifully textured ceiling.
Fromental courtyard by Maddux Creative
Given free access to Fromental's extraordinary archive, designers Scott Maddux and Jo Le Gleud were, they say, 'like children in a sweet shop'.
Taking the delicious treasures they found there as a starting point, they collaborated with Fromental to produce brand new textures, fabrics, patterns and effects for the space. This room has been nicknamed 'The 3am Room'.
The Martin Moore kitchen by Henry Prideaux
Kitchens are the heart of every home and, since this home is the WOW!house, that heart has a glorious, glamorous beat. Interior designer Henry Prideaux's starting point was room sponsor Martin Moore's 'New Deco' kitchen. Inspired by the architects and craftsmen of the 1930s, the custom-built , handcrafted cabinetry and free-standing pieces have 'great shape', says Prideaux. 'Every room needs to include something that's going to draw your eye, something to catch your interest,' he adds.
---
You can see the De Gournay Morning room (top). This chimerical space is the creation of Waldo Works.
'We wanted a light, bright room to while away the morning comfortably daydreaming' says Tom Barlett.
The starting point was the scenic wallpaper 'Drafting Room', which de Gournay transposed onto 'Satin Grey' dyed silk from Bartlett's line drawings. It's a true room with a view.
---
But we don't want to give everything away...
Needless to say, there are many more fabulous spaces, including the Iksel entrance foyer by Mark D Sikes; the C&C Milan Salon by Nicolò Castellini Baldissera; the drawing room by Vanessa MacDonald for Melissa Wyndham; the Drummonds principal bathroom by Barlow & Barlow; the Colony by Casa Luisa principal bedroom by Natalia Miyar; the Alexander Lamont + Miles + Lauren Hwang New York day room by Timothy Mather Design; the House of Rohl bathroom by Studio Mica; the Gosling Library by Tim Gosling; the study by Clare Gaskin Design; the dining room by Martin Hulbert and Jay Grierson of Martin Hulbert Design; the De Le Cuona bedroom by Christian Bense; the home bar by Tala Fustok; and the Summit Furniture Terrace by Studio Winch.
The show house closes at the end of the day on Thursday 6th July; advance booking is recommended.
Sign up to the Homes & Gardens newsletter
Decor Ideas. Project Inspiration. Expert Advice. Delivered to your inbox.
As the UK's first-ever home interest magazine, Homes & Gardens has been shaping British style for 100 years. Our core pillars are inspirational interiors, stylish decorating, beautiful gardens and fascinating stories. With the values of timeless style and considered elegance at our heart, we show an affection for heritage whilst also championing the future, from emerging designers to latest trends. The Homes & Gardens website brings all our beautiful content online, with a focus on stunning room ideas, expert advice from interior designers, architects and design professionals, and more practical expertise, too, on caring for and improving your home. Our website is updated and added to daily and we're delighted to welcome more than 6 million readers monthly. Of course, we've assembled a cracking team of experts in their fields to deliver all this stunning inspiration to you, and we'd love to introduce them. Their contact details are below, too.