Everything you need for the ultimate at-home tea station, plus be in with a chance to win a luxurious tea and kitchen bundle
The morning rush will be pleasurable with a well-organised tea zone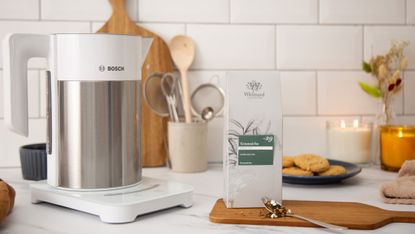 (Image credit: Bosch & Whittard of Chelsea)
Whether you love an English Breakfast or an Earl Grey, a dedicated tea station should be in your kitchen design plans. Flexible by nature, tea stations are easy to create and will suit any style of kitchen, no matter the size.
If you always wanted somewhere to indulge in a coffee morning, then you are in luck. Kitchen appliance experts Bosch have teamed up with the tea connoisseurs at Whittard of Chelsea to share their expertise on what makes the perfect tea station. Plus, if you enter the competition below, you could be in with a chance to win the ultimate kitchen and tea bundle worth £1000, including one of Bosch's smart Sky Kettles.
1. Ensure you have the perfect appliances - and tea
In the flurry of action in the mornings before work and school, it makes complete sense to have your tea station organised in one place to get the day off to an ordered, easy start.
The perfect cup of tea often starts with the perfect kettle. Smart and stylish, the new generation of electric kettles can heat water to exactly the right temperature for the perfect brew. The Bosch Sky Kettle, with an automatic switch-off, cordless design and a 360-degree base that makes it suitable for both left and right-handed users, is an optimum choice for tea enthusiasts. The lid opens at the touch of a button which means that filling the kettle with water should be as convenient as possible.
Along with the right kettle, making the perfect cup of tea also comes down to choosing tea that prioritises flavour, and with Whittard of Chelsea, it is hard to go wrong.
When Walter Whittard launched his first London shop in 1886, his philosophy was simple: buy the best. It's a philosophy that's stayed close to Whittard's heart since then, driving their belief in quality, heritage and innovation. Today their world-class range of tea satisfies every curiosity and taste – from classic English Breakfast tea to creative cold brew flavours and unique blends.
2. Create an efficient layout
Ideally, position the station close to where you will eat breakfast – whether it's at an island or a table – and, if you can, out of the main cooking area of the kitchen. This makes it quick to get another slice of toast, and also easy to make a cup of tea without getting in the way of someone at the oven or hob. The best breakfast and tea cupboards always have a fridge nearby for milk.
3. Get the size right
The optimum size for a breakfast cupboard is 1,400-1,500mm wide, offering a good amount of storage and a pleasing look with perfectly scaled panels for the doors, although a 900-1,000mm single-doored cupboard also works well in narrower spaces. You should also consider the height of what you would like to store on the counter, as this will dictate the placement of the shelves above. Finally, make sure that the countertop is deep enough to accommodate the appliances without having to move them around to close the cupboard doors.
4. Invest in clever doors
For ease of access to the cupboard's contents, consider bifold doors that tuck back out of the way without obstructing other furniture, or tall cupboard doors that open and then slide into 'pockets' at the side. Pocket doors are particularly useful in high-traffic areas of the kitchen or in long runs of furniture, where you need to be able to move freely from zone to zone without having to work your way around awkward doors during the morning rush. Simply pull the doors closed, so that the contents are neatly concealed when breakfast is over.
5. Opt for space-saving solutions
If you don't have room for a full-size tea station or cupboard, consider a smaller alternative, such as an area on a corner of the worktop tucked behind a pull-down shutter or lift-up door, or a pull-out shelf. A slide-in and-out corner cabinet can be an "appliance garage", making somewhere to put the kettle and tea caddy that generally clutter up the worktop. It is easy to pull out the shelf during a busy breakfast time then push it back into the cabinet and close the door when the tea is made.
Competition
The tea and kitchen bundle will allow one lucky winner to create wonderful creations in the kitchen and Whittard of Chelsea has many recipes for inspiration. These include a range of teas that have been incorporated into a variety of delicious recipes. Between the 10th to 18th October, you can enter here for the chance to win a hamper worth over £1,000, including:
The Bosch Sky Kettle, Bosch Sky Toaster, Bosch Kitchen Machine with Scale and, Bosch Ergomaster Hand Blender. Plus, a Chelsea Glass Teapot with Infuser, Arran Mug, Whittard Famous Tea Collection, English Breakfast 50 Traditional Teabags, Classic Green Tea 50 Traditional Teabags, Peach, Raspberry & Rose 20 Individually Wrapped Teabags, and Matcha.
Terms & conditions
This is a consumer-only prize draw. No purchase is necessary. This is open to all UK consumers. Entrants opt-in to the prize draw when they complete an entry form via the Bosch website from an email they receive from subscribing to the Bosch newsletter or by clicking on the link to enter on Instagram social posts between 10th October to 18th October 2023. All entries will be entered into a prize draw and the winner will be selected at random by 24th October 2023.
Sign up to the Homes & Gardens newsletter
Decor Ideas. Project Inspiration. Expert Advice. Delivered to your inbox.
As the UK's first-ever home interest magazine, Homes & Gardens has been shaping British style for 100 years. Our core pillars are inspirational interiors, stylish decorating, beautiful gardens and fascinating stories. With the values of timeless style and considered elegance at our heart, we show an affection for heritage whilst also championing the future, from emerging designers to latest trends. The Homes & Gardens website brings all our beautiful content online, with a focus on stunning room ideas, expert advice from interior designers, architects and design professionals, and more practical expertise, too, on caring for and improving your home. Our website is updated and added to daily and we're delighted to welcome more than 6 million readers monthly. Of course, we've assembled a cracking team of experts in their fields to deliver all this stunning inspiration to you, and we'd love to introduce them. Their contact details are below, too.