6 floral finds from LoveShackFancy – to inspire a Spring awakening in your home
Bring botanical bliss to all tablescapes with LoveShackFancy's luxurious linens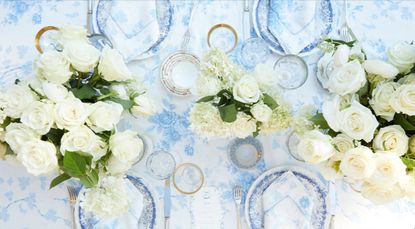 (Image credit: LoveShackFancy)
We're nearly a year into this 'new normal', but it goes without saying that there are a few activities we still miss from our pre-pandemic days – and the one topping all of our lists is entertaining.
It's not merely holiday gatherings or neighborhood get-togethers we're aching for, but the pleasure of preparation, too – decorating our homes for social occasions is an activity we love.
Which is why we're loving this new range from LoveShackFancy (opens in new tab), which includes everything from timeless tablecloths to perfect place settings.
Since its inception in 2013, LoveShackFancy – recognized for its stylish silhouettes and floral finds – has become a household name for dressing our homes for favorite occasions.
The brand's latest homeware collection includes everything from chic tablecloths to beautiful bedding, so you can dress your home from head-to-toe in only the most exceptional pieces – and to give it the fresh start and spring awakening it needs.
Whether you're hosting this week's family Zoom night or looking for a way to lift spirits, these six buys will romanticize your home in all the right ways.
1. Invest in a timeless tablecloth
For those hoping to create the most picturesque tablescape, we strongly recommend investing in the most terrific tablecloth of them all. Destined to provide the most fashionable foundation, we're certain guests will be marveling over it for days to come.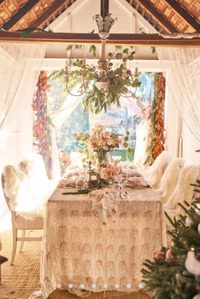 (opens in new tab)
Washed Rose Tablecloth (opens in new tab) for $195, at LoveShackFancy
Brighten up any occasion — or tablescape — courtesy of this linen covering (opens in new tab). Inspired by floral and vine prints, this striking statement piece comes prepared in five distinct versions — all determined to create a long-lasting impression.
2. Opt for a smaller, more versatile covering
Inspired by the first selection but find that your table is a bit on the smaller side? Rest assured and reach for this smaller rendition that's equally as captivating.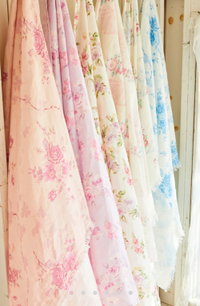 (opens in new tab)
Happy Thoughts Printed Linen Throw (opens in new tab) for $175, at LoveShackFancy
In collaboration with Kassatex, all four of these printed linen throws (opens in new tab) are as endlessly versatile, as it is beautiful. Measuring in at 58"x58" — making them perfect for a nap on the beach or picnic — this super-soft covering is simply stunning.
3. Top off tables with this floral find
Keep the botanical bliss consistent throughout tablescapes by pairing your tablecloth with a matching napkin; it's the strikingly subtle statement that will make a world of difference.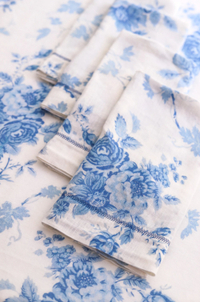 (opens in new tab)
Washed Rose Napkin Set (opens in new tab) for $125, at LoveShackFancy
Sweeten up any table with this floral printed napkin (opens in new tab). Package in sets of four and detailing a hand-stitched trim; this perfect piece is the trendy tabletop accessory you'll be reaching for on repeat.
4. Reach for this perfectly plush piece
Continue infusing your home with botanical bliss by implementing a fresh floral find such as a hand towel. Proper for both bathroom and kitchen use, this multi-functional item is nothing short of a worthwhile investment.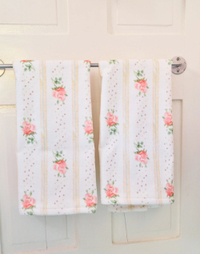 (opens in new tab)
Peony Garden Hand Towel (opens in new tab) for $25, at LoveShackFancy
Measuring in at 20"x30", this timeless treasure — or floral hand towel (opens in new tab) — is the stylish statement that should be warmly-welcomed in every room of homes.
5. Find comfort under this chic cover
Whether you're relaxing on the sofa or looking for another layer of bedding, a quilt — or duvet — is the perfect piece to have readily on hand.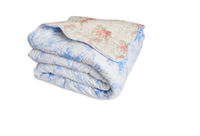 (opens in new tab)
Gordon Quilted Blanket (opens in new tab) for $295, at LoveShackFancy
Cozy on up under this reversible duvet (opens in new tab)that brings both comfort and chicness when used. Available in two sensational editions, there is no wrong way to go when selecting.
6. Retire to this perfectly plush pillow
A good pillow is hard to come by, and a good pillow that's also fashion-forward? Even more of an impossible task — or so it was until we spotted this perfectly plush pillow.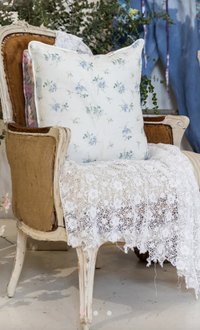 (opens in new tab)
Peony Garden Pillow (opens in new tab) for $125, at LoveShackFancy
It's impossible not to be blushing over this sweet pillow. (opens in new tab) Designed in pure cotton, this 18"x18" pillow offers a hand-painted watercolor floral print and ready in three different variations.
Brittany Romano wrote for Homes & Gardens as a U.S. Shopping Editor. A graduate of New England College, Brittany started her career as a freelance fashion market assistant at Marie Claire. She later joined AMI, where she designed a highly profitable commerce vertical. Noted for her award-winning content, she's covered everything from celebrity beauty hacks to the most lavish home decor.