Four beautiful ways to refresh your home for spring with OKA
Step into spring with OKA's new elegant and charming spring collection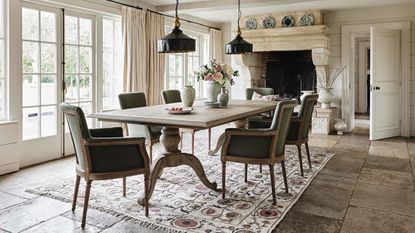 (Image credit: OKA)
Spring is finally upon us and with that the start of new beginnings. Its highly-anticipated arrival is marked by new life, and an abundance of colour, sound and scent – it's the perfect time to cast an eye around your home to decide what needs refreshing or revamping. Simple changes will work wonders and new soft furnishings are an easy way to revitalise any room, but you might be looking for a bigger change with a redesign, a different colour scheme and new furniture.
Whether you're updating a room or going for a completely new look, you'll find a wealth of inspiration at OKA, both in-store and online. Its expert designers and buyers recognise that beauty, style and comfort go hand in hand, and have produced a spring collection with this in mind. Continuing its distinguished design tradition, OKA's new collection is filled with fresh colour palettes, floral motifs, and organic textures to emulate nature's transition indoors.
1. Layer natural materials
Unsurprisingly, natural materials have been at the forefront of our decorating agendas for quite some time. Put sustainability, longevity and craftsmanship at the heart of your furniture by refreshing your space with OKA's latest offerings, which have been made to last a lifetime.
Focal points in interior design are vital to anchor a room, and there's nothing like OKA's Coleridge Armchair – which has been a best seller since its debut in 2018 – and has now been updated with striped upholstery, featuring horizontal dashes in place of straight lines.
Getting the furniture and feel right in a snug room is vital, so make this a welcoming space for light reading with the Cynara Floor Lamp. Finish off with the Kaliveli Rug, handwoven from jute and cotton and an ideal choice for those wanting to introduce elements of craftsmanship into the room.
2. Refresh with spring colour
As we slowly leave behind the cold, grey days and hibernation of winter, it is the perfect time to focus on spring colour, and how you can give your home a joyful refresh for the season. Now is the optimum time to reflect these seasonal changes through palettes of fresh colours inspired by the natural world.
Repainting your home is often a time-consuming process, but there are plenty of ways to ring in the new shades of the season. The gloriously rich hues and subtle pastels that feature in OKA's new spring collection will lend themselves to just about any setting.
An artisanal hand-knotted jute runner will help to establish a relaxed, rustic atmosphere. Complement this with the Brantwood Armchair in sage. With roots in the natural world, green is a grounding and comforting shade that connects us with the landscape, which is something we crave in changing times. Finally, introduce a playful colour contrast with the pastel pink Ghini Feathers Cushion, and add character with the popular Rander Ceramic Stool. This versatile piece will add a layer of fun to any space, whether indoors or out.
3. Freshen up with floral motifs
It's all in the detail when it comes to decorating with floral motifs, but the key is to be confident. They can be the stars of the show or used to temper bolder designs - the effect will be uplifting either way.
Flowers are an exquisite and easy way to add life and natural beauty to your interior space, and there is no better room than the bedroom. The Sheki Throw, with its charming folk-style aesthetic, will bring pattern and texture to your space with effortless elegance.
4. Dress your home with botanical prints
The beauty of botanicals is endless. From arboretum-inspired motifs to hothouse plant life, foliage takes on a fresh look this season at OKA. It's time to welcome all things bountiful and pleasant into the home.
There is undoubtedly myriad of ways to introduce botanicals in your home, but this Framed Pressed Flower Print, in particular, is one of our favourites for welcoming in the new season – providing the perfect finishing touch to your new spring-infused space.
---
OKA's reputation for unique and stylish furniture and accessories goes from strength to strength as its discerning team continues to create collections that will transform your home.
To see the full Spring Collection online at oka.com/new, or head to one of OKA's nationwide stores.
As the UK's first-ever home interest magazine, Homes & Gardens has been shaping British style for 100 years. Our core pillars are inspirational interiors, stylish decorating, beautiful gardens and fascinating stories. With the values of timeless style and considered elegance at our heart, we show an affection for heritage whilst also championing the future, from emerging designers to latest trends. The Homes & Gardens website brings all our beautiful content online, with a focus on stunning room ideas, expert advice from interior designers, architects and design professionals, and more practical expertise, too, on caring for and improving your home. Our website is updated and added to daily and we're delighted to welcome more than 6 million readers monthly. Of course, we've assembled a cracking team of experts in their fields to deliver all this stunning inspiration to you, and we'd love to introduce them. Their contact details are below, too.