British style: Chesneys
Founded back in 1986 in London and with showrooms in the US and China, Chesneys specializes in everything from fireplaces to new heating technologies. We take a look at its history and heritage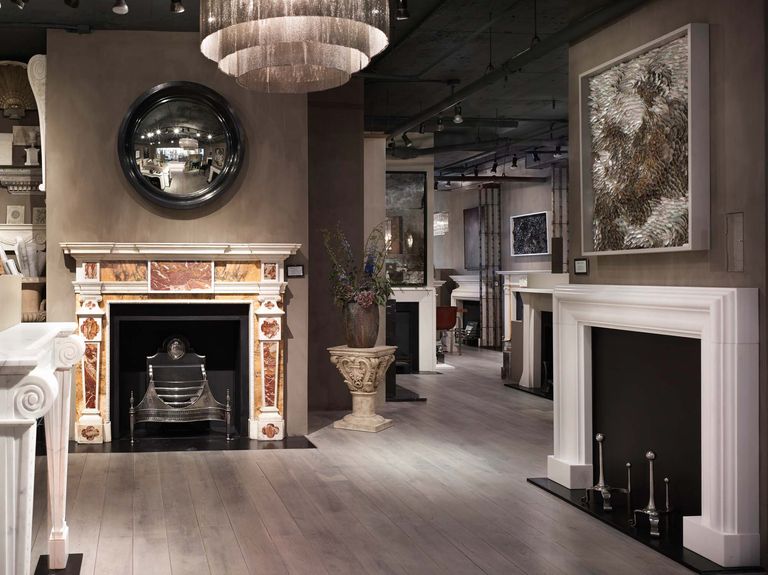 (Image credit: Chesneys)
Chesney's is a London-born, family-run business that specializes in fireplaces, stoves, outdoor fires, all types of alternative and heating technology as well as surrounds, grates, baskets and settings. 
Selling from showrooms and stockists throughout the world, and with a showroom in New York (top), at its core lies an uncompromising commitment to craftsmanship, engineering and innovative British design – all fundamentals of superior interior design.
The beginning
Chesneys was founded in 1986 by Paul Chesney (above). Having studied law at Cambridge and subsequently training to become a lawyer/attorney after becoming disillusioned with the profession, he pivoted into antiques.
It was while ambling along a residential street in Shepherd's Bush, west London, that Paul spotted an antique fireplace lying in a skip bin that gave him an idea. At the time, Londoners were busy ripping out historic features in their Victorian terraced houses in favor of a cleaner, more contemporary look. Skips were full of these discarded items.
With permission from the builder, Paul took the fireplace home and installed it. From a young age, he'd been interested in architectural history and already had a sound understanding of period details. Just days later while walking around Camden Market, Paul saw similar fireplaces on sale for a few hundred pounds. The idea to set up an antiques business specializing in these was born.
Chesneys: the early years
Originally known as the Antique Fireplace Warehouse, Paul Chesney spent the first few years deepening his understanding of history, quality and provenance. This was still a time when the last of the rag-and-bone men could be seen walking around the streets of London selling their wares to merchants on the back of carts.
As the appetite for his fireplaces grew – by the 1990s, fashions had changed and there was a desire to put back original fittings – Paul established a small workshop in London focussed exclusively on reproducing English fireplaces to sell alongside the antiques.
Changing the name of the business to Chesneys, they started to make pieces in marble and limestone from quarries in Portugal and China – the latter had the benefit of skilled artisan stone carvers. The focus of the team was to create pieces that were both finely crafted and historically accurate. These were displayed in a new showroom (above) in Battersea, south London.
Iconic designs
On the strength of this attention to detail, in the mid 2000s, Chesneys gained the exclusive licence from Sir John Soane's Museum in London to reproduce replicas of chimneypieces from its archives. 
The Soane Collection reflects the taste of the late 18th and early 19th-century architect – who designed elements of the Prime Minister's house at 10 Downing Street– in their simplification and stylization of classical form and detail.
Perfectly straddling the distance between historic and modern interiors, these traditional fireplaces have proved perennially popular with contemporary architects across the US and all over the world today.
Growing the collection
Recently, Chesneys engineers have had their minds even more closely focussed on the environmental impact on burning fuels. The result has been a newly launched range of bioethanol fires (above) which offers users a clean, efficient heat source with few by-products.
The next step was to commission the technology to create wood-burning stoves which would fit perfectly inside the fireplaces (for regulatory reasons, these are not sold in the US). The company had the foresight to see that there was a need to make them environmentally sound and the designs were launched as among the cleanest burn on the market.
On the back of the success of its stoves, the company set about investigating using the same technology for outside fireplaces as well as inside. That lead to the dual-functional Heat & Grill range what is effectively an outdoor heater and oven which allows for precision cooking.
At the same time as working with fireplaces and stoves, Chesneys established an architectural stonework arm making cantilevered staircases, porticos and stone floors. The company based in New York and London was sold following a management buy-out in 2020 and is now known as Ancient & Modern Chesneys Architectural.
Made in Britain
A combination of trading challenges resulting from Brexit and the pandemic has meant that Chesneys today is sourcing more and more material from within Britain – again improving the overall carbon impact of the company.
Exquisitely detailed natural marbles and stones quarried from across the British Isles including Devon, Wales and north-west Scotland are being used to create a new range in collaboration with rare British stone and marble specialists Britannicus Stone. 
Hand-crafted using British masons, the British Materials Collection designs are deliberately pared back to allow the stones to take centerstage – see The Chedworth, above.