British Style: GP & J Baker
The iconic British fabric and wallpaper house GP & J Baker has been producing designs for homes and commercial projects for over 135 years. We take a look at its history – and latest designs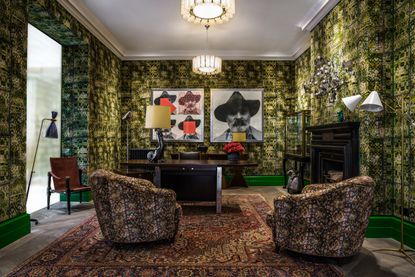 (Image credit: Suzy Hoodless x GP&J Baker)
GP & J Baker is beloved of leading interior designers including Ben Pentreath, Suzie Hoodless, Kit Kemp and Emma Sims-Hilditch, and its patterns can be seen in many of the world's top venues – from Soho House to Claridge's, Hotel du Cap-Eden Roc and The Pig Hotel group.
In 2001, GP & J Baker was bought by the privately held, family-run American textile company Kravet. Now in its fifth generation, the original Kravets were New York-based tailors who began their business in the early 20th century. As demand for trimmings started to grow, they expanded into interior design – specifically, textiles for the home. Alongside GP & J Baker, Kravet Inc. owns Lee Jofa, Brunschwig & Fils and Donghia, its most recent acquisition.
Kravet is one of the largest textile companies in the world.
GP & J Baker's history: the Baker brothers
GP & J Baker's history starts in Turkey. George Percival (GP) and James (J), along with their three other brothers, grew up in Constantinople (now Istanbul) where their father, George, was a distinguished landscape gardener (he designed the British Embassy gardens) as well as an entrepreneur.
The combination of interests proved fruitful for the family's financial future. At the time, the city was a trading place full of Oriental and Asiatic produce which first sparked the idea to export Turkish goods to London.
In 1884, George Percival and James were sent by their father to establish a base in London and GP & J Baker was born. They were given £5,500 – a huge sum in those days – to get started. Already, GP had inherited his father's love of horticulture which led the way for patterns and prints inspired by flora, fauna and botanicals to become fundamental to the GP & J Baker style.
The brothers began to buy archives of pattern books and printing blocks, most notably from the long-established textile printing firm of Swaisland which was based south-east of London in Kent (see above). Within 10 years of setting up the firm, GP & J Baker were employing leading Arts and Crafts designers of that time, including the architect and designer CFA Voysey many of whose patterns are still used to inform today's designs.
Another of the in-house designers was the artist William Turner. He was influenced by oriental design and exotic creatures and his timeless designs such as Oriental Bird and Hydrangea Bird – known affectionately as the 'Baker Birds' – are some of the most enduring designs in the entire collection (see above).
GP & J Baker in the 20th century: the brand builds
During the early 20th century, the brothers continued their archive buying spree acquiring the Holzach studio in Paris (1910), as well as around 250 rare Indian printed cottons (1920). Today the archive, which is located in Poole, Dorset, contains original artworks including a sample that dates from 1AD. It's regarded as one of the most important textile archives in the world.
In 1924, GP & J Baker was commissioned to provide decorative fabrics for the departure lounge of Imperial Airways in Croydon, south London – the first passenger service to launch in Britain. The space was made up of tents which had been used in World War One, and the company was asked to soften the look while introducing a 'home from home' air.
The iconic Ferns Design was bought from Joseph M Doran for 12 guineas in 1935. It was based on botanical drawings of plants growing within a 10-mile radius of London and was a favourite of interior decorator Elsie de Wolf, who was commissioned by the likes of the Vanderbilts, Cole Porter, the Duke and Duchess of Windsor (Edward VIII and his wife) and the Duchess of York (HM Queen Elizabeth the Queen Mother)
When botanical prints fell out of fashion from the 1930s to 50s, the company began to produce geometric designs in paired back colors. One of their major commissions was for a fabric used to decorate the Spanish surrealist artist Salvador Dali's apartment in Paris.
GP & J Baker today
Just two years later, it was the subject of a hugely successful five-month long exhibition at the V&A in London – the world's leading museum for art and design –called From East to West textiles from GP & J Baker.
In 1982, the company was issued with a Royal Warrant in recognition of the supply of GP & J Baker fabrics and wall coverings to the Royal household.
GP & J Baker has the largest and most comprehensive showroom in London's Chelsea Harbour (as well as a second in Paris). In recent years, the company has produced several award-winning collections including with the Historic Royal Palaces (2015), and three collections created with Homes & Gardens – Homes & Gardens III is shown below.
There was also a collaboration with the Swedish fashion firm H&M (2018, below).
For the latter, some of William Turner's original designs alongside geometrics from the 1930s were used to create a sell-out clothing line.
Arabella is a freelance journalist writing for national newspapers, magazines and websites including Homes & Gardens, Country Life, The Telegraph and The Times. For many years she has specialized in writing about property and interiors, but she began her career in the early 2000s working on the newly launched Country Life website, covering anything from competitions to find the nation's prettiest vicarage to the plight of rural post offices.