7 tricks design experts use to make a bedroom ceiling seem higher
Feeling hemmed in by your low ceilings? These visual design techniques will make your bedroom appear instantly airier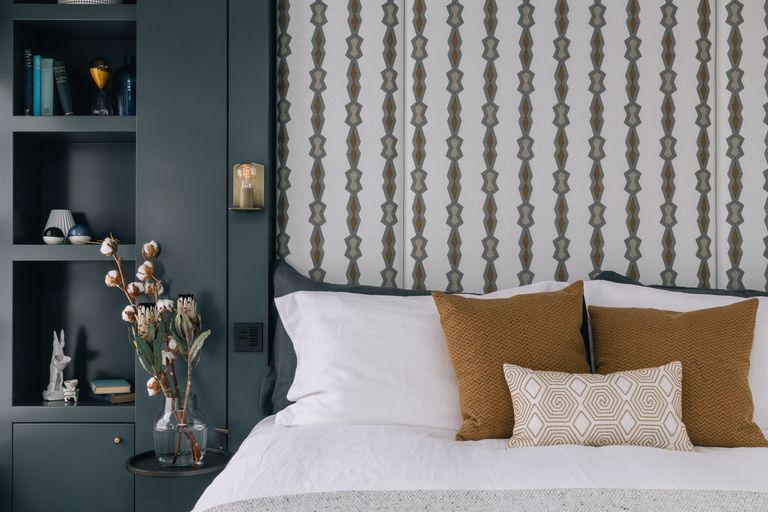 (Image credit: Kitesgrove)
If you want to make a low bedroom ceiling feel higher, there are lots of clever techniques and tricks that interior design experts use to create an impression of a loftier space.
While low ceilings can be cozy for a bedroom, creating the impression of a larger space will make your room feel calmer, less cluttered and brighter – and this is how you can achieve it.
See: Bedroom ideas – designs and inspiration for beautiful bedrooms
1. Paint the ceiling white – or the palest of colors
Is your bedroom in the eaves? Whilst these spaces can be oh-so-cozy, they come with their downsides – which is most often low ceilings and lack of light. To combat this, the first rule of ensuring your ceiling appears higher is to paint it white – as white as you can go – brilliant white will do the trick.
If you prefer to have a cozier color on your walls, choose a soft, muted tone like Farrow & Ball's Jitney. It will contrast beautifully against the white ceiling and add a warmth to the scheme.
Not a fan of white – or perhaps your bedroom is north-facing and needs warming up? Choose a pale neutral or color that tones with your walls.
See: Interior design tips – decorating secrets for the world's top experts
2. Paint your walls white, too
For those who adore the minimalist look of all-over white then there's no better place to do it than in a bedroom with low ceilings. It will transform the space into a stunning light-filled room that feels big both vertically and horizontally.
Do add in some pops of color though to prevent the scheme from looking too sterile – soft furnishings, from drapes and blinds to bedding to rugs will add texture, pattern and color.
3. Use vertical stripes to create a visual trick
The obvious way to ensure an impression of extra height is to use a vertically striped wallpaper – it really does work. You don't need to choose an obvious stripe either, it can be a floral or more modern design like the print you can see in this bedroom designed by the renowned interior design team at London based Kitesgrove.
Clara Ewart, Head of Design at Kitesgrove explains, 'Vertical lines on the walls will help to lift the eye and create the illusion of height, ideal for rooms with low ceilings. We also love using beautifully designed wallpaper juxtaposed with deep colors – they create a restful and cocooning atmosphere, which is ideal for smaller bedrooms.'
As long as it draws your eye up it will work, you don't even need to paper the whole room – using wallpaper like you would a headboard will do the trick.
See: Small bedroom ideas – how to decorate and furnish a compact box room
4. Create an impression of height with tall table lamps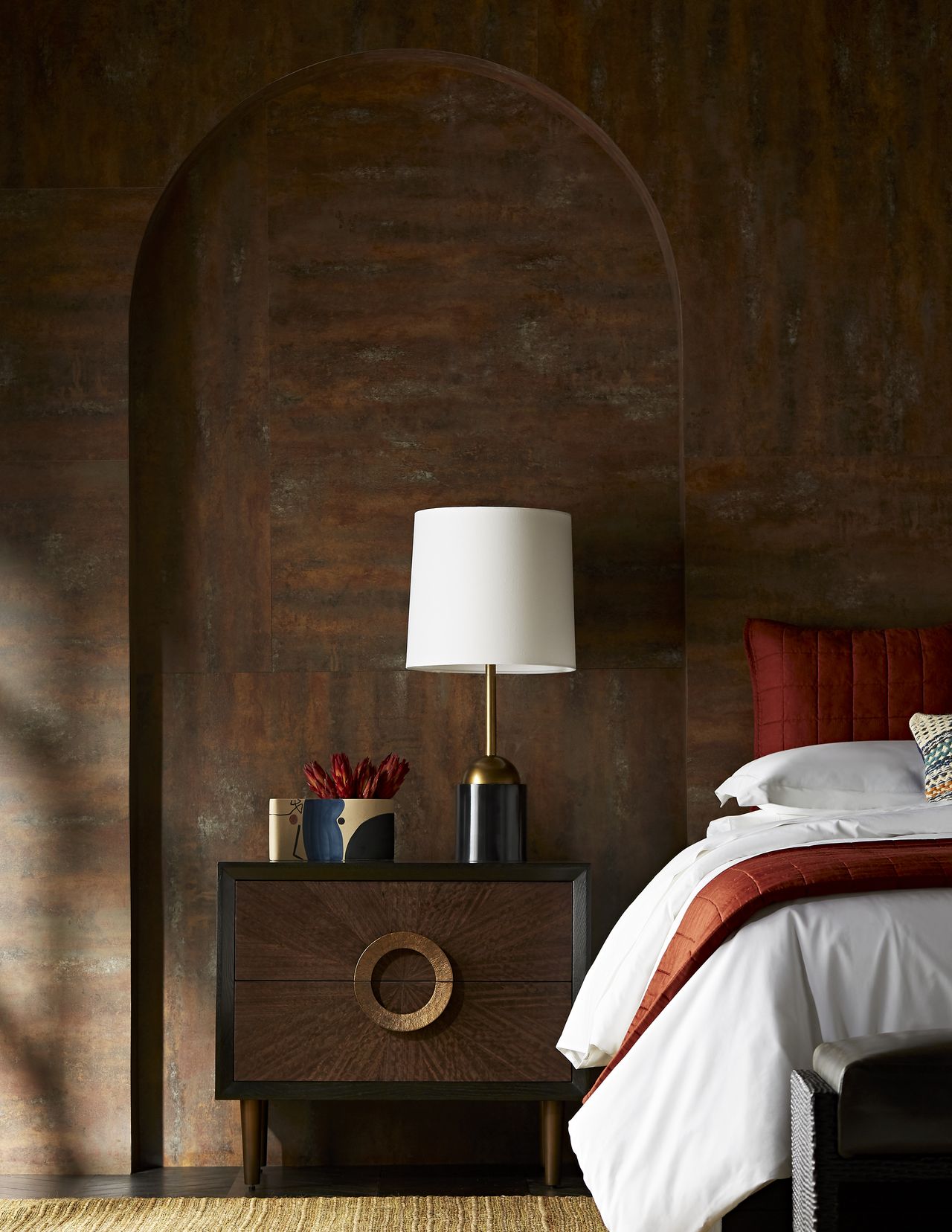 'One of the most common tricks for making a room seem bigger is to utilize vertical space to create the illusion of height,' explains Laura Hadad, Design Ambassador at Arteriors London.
'In a bedroom, choose tall bedside lamps to frame the bed – this will not only draw the eye to the height of your lamps but will also emphasize the verticals in the room.'
When the rest of the scheme is dark, you can make your tall lamp stand out even more if you choose a white shade with a light or metallic base.
5. Hang full-length drapes
Just like vertical stripes and tall lamps, full-length drapes, especially patterned or colorful ones that offer a gentle contrast to the wall treatement, allow the eye to flow upwards when you look at the window.
Another trick is to keep the focus on what's happening in the lower part of a low ceilinged bedroom – for example, the prints and patterns on the bed, window seat and tablecloth against the plain walls keep the eye focussed towards the lower part of the room, allowing the upper, plain part of the room to feel more spacious.
London based interior designer, Penny Morrison explains, 'Using pattern on rugs and carpets below the eyeline can make ceilings feel higher, without lessening the impact of color and character in a room.'
6. Layer lighting
Overhead lighting is tricky in a bedroom with a low ceiling: your eye is drawn directly to them – which should be a good thing – but hanging a bulky light fitting too low will visually drag the ceiling downwards.
The answer is to either choose glass ceiling lights, which will be less visually bulky and will reflect lovely light, or to layer your lighting in lower parts of the room – you can achieve this fabulously with table lamps and wall lights.
7. Divide the room horizontally with color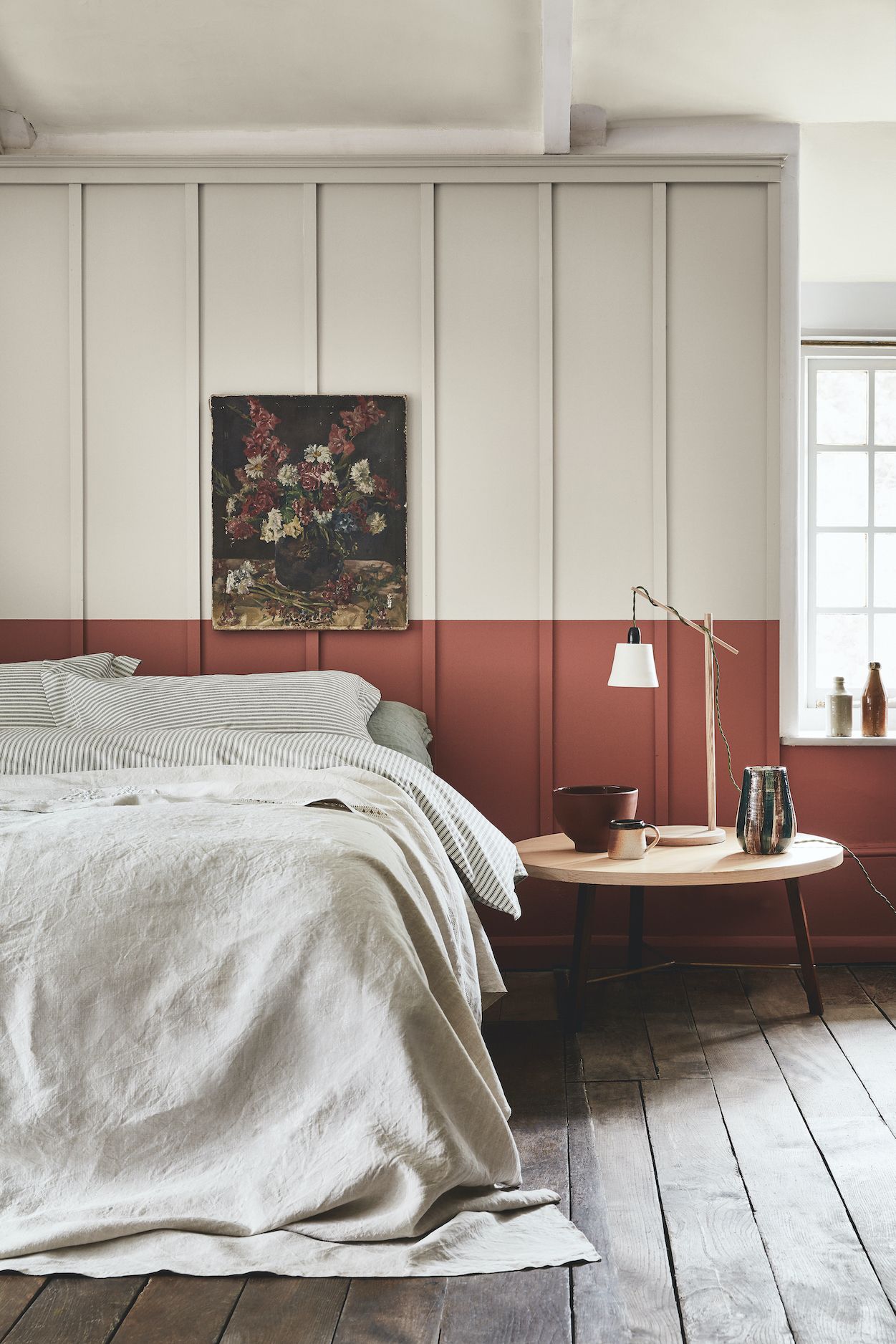 This divine use of paint draws your eye up the paneling and across the ceiling. The Tuscan Red shade grounds the scheme and creates a painted headboard at picture rail height, while the paler colors give the upper part of the room an airier feel.
See: 10 tricks interior designers use to make living room ceilings look higher
But what is really clever here is that the French Grey Pale shade on the ceiling is lighter than that of the French Grey painted paneling albeit by just one shade – it's subtle and that's the magic because as a result it really does make the ceiling seem taller.