Buying an antique bed – an expert guide
Shabs Kay, founder of Victorian Dreams, an antique bedstead company, shares her expert advice on where to start when buying an antique bed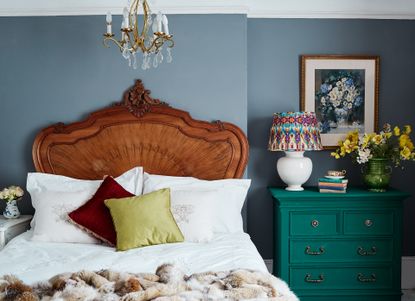 (Image credit: Future/Brent Darby)
Exuding centuries of character and imbuing a space with instant personality, there is something undeniably charming about antique furniture. This is particularly true in the bedroom, where buying an antique bed can completely transform the space. The largest piece of furniture in the room, the bed should be the star of the show setting the tone for the rest of the room's design.
One of the beauties of buying an antique bed is that you are making a one of a kind purchase so it is key that you have a discussion with the antiques company about the style and look you are searching for. They are likely to have a whole host of designs available and will be able to guide you towards one that suits your scheme.
While the last year has lead to us all buying more online, you still can't beat buying a bed in person, getting a real life feel for the shape, color and quality. This is even more important when buying an antique bed, where it is difficult to illustrate the character of a piece through a picture.
So read on to find out where to start with buying an antique bed according to the experts at Victorian Dreams.
Visit Victorian Dreams to get expert advice on buying an antique bed
Shabs Kay, owner of Victorian Dreams, an antique bedstead company, is a fountain of knowledge about the antique bed industry. She began her trade from her garage back in 1990, initially concentrating on antique metal beds that she personally sourced from Ireland.
Over the years, Shabs perfected her skills in restoration to include French and Italian wooden and caned beds. She then gained experience and knowledge of upholstery, enabling her to fully recondition fabric beds she bought from an expanding portfolio of contacts in the UK, the continent and further afield.
Shabs is well-respected as one of only a handful of skilled artisans in the country with the knowledge and specialist parts to widen antique metal beds. In Victorian times a double bed was only 4 foot wide.
Now, with a full-time team of welders, restorers, upholsters and polishers, the enjoyment of designing a beautiful bed for your home is an affordable option.
Ask Shabs about what to look for when buying an antique bed at auction; she can offer suggestions for the restoration of inherited pieces and family heirlooms. And, if there is a particular color scheme you're looking for, Shabs has a stock of over 200 antique beds ready for restoration to your design.
How much does an antique bed cost?
Expect to pay in the region of £1,400 for a superb king size antique brass and iron bedstead complete with a firm bed base. The only extra cost would then be your choice of mattress. Prices then steadily rise according to the style, rarity and manufacturer, culminating in exceptional, statement pieces such as an original all brass four-poster from RW Winfield that sell for in excess of £10,000.
Where to see inspiration
Visit the Victorian Dreams showroom in Headley, Hampshire, and you'll find a revolving collection of unique antique beds and headboards and period furniture for sale, which can be bought with or without bed bases and made to measure pocket sprung and open coil mattresses. There is also a range of luxury bedding, a large fabric library and an interior design studio.
For more details visit the Victorian Dreams website or call 01428777000.
Homes & Gardens is committed to sharing the best advice on everything from remodeling your home to interior design. From pieces penned by interior designers to DIY how tos, to elegant room ideas galleries and product reviews Homes & Gardens offers knowledge and expertise to help you do what you need to do, in a way that makes the process easy and informative. Our sponsored content is not an editorial endorsement, but allows you to connect with brands to assist your home renovation journey and alerts you to products you may not have known about before.