These 8 Christmas hampers are the most luxurious buys for 2021
Irresistible and decorative Christmas hampers for 2021, as hand-picked by the Homes & Gardens team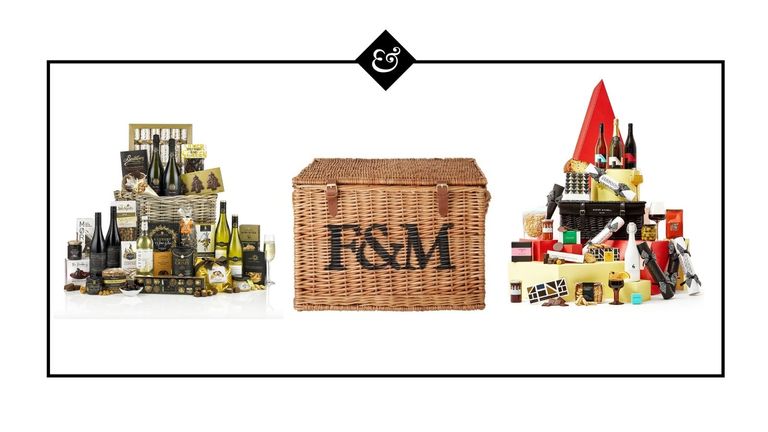 (Image credit: Future)
By Annie Collyer published
Peruse our favourite Christmas hampers to treat yourself – or family and friends – to a special treat this festive season. From food hampers to drink hampers and baskets filled with relaxing buys including candles and silk sleep masks, we've featured the most decorative hampers we could find for 2021 in our guide. From Fortnums, Harrods, Selfridges and plenty more of our renowned favourites. Deliver them straight to your giftee or place one under your own tree for a surprise come the 25th of December.
These Christmas hampers are a testament to the ones we would love to receive, not only because they look lavish, but also because it's what's inside that counts. While some Christmas hampers contain pantry staples, others in our list feature perishable items and a selected few are filled with homeware buys.
Whether you're yet to make a start on your Christmas shopping or you've already been searching for Christmas gifts and decorating inspiration, we would suggest starting your hamper shopping now. It's a well-known fact that all of the best Christmas hampers sell out early. Especially from the likes of The White Company and M&S. The earlier the merrier, in our eyes.
The best Christmas hampers – as selected by the Homes & Gardens team
1. Fortnum's The Family Christmas Hamper
The Family Christmas Hamper | £250 at Fortnum & Mason
This gargantuan hamper from Fortnum & Mason is packed with sumptuously festive food and drink options including Fortnum's sought-after preserves to keep in your pantry, as well as Fortnum's tea and coffee, plus sweet treats for post-dinner snacking. There's also a bottle of Brut Reserve Champagne NV hidden in there, for you to pop and toast on Christmas morning. All packed inside the classic Fortnum & Mason hamper that you can reuse for storing blankets, packing a picnic or take with you on a staycation to your countryside home.
2. Harrods' The Wine Cellar Hamper
Harrods The Wine Cellar Hamper | £400 at Harrods
One for the wine connoisseurs out there, this Harrods Hamper ought to impress guests, giftees – and even you upon opening. A total of 12 bottles come enveloped inside a Harrods wicker hamper that has handles to double as stylish storage. It's a mix of white, red and rosè, for whether you're hosting a dinner party, enjoying a glass of vino after a long day or heading to an event and want to arrive with a bottle of something fancy. Pop these in your cellar and dust them off for another day. Otherwise, they'll go down a treat over Christmas and new year. Thinking of sending this hamper as a gift? Great idea – we'd love to receive this Harrods hamper.
3. The White Company's Calm Hamper
Calm Hamper | £190 at The White Company
Enough about food hampers (for now), as this release from The White Company was created to wow – and that it does. An indulgent option for anyone in need of some R&R ahead of Christmas, the Calm Hamper is aptly named and packed with wellness buys to aid relaxation. Reach inside to find everything from their bestselling electronic diffuser to a sumptuously scented candle, calm body oil – plus lots more. This hamper provides a bit of calm before the storm that is Christmas day. It arrives beautifully wrapped inside a wicker basket, and you can write a message at checkout and send it straight to your giftee. Hassle-free and luxurious? Double win.
4. M&S' Life's Luxuries Hamper
Life's Luxuries Hamper | £500 at M&S
We love an M&S hamper, but especially this one since it contains everything from fresh food to wine and spirits, plus Christmas crackers and pantry staples. Essentially, it comes with everything you need to enjoy a Boxing Day indoors and in front of your fireplace. Packed inside two medium and large hamper baskets, you'll unwrap everything from an exquisite cheese selection to a festive pâté selection, plus mince pies, smoked salmon, Genoa cake and tonnes more. There's even a whole honey roast Spanish Ibérico pork tucked in there. What to wash it down with? What about a bottle of Delacourt Vintage Champagne? Or, perhaps some Rothschild Pauillac wine would be more up your street. Bottled cocktails are also dotted between the baskets, from pre-made vanilla espresso martini to your classic old fashioned. Something for everyone...
5. Selfridges' Selection Pamper and Relax gift box
Selfridges Selection Pamper and Relax gift box | £185 at Selfridges
Choose this Selfridges option to treat a special friend – it's named the Pamper and Relax hamper for a good reason. Its contents sit inside a yellow Selfridges gift box, ready to send straight to your giftee or place under your tree. Inside said box comes a bottle of Selfridges Selection Brut Champagne, Diptyque's popular Baies scented candle, a pair of to-die-for cashmere socks and to help them sleep better – a Slip silk eye mask. There's also a selection box of chocolates in there. Who else would love this hamper? Mum, sister, niece...

6. Virginia Hayward's Pure Indulgence Hamper
Pure Indulgence Hamper | £250 at Virginia Hayward Hampers
Tantalise your taste buds with help from this substantial yet sumptuous hamper. Cocooned inside a stylish log basket, it's undeniably lavish-looking thanks to its black and gold theme. Expect everything from sweet treats to savoury nibbles, Christmas crackers, plus a total of 6 bottles of wine – we could go on and on. A brilliant pick for sending to another family, or it would otherwise make a indulgent corporate gift. Keep it for yourself to fuel the times inbetween meals over the Christmas period.
7. Harvey Nichols' All Wrapped Up Hamper
All Wrapped Up Hamper | £240 at Harvey Nichols
Bring the wow-factor to the table with help from the goodies inside this Harvey Nichols hamper. Inside the black wicker hamper basket comes everything from luxury Christmas crackers, festive mulled wine, melt-in-the-mouth Panettone and a range of pre-supper bites. A bottle of Premier Cru Champagne ties it all together and gives this hamper a fine twist. To impress even the fussiest of friends or family.
8. Charbonnel et Walker's Luxury Chocolate Hamper
Charbonnel et Walker Luxury Chocolate Hamper | £125 at John Lewis & Partners
If you've a penchant for high-quality chocolate, then this Charbonnel et Walker hamper will go down a treat. It even includes a mini bottle of Moët for sipping whilst devouring these sweet treats. Beautifully wrapped inside a luxury gold box, this hamper contains a range of truffles as well as other sweet treats. Charbonnel et Walker holds the Royal Warrant as manufacturers of chocolate to her Majesty The Queen, so we think this hamper would make a more than impressive gift.
Annie is the Deputy Ecommerce Editor at Homes & Gardens. She spends her time giving you advice on what to shop, where. Whether that be eco-friendly storage, Le Creuset cookware or Made.com furniture. Otherwise, you can find her forever painting the walls and reorganising the furniture inside her modern two-bed flat, or attempting to find new ways to maximise the outdoor space on her teeny-tiny London terrace.