This idyllic farmhouse is awash with faded florals and vintage furniture
With its country style decor, this pretty farmhouse in South Africa celebrates nature both indoors and out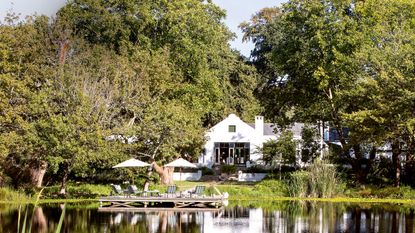 (Image credit: Karl Rogers)
Life on Margot and James Gilfillan's farm could not be more idyllic. Whether they are relaxing on sofas before a crackling fire, gathering around the huge marble-topped table in the family kitchen or strolling through sun-dappled orchards, there seems little to separate the inside and out.
Daily living for the couple and their three daughters weaves through the home's many French doors, framing domestic scenes set against a backdrop of floral patterns that welcome the outdoors in, while the abundant greenery beckons the family out, confirming that this is indeed one of the world's best homes.
There hasn't always been such a relaxed flow: disconnected rooms, low ceilings, a dark kitchen and small windows once defined the original homestead. It is testimony to the couple's renovations and Margot's thoughtful decorating that life on the farm now embraces its surroundings so comfortably.
The family settled in the Elgin Valley – South Africa's 'apple country' – in 2014, and renovating the house began in earnest.
Comfort was necessary, so six open fireplaces were built and underfloor heating installed to provide warmth in the winter. A new wing was designed to house a main suite, three en-suite bedrooms for the girls, a television room, and his and hers home offices, all connected to the original structure with a wide, high-ceilinged passageway, complete with skylights.
Veranda
Margot's vision was to prioritize comfort and practicality. Plans included generous spaces that flowed seamlessly onto a veranda. 'I wanted to make the most of the views, bringing lots of light in,' she says.
With its rietdak (reeds) ceiling and fabrics in tones of green that mirror the garden beyond, the veranda is a true homage to nature
Entrance hall
Margot's love of traditional decorating, coupled with nostalgia for her maternal grandmother's English farmhouse, served as inspiration when it came to furnishing the rooms. 'I just adore old things and furniture that reminds me of days gone by,' she says.
Margot's love of collecting is apparent, too. 'Nothing is more rewarding than finding unloved gems and restoring them,' she says of the second-hand cupboards and tables that house her treasures.
A thread of nostalgia runs through the decor. Here, old copper kitchenware increases the charm and one of Margot's clever hallway ideas is to use them as plant containers. The artwork was painted by a friend.
Living room
Relaxed elegance defines this space and Margot has incorporated living room ideas that conjure up country style, such as faded blues, dusty fawns, loose upholstery and crafted and rustic pieces.
'I'm a huge fan of Sanderson, Colefax and Fowler and Bennison fabrics, and used my gut-feel when choosing designs,' Margot says. 'These are in greens, pinks, faded blues and soft reds, always against cream backgrounds. I love floppy, loose covers for sofas and chairs, so I splurged on fabrics for these.'
Kitchen
The kitchen showcases a range of kitchen ideas. Painted tiles highlight the hearth, while bookcases inform the room's unique character
Bedroom
Margot's love of English country decorating inspired this bedroom scheme. For anyone looking for bedroom ideas, this space makes for wonderful inspiration.
Bathroom
'I wanted this to feel like a room, not a utility area,' says Margot of this bathroom, which opens onto a grassy meadow. The central position of the copper bath so as to enjoy the views on two sides is one of Margot's clever bathroom ideas.
Corridor
This generously proportioned walkway wraps around the original homestead to connect it with the newly built wing.
Garden
Margot tasked landscape designer Franchesca Watson with bringing her ideals of a romantic garden to life. 'My garden is important to me,' says Margot, 'so the house has a disproportionate number of windows to make the most of its views.'
Planting closest to the house includes a lawn fringed with delicate grasses and flowers. The main suite leads onto a wilder, grassy meadow. This wildness intensifies as the garden steps down to a pool level, and once more to dam level planted with shrubs and agapanthus. Indoors, floral heritage patterns reference the landscape beyond.
A rill leads from the farmhouse to the jetty. Regularly used by the family for early morning and post-school swims, the dam and jetty are surrounded by orchards, willow trees and dense plantings of agapanthus.
Life on the farm is free-range, the family's lifestyle shaped by the seasons. In summer, the Gilfillans share their pool with frogs, all seeking respite from the heat. During harvesting, dogs charge through open doors chasing apple-laden tractors. 'I am acutely sensitive to my surroundings, harnessing energy from my home,' says Margot, as she surveys the nearby horses from her favourite veranda sofa. 'It's my environment that keeps my mood in check.'
Photography/ Karl Rogers
Text and styling/ Martin Jacobs
Sign up to the Homes & Gardens newsletter
Decor Ideas. Project Inspiration. Expert Advice. Delivered to your inbox.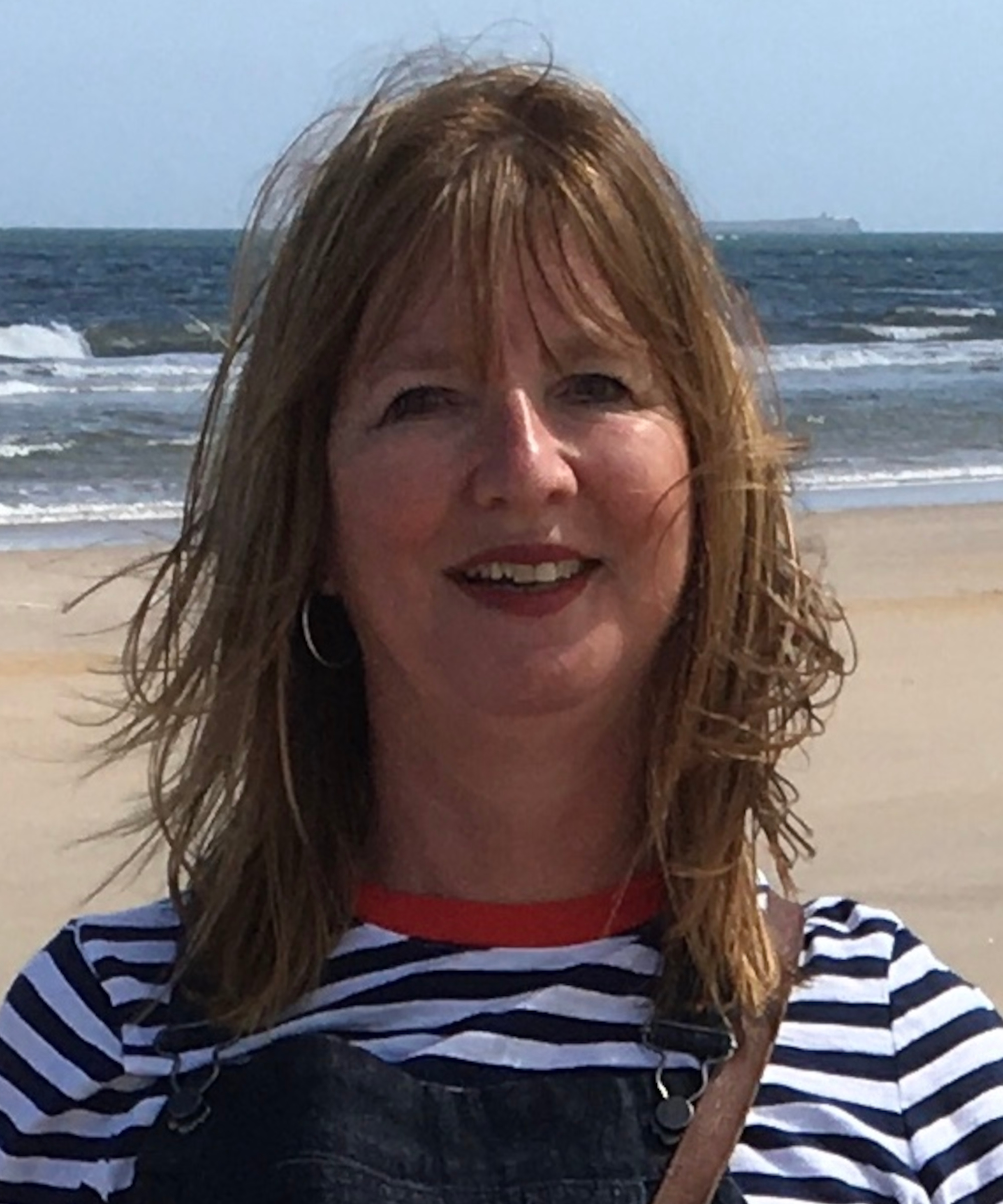 Interiors have always been Vivienne's passion – from bold and bright to Scandi white. After studying at Leeds University, she worked at the Financial Times, before moving to Radio Times. She did an interior design course and then worked for Homes & Gardens, Country Living and House Beautiful. Vivienne's always enjoyed reader homes and loves to spot a house she knows is perfect for a magazine (she has even knocked on the doors of houses with curb appeal!), so she became a houses editor, commissioning reader homes, writing features and styling and art directing photo shoots. She worked on Country Homes & Interiors for 15 years, before returning to Homes & Gardens as houses editor four years ago.