This historic spring garden blends formal and naturalistic planting
This stunning spring garden, located on the site of a Norman castle, is a lesson in how to blend formal and naturalistic planting styles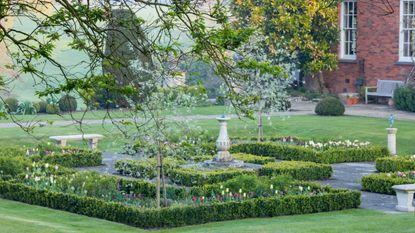 (Image credit: Marianne Majerus)
Sign up to the Homes & Gardens newsletter
Decor Ideas. Project Inspiration. Expert Advice. Delivered to your inbox.
Thank you for signing up to Homes & Gardens. You will receive a verification email shortly.
There was a problem. Please refresh the page and try again.
The gardens at Benington Lordship are a gentle balance of formal planting blended with more nauralistic touches, paying homage to the architectural heritage of the historic site, but with nods to modernity.
Springtime has much to offer in the gardens, with blossoms of magnolia, cherry, crabapple and quince presiding over naturalized carpets and more formally planted beds of springtime bulbs and native wildflowers.
There are many lessons that can be learned and taken from this garden and applied on a smaller scale for your own backyard ideas.
The gardens stand on the elevated site of a Norman motte and bailey castle in Hertfordshire. The early 1700's, brick-built manor house has 19th century, neo-Norman embellishments, its entrance courtyard dominated by a turreted gatehouse, folly and curtain-wall.
Susanna and Richard Bott are 4th generation custodians of the house and gardens.
Richard's great-grandmother, Lilian, a passionate gardener, along with her husband Arthur Bott, a skilled engineer, enlarged and landscaped the gardens. Successive generations have maintained the integrity of this Edwardian blueprint, while also embracing nature and wildlife with wildlife garden ideas.
A broad, green carpet of lawn rolls out before the south-facing side of the Grade II* Listed manor house. In a central space sits a low-maintenance boxwood parterre, decorated with pink hued tulips, with young weeping pear Pyrus salicifolia 'Pendula', at each corner to add height.
This was a redesign by garden designer Julie Wise, planted in 2016 on the footprint of the flagging, former rose garden.
'Wary of planting new roses over old, in essence, we inverted the design, flipping the previous hard landscaping to create planting plots, covering old rose beds and widening pathways with the displaced stone,' explains Susanna.
This demonstrated creative thinking when considering flower bed ideas, not feeling tied to the existing designs or layouts.
On the lawn's western edge, Susanna embraces the structural 'wonkiness' of overgrown yew pillars and is introducing more relaxed movement and modernity with plantings of euphorbia, calaminta and gentler swishes of Miscanthus sinensis 'Morning Light'.
Beyond this elevated high-point, the garden shears away, unexpectedly, with magnificent westward views over open parkland, cascading down broad, grassed terraces, to a spring-fed garden pond below.
Keen to balance the gardens gentle formality with wilder touches, Susanna utilizes the gardens inherited topography to encourage thriving colonies of wild flowers and naturalized bulbs.
'Enhancing nature but allowing the landscape to speak for itself,' she explains.
Elsewhere the gardens banks spill with species Narcissus poeticus and Fritillaria meleagris threaded through common cowslips, Primula veris.
Wood anemones entwine with cyclamen and, under the eaves of an old holly, a pleasingly accidental throng of growing hellebores and primroses is joined by new clumps of arching, evergreen grass snow rush and daffodil 'Thalia'.
'Like nature, planting is slow, evolutionary. I introduce bulbs and plugs each fall, initially trialling around a hundred specimens, I don't plant more until I know they are happy there,' says Susanna.
Reflective waterside planting of blossoming cherries redoubles their effect, while use of bold and bright marginal skunk cabbages and marsh-marigold, helps create both impact and improves wildlife habitats for pond dwellers, among the many garden pond ideas.
Damp-tolerant leucojum and bluebells, remnants from a therapeutic, postwar rock garden project, continue to spring up, naturally.
Never failing to entrance, growing bluebells near woodland and pond areas enhances the natural feel of a garden space.
In contrast to the wilder, naturalistic areas, secreted between yew hedging and the walled garden runs a spectacular 'cultivated' double herbaceous border, created by many generations.
'I'm trying to loosen it, extend the flowering season and reduce maintenance by threading it through with grasses and bulbs, in keeping with the garden's more naturalistic handwriting,' says Susanna.
Over the wall, in the kitchen garden Susanna has established a new floral meadow, 'sown entirely from seed, on soil, not through grass.'
She continues to push the boundaries, innovatively re-wilding her garden in harmony with the nature, and in sympathy with Benington Lordship's original layout and architectural heritage.
Sign up to the Homes & Gardens newsletter
Decor Ideas. Project Inspiration. Expert Advice. Delivered to your inbox.
Rachel is senior content editor, and writes and commissions gardening content for homesandgardens.com, Homes & Gardens magazine, and its sister titles Period Living Magazine and Country Homes & Interiors. She has written for lifestyle magazines for many years, with a particular focus on gardening, historic houses and arts and crafts, but started out her journalism career in BBC radio, where she enjoyed reporting on and writing programme scripts for all manner of stories. Rachel then moved into regional lifestyle magazines, where the topics she wrote about, and people she interviewed, were as varied and eclectic as they were on radio. Always harboring a passion for homes and gardens, she jumped at the opportunity to work on The English Home and The English Garden magazines for a number of years, before joining the Period Living team, then the wider Homes & Gardens team, specializing in gardens.