Design house: Explore this interior designer's colorful and pattern-packed London home
Gorgeous colors, pretty patterns and an eclectic sourcebook of makers contribute to the charm of interior designer Kate Guinness' family home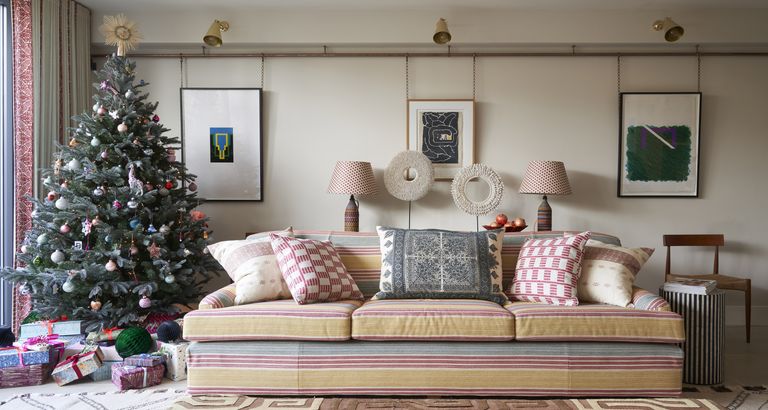 (Image credit: Future/James Merrell)
Talking to the interior designer Kate Guinness, it's immediately obvious that her home has had two very different identities – the one before marriage and children and the one after. 
Living with 'a rotation of flatmates' for four years, Kate fleetingly hints at the wild parties of bright young things. 'I started searching for my own property in 2012. I was actually looking for a flat rather than a family home. But when I was shown this house, I completely fell in love,' she says of the now five-bedroom Edwardian house in west London.
But in 2016, the household of young professionals changed when Kate's now husband, Julian, moved in. 
'I'd already done work to the bathrooms, but we began renovating more of it. In the same year, we got married and I started my business. It was a complete whirlwind.' 
The laundry room
The project kicked off with the basement, which Kate recalls as rather grim. 'It was disgusting and damp, down a dangerous set of stairs. Now it's a lovely, clean laundry room,' she says triumphantly.
The kitchen
The couple chose to expand with a loft extension and side return, but developed their own cunning twist on the ever-popular solution.
'We decided rather than have the kitchen at the back of the house, instead to move it to the middle room, which often doesn't seem to get used at all. From there you have a full view of the dining room and sitting room either side.'
The floor plan is especially beneficial for watching young children, which was something Kate and Julian knew might be a future consideration. Sure enough, Louis, now two-and-a-half, arrived in 2018, and his sister, Orla, in 2019.
Here, a custom-made outdoor rug lined in a punchy pink protects the pine floorboards. The island table offers flexibility, while three rows of glassware and ceramics add character.
One of the defining features of Kate's home is the paint colors she has chosen, often opting for hues that have historical significance. The custom-made kitchen units, for example, are a green that has now become part of Kate's logo and a signature in her work. 
'I went to my friend Adam Bray and he suggested we use the color matched to the railings at Apsley House by Patrick Baty of Papers and Paints. The company does a lot of historical paint matching,' Kate elaborates.
Get some kitchen design inspiration with these beautiful kitchen ideas
The dining room
Every space in the house has one piece that sets a whimsical tone. With a background in set design for opera, Kate's interiors are always touched with dramatic flair, whether it's from the artwork, fabrics or light fittings she selects. 
The dining room chandelier, composed of teacups and wine glasses, is a perfect example.
The sitting room
When the building work had been completed, Kate and Julian began to source the extra furniture they needed. 'We didn't have a huge budget, so it was a gradual process but I much prefer interiors to look like they have slowly evolved over time. 
At Christmastime, straddling the dining and sitting rooms, the kitchen becomes the hard-working engine of the household. 'My brother is a chef so he would normally take over the cooking and we usually have goose for lunch,' says Kate. 
The master bedroom
Pattern on a multitude of surfaces, including lighting, makes for a vibrant and unique look. Calm green-grey walls allow the profusion of fabrics to draw the eye. 
A striking curtain edging fits in with the geometrics in the scheme. Kate often uses a lath and fascia curtain rail system as an elegant blackout solution.
Orla's bedroom
Kate didn't want a scheme 'too sweet or babyish' for her daughter, Orla's bedroom. The texture of elaborate embroidery adds interest and will be enjoyed for years to come.
Louis' bedroom
In Louis' bedroom, the sky blue walls pair beautifully with the collective burgundy tones from the blind, chairs and rug.

Learn more about  the color wheel: color theory and how colors work together
The guest bedroom
We started buying pieces when we knew Louis was on the way so they had to be bombproof,' she says. This informed Kate's decision to choose resilient fabrics that would disguise mishaps. 
'I love mixing color, pattern and print but with a slightly pared-back, non-cluttered feeling,' she says.
The guest bathroom
The guest bathroom features striking geometric tiles from Bert & May.  'As soon as I saw these floor tiles, I fell in love with them,' says Kate. Unlacquered brass details add patina.

The hallway
The dark blue of the skirting board picks up on the blue in the original Edwardian tiles and anchors the pale plaster-colored walls. The nativity scene on the console was brought on a trip to Colombia.
'The house feels so calm to return to, even at Christmas,' says Kate. It has become our sanctuary.'
Find out more at Kate Guinness.