This unique British home is full of interiors inspiration
Be inspired by this extraordinary home offering a secret sanctuary away from day-to-day life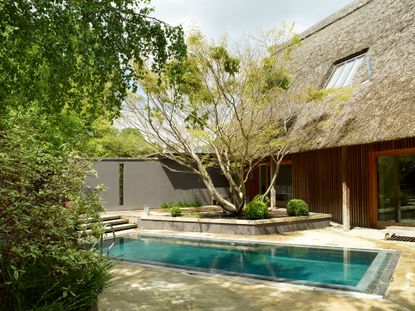 (Image credit: Savills)
Orwell House is an extraordinary property in several ways. It is in the centre of the Oxfordshire village of Sutton Courtenay and yet is completely private and secluded. You could lie naked by the Japanese tiled swimming pool or take early morning tea in your pyjamas on the deck outside the master bedroom or stretch out beside the Japanese tiled swimming pool and no one would see you.
Constructed of oak and stone, thatch and tile, the house was built just 14 years ago yet feels settled into the landscape as if it might always have been here. The interior garden, surrounded on three sides by the principal living spaces, was created two years before the house by Herring with designer Sarah Eberle and has matured into a miniature biosphere of moss-covered rock, slender birch trees and woodland planting.
Entrance hall
The sense of sanctuary begins as soon as the iron gates swing open onto a gravel forecourt bounded by high stone walling and tall bamboo, massed ground cover greenery and formal box balls.
The generous entrance hall, flooded with natural light and looking out to a little hortus conclusus of silvery grey olive trees, leads seamlessly on to the main living space.
The current owner has kept to the muted and minimalist palette with plain linen-covered sofas, long white dining table and clear acrylic chairs. But architect Andrew Herring has provided something of a blank canvas: a new occupant could introduce flamboyant colour or gilded antiques – there is generous scope for individual taste.
Living room
The central living area has floor to ceiling glass walls across the full width of two sides – one looking onto the pool terrace, the other leading out to an interior woodland glade, open to the sky – at the same time dissolving any sense of a boundary between inside and out.
The lavish spaces flow freely, uninterrupted by doorways, yet are cleverly designed so you can see very little of one from another, each room retaining its own integrity and privacy. The grey and white of polished concrete floor and pale walls is softened by natural light and the living greenery visible from every direction.
Kitchen
The kitchen hardly merits such a homely name: its working parts, pots and dishes all concealed behind a smooth run of cupboards or beneath an elegant countertop, best reserved for displaying a bowl of Amalfi lemons and perhaps a piece of Venetian glassware.
Bedrooms
From here open oak steps float upwards to the two principal bedrooms; the master suite boasting separate rooms for shower and bath, the suite at the front of the house overlooking the lovely All Saints churchyard opposite.
Above is another room, set into the eaves of the house, its triangular oak-framed window offering more extensive views towards the church and its 12th-century tower.
Stairs at the other end of the house lead to three further bedrooms and bathrooms and there are sleeping quarters above the pool house as well. So plenty of room for a weekend house party.
Garden
The gardens are a delight with several places for outdoor settings: lunch beneath the canopy of the massive willow tree would be perfect on a hot summer day, the grass underneath dotted with the bright blue of tiny speedwell.
There is a firepit on a circle of gravel surrounded by a curve of stacked logs and room on the lawn for a quick game of croquet. There are delicate white alliums, hellebores and purple bearded iris and on the pool terrace a wistaria with exquisite white flowers scented like gardenia.
For someone relocating from the city the environs of Orwell House offer rural pleasures – walks by the river, cycling through lanes fringed with cow parsley, village cricket, country pubs (there are four in Sutton Courtenay alone), racing at Newbury – as well as reassuring necessities such as a Waitrose (Abingdon) and intercity rail (40 minutes to London from Didcot three miles away). Then there are the cultural offerings of Oxford, 20 minutes up the A34.
And your own private Eden to come home to.
Orwell House is for sale via Savills at £4.5 million. (opens in new tab)
As the UK's first-ever home interest magazine, Homes & Gardens has been shaping British style for 100 years. Our core pillars are inspirational interiors, stylish decorating, beautiful gardens and fascinating stories. With the values of timeless style and considered elegance at our heart, we show an affection for heritage whilst also championing the future, from emerging designers to latest trends. The Homes & Gardens website brings all our beautiful content online, with a focus on stunning room ideas, expert advice from interior designers, architects and design professionals, and more practical expertise, too, on caring for and improving your home. Our website is updated and added to daily and we're delighted to welcome more than 6 million readers monthly. Of course, we've assembled a cracking team of experts in their fields to deliver all this stunning inspiration to you, and we'd love to introduce them. Their contact details are below, too.