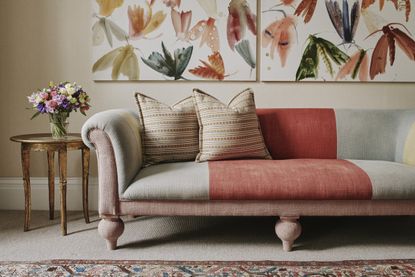 (Image credit: Christopher Horwood / Christopher Farr Cloth)
Interior design aficionados will already be well aware of Christopher Farr Cloth (opens in new tab)'s beautiful collections of fabrics and wallpapers. Renowned for its commitment to using the finest materials and traditional craftsmanship, this stand-out British brand has curated an extraordinary archive of both contemporary and traditional designs in an exquisite palette of house hues, collaborating over time with an array of global artists and designers, from Kit Kemp, Tord Bootje, Neisha Crosland and Kate Blee to Sandra Blow, Barron and Larcher, El Ultimo Grito, Anni Albers and Raoul Duffy, to name just a few..
Now Christopher Farr Cloth has launched a collection of ready-made cushions that must not be missed. The carefully curated collection features several of their most iconic designs, presented in a gorgeous palette of house colours, all handmade in the UK. Created by Christopher Farr Cloth's roster of designers and artists, the cushions' unique fabrics and trimmings are all handmade in the UK, and are perfect for making a whimsical statement in any room, and even outdoors.
Below, we explore the new collection, and how the different designs can be transformative in your rooms.
1. Choose woven fabrics for touchable texture
A gently patterned cushion in a woven fabric can bring much-needed texture and comfort to a room, providing contrast to larger or more intricate prints, as in the beautiful living space above. All of Christopher Farr Cloth's designs are hand screen-printed at a family business in the UK, while the woven textiles are produced in European artisanal mills, exploring new weave structures and innovative yarn spinning.
2. Have an interior designer's eye for detail by choosing cushions with trimmings
Christopher Farr Cloth's cushion collection can give your rooms that professionally designed, bespoke look. It may be ready-made, but it is produced by a very selective group of craftsmen, and includes timeless weave designs in more muted tones alongside the bold and playful printed cushions, featuring whimsical trims that catch the eye. Passementerie – here the Trapeze (opens in new tab) border in jute and cotton – gives a timeless, neutral cushion a playful twist.
3. Create intriguing contrast with patterns and plains
The variety of designs and colourways within the Christopher Farr Cloth collection means that there is a perfect cushion for every room, including coordinating plains and patterns. This allows you to create a colour and pattern scheme that is entirely unique to your home, and each room. Here, the ever-popular subtle woven stripe of Hippie (opens in new tab) by Cloth Studio is the perfect foil for renowned interior designer Kit Kemp's Lost and Found (opens in new tab), a classic rework of a cotton ticking textile.
4. Combine ready-made cushions with bespoke pieces
Perhaps you are just looking for a few finishing touches to complete a room? Whether you have used Christopher Farr Cloth fabrics and wallpapers to curate a nearly-there room scheme or simply want to pep up and add that final flourish to a pre-existing space, ready-made cushions are a clever way to do so, adding colour, pattern, texture, detailing and a sense of comfort in one. The bold Nomad (opens in new tab) cushion, from a collaboration with And Objects, is the best way to make a statement: its chunky stripe contrasts ravishingly with the beautiful ombre trim.
5. Bring the indoors outside
Autumn may be in full swing, but if you're already looking forward to cosy evenings around the firepit next summer, why not dress your outdoor space to be as beautiful as your rooms indoors? Christopher Farr Cloth's ready-made cushion Spring collection will include designs in performance fabrics, perfectly suited to withstand a light rain shower, and easy to store away in bad weather, ready to brighten your garden again when the sun shines. Meanwhile, the Punch Paisley cushion (opens in new tab) created with textile and surface pattern designer Neisha Crosland (front, shown here with La Jungle (opens in new tab), left, and Carnival, right) shows you what you could achieve. With its fold-pleated edge, this playful bolster is the perfect addition to any scheme indoors.
See Christopher Farr Cloth (opens in new tab)'s entire collection online.
You can also follow Christopher Farr Cloth on Instagram (opens in new tab) and Facebook (opens in new tab).
As the UK's first-ever home interest magazine, Homes & Gardens has been shaping British style for 100 years. Our core pillars are inspirational interiors, stylish decorating, beautiful gardens and fascinating stories. With the values of timeless style and considered elegance at our heart, we show an affection for heritage whilst also championing the future, from emerging designers to latest trends. The Homes & Gardens website brings all our beautiful content online, with a focus on stunning room ideas, expert advice from interior designers, architects and design professionals, and more practical expertise, too, on caring for and improving your home. Our website is updated and added to daily and we're delighted to welcome more than 6 million readers monthly. Of course, we've assembled a cracking team of experts in their fields to deliver all this stunning inspiration to you, and we'd love to introduce them. Their contact details are below, too.