Designer Profile: Justin Van Breda
Alongside creating beautiful homes with a timeless aesthetic, his increasing focus on using design for positive impact has drawn admiration on both sides of the Atlantic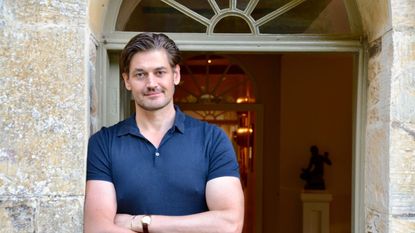 (Image credit: Justin van Breda)
At over 6ft 7 tall, Justin Van Breda is invariably the tallest person in the room but – even without such stature – it is his charisma and warm-hearted manner which ensure his presence is unmissable in any gathering.
The British-based, South-African-born designer is a man of drive as well as talent. In addition to running his interior design studio from London and the Cotswolds, Justin Van Breda designs exclusive furniture, fabric and rug collections under his eponymous brand and these are available to an international clientele through showrooms in London, South Africa and coast to coast in the US.
Each specialism bears his attentive focus to detail, his support of craftsmanship, and his international perspective of interior design, although his love of timeless English style is also deeply embedded in the interiors he creates.
Over a 20+ year career so far, starting with his first professional position in the interiors studio of Nicky Haslam in 1999, Justin Van Breda has launched his own interior design atelier, developed furniture collections, fabric ranges, upholstery collections and honed bespoke services, but it is, perhaps, his more recent creation of community-focussed workshops that use interior design for positive impact that have drawn the greatest admiration for his work.
Justin Van Breda's Cape Weaver Rattan collection (below), launched in 2019, was the first of his initiatives deliberately combining socio-economic vision with aspirational interior design.
Justin envisioned a beautiful range of handmade rattan furniture and accessories created by partially sighted and blind weavers through a supportive working relationship with the Cape Town Society of the Blind.
World-renowned designer Nina Campbell immediately agreed to design a piece for the collection and her support was swiftly followed by many highly respected names on the global stage including British-based designers Veere Grenney and Nicky Haslam, US-based names Michael Cox, William Peace, Joe Lucas, Lauren de Loach, Canadian talent Cynthia Ferguson and South African aesthetes Serena Crawford and Mally Skok.
Then in August 2022, Justin launched his Cape Looms initiative (below) as yet another social impact model creating inspirational pieces for interiors. He invested in looms and infrastructure to support a community of female weavers in Cape Town.
The creation of hand loomed traditional flatweave rugs – made primarily in wool and mohair – draws together these women to hone their craft and keep their heritage skills vibrant in their locality and offers a vital means for each to financially support their families.
Here we ask Justin about his five favorite resources, his proudest achievements so far, and why the Justin Van Breda studio regards itself as 'Team Yes'.
Would you say your upbringing informed your eye for design?
'I wouldn't say so in a directly informative way, but I think it's subliminal; the light, scale, color, texture of a place (wherever it is) gets into your DNA, and growing up in South Africa those elements were heightened.
'I was also surrounded by beautiful houses and architecture growing up, even my school buildings in Cape Town were pretty historic, and so I think it creeps in. I am a bit like a sponge in how I retain information.'
Where did you train and what impact did this have?
'I trained, after my university degree, at Design Time School of Interior Design in Cape Town, which was a hot house of creative thought and conceptual development. It still is today. They taught me to open my mind to conceptual thinking and that has been very informative of my work.'
Tell us about important mentors on the journey to launching your own business
'My father was a risk taker, and I definitely have inherited that trait and it has pushed me to make brave decisions in my working life and to just "take the plunge".
And of course Nicky Haslam gave me my first break when I moved to London and it was an amazing time for me, rising through the ranks of his studio under his mentorship. I think it was definitely the most informative experience, and he is so generous with his knowledge. I learned so much – on all levels – design, social, manners, customs, history, research, how to deal with suppliers and clients.'
How would you describe your studio ethos?
'It's definitely all hands on deck and we don't keep to too much of a hierarchy. We work like a small atelier where the client gets a lot of time with me' and so we are structured to allow time for me to focus on that. We are not a factory in the way we produce work – whether it is our wonderfully layered interiors or a bespoke piece of furniture, everything is very client specific and catered to their wants and needs.'
What do you consider to be the unique strengths of your approach?
'We don't palm anything off to anyone else. We are team "yes!" with a big bold exclamation point. We help solve problems and are very hands on throughout every stage of a project.
'As I had such immersive design training and Nicky taught me the value of research, I can speak various design languages/or looks, and so there is no "house style" – I can swing from Whoopsy curtains to monolithic architectural details quite easily.
'However, there is definitely a thread to what we do and our studio style ultimately distils into a curated yet relaxed way of living.'
Is there any factor in your design journey that you think gives you an unusual or unique skill or sensibility?
'Having come from South Africa, I am an outside observer. So it's easy for me to observe without the prism of entrenchment in certain ways or customs, allowing me to help clients navigate the interweaving paths of traditional homes with the modern way of life.
'With regard to working in the country, which is where I have done some of my most beautiful work, I understand how people who move from the city to the country live – and want to live – versus the reality. It's a balancing act; believe me – I have done it!'
What have been the key areas of evolution of your brand?
'I opened on the Pimlico Road in London in 2002 and won The Futures of Design Award that year. We opened the JVB Furniture collection in South Africa in 2009, and entered the US trade market with our furniture in 2016.
'We began our South African community ventures in 2019 – working with blind and partially sighted rattan weavers, Malawian refugee carvers and hand painted fabric workshops, resulting in the launch of our Africa collections in 2021.
'We opened our own European workshop for upholstery, using traditional methods of eight way hand tied springs, solid frames etc, in 2022. Cape Looms was born from these projects which I founded in 2022.'
What are your proudest professional achievements to date and why?
'One of them is working for Nicky.
'That my clients remain in my life as friends and that I retain such good relationships with so many of the people who have worked with me is another.
'From a furniture point of view, I LOVE my English Furniture Collection (above) – it's the perfect balance between the modern and traditional English aesthetic in an elegant and statuesque idiom, and I love what it evokes and suggests.
'Cape Looms is doing something wonderful and really changing lives on a micro level and I am very proud of that, and also the crazy link to my family and the history of wool and goat farming. My family actually founded the wool industry in South Africa in 1716, initially cross breeding a German merino sheep (which they stole in the Cape when it was brought ashore to graze – en route to Australia – as a gift to the governor from the King of Spain) with a local indigenous sheep.'
Who are your design heroes?
'I always refer to Lutyens and I love and still use Nicky's tricks and there are so many current designers whose work I admire and learn from. I think the thing is to always be open to learning.'
What should never be compromised in the design process?
'I believe that people compromise themselves and, often, comfort for a vision they might have – and I think that the best design solution enhances instead of changing, be that in your color preferences, way of living, etc.'
What drives you most in your professional life now?
'It hasn't really changed for me – I am inspired by people and the stories I can help them tell. The tapestry of my life is threaded with people who have inspired me to do better, reach higher, design more fully, finish more diligently and create rooms and pieces that are at once elegant and comfortable, fresh and solid.'
Can you reveal 5 favored brands or resources?
Peter Page is disrupting the carpet industry with his eye and service.
Brownrigg Antiques have put the sexiness back into old brown things.
I think that the Curio website is exposing craft in a very elegant way.
I love Samantha Todhunter's Warborough Collection.
Nina Campbell is still the queen.
Sign up to the Homes & Gardens newsletter
Decor Ideas. Project Inspiration. Expert Advice. Delivered to your inbox.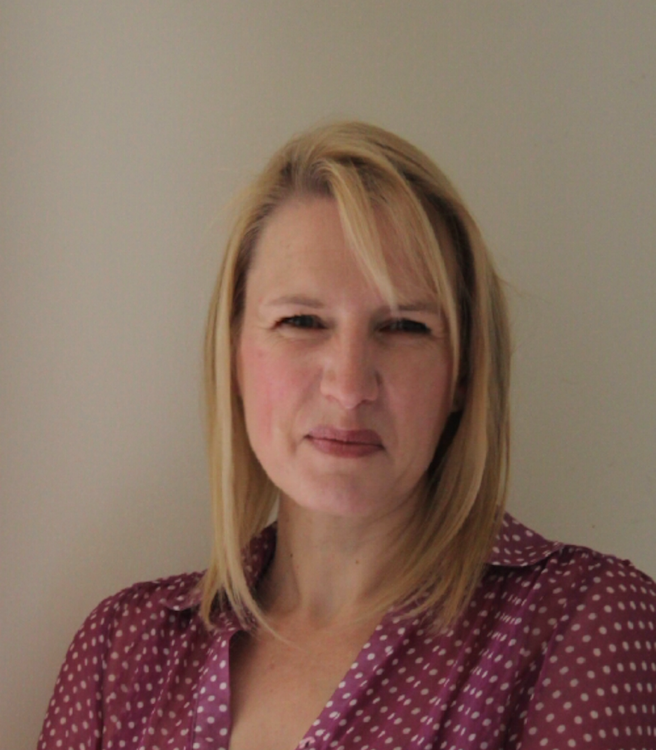 Interiors editor and brand consultant, Kerryn Harper-Cuss has worked on four interior magazines and edited three of these, most recently The English Home, where she was Editor-in-Chief of both its UK and US editions for almost 12 years. She now writes for a number of high caliber publications, moderates design seminars and is particularly delighted to pen profile features on world-class interior designers for a regular slot on the Homes & Gardens website.