American Style: Schumacher
Schumacher is one of America's most iconic design houses and is a byword for style, quality and innovation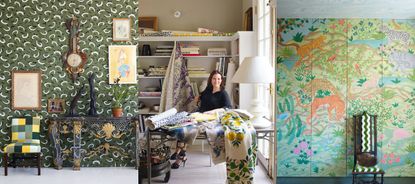 (Image credit: David Kaihoi's for Schumacher | Schumacher | Rachel Chudley, Simon Upton)
Schumacher's roots lie in a deep respect for craftsmanship and artisanal skills – and the team continues to scour the world for experts in their respective fields.
The brand's interior design offering is dazzling: alongside the vast archive, each month a new collection of wallpaper, fabric and trims is produced – Schumacher is the only company in the industry to do this.
We delve into the brand's history, and explore their influence on the world of interior design and decoration.
The Schumacher story
Frederic Schumacher, a Parisian émigré living in New York, set up shop in 1889 in what was known as Ladies' Mile, a historic shopping district. Schumacher decided to import exquisite French designs for America's high society. It was a clever move: within just 10 years, his fabrics appeared in houses owned by leading industrialist families including the Vanderbilts and Carnegies.
In 1895, Schumacher bought a weaving mill and the company developed from being an importer to a design house and manufacturer. His client list grew and within a few years the architect Stanford White had commissioned a shimmering silk lampas (a figured silk fabric) for the walls of President Roosevelt's White House.
In the decades that followed, Schumacher was responsible for introducing Art Nouveau and Art Deco style to American interior design. The company arranged for the fashion designer Paul Poiret to travel from France in 1930 to create a designer fabric collection – a first for the industry.
'Paul's patterns were unforgettable – wild and colorful and bigger than life, just like him,' explains Dara Caponigro, the company's creative director.
This was an initial step into collaborations with artists and designers, which later included Dorothy Draper, Cecil Beaton, Frank Lloyd Wright, Vera Neumann and Karl Lagerfeld.
Creative director at Schumacher and author of S Is For Style, Dara Caponigro has extensive experience in the world of interior design, having previously worked as editor-in-chief at Veranda and founding editor at the original Domino, as well as having a collection of editorial roles at House Beautiful and Elle Decor.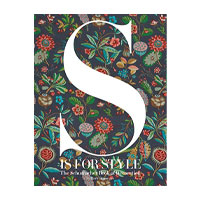 S Is For Style by Dara Caponigro | $59.98 at Amazon
Learn how to decorate with Schumacher's iconic prints and patterns in your home with their Schumacher style guide, S Is For Style.
The next chapter
Demonstrating an ability to adapt to the fast-changing pace of life in the 20th century, in 1923 Schumacher launched a ready-made line of fabrics and accessories under the Waverly brand.
The brand's fabrics and wallpapers also started to appear on the big screen, including in Gone with the Wind. It even produced parachute silks during World War II, and in the 1960s Mick Jagger was photographed in his apartment against a wall of Queen of Spain, a design still popular today.
Schumacher in a digital world
Schumacher remains a family-owned firm. The great grand-nephews of Frederic are the fifth generation to be involved with the business.
In 2014, Schumacher celebrated its 125th anniversary and in 2022 it fully launched in Europe. 'We are first and foremost a design house – not an editor – and one that has a deep history and understanding of craftsmanship,' explains Benjamin Frowein, CEO of Schumacher Europe.
'We've adjusted to the modern world by embracing the digital revolution and producing a highly functional website as well as being active on social media, but we remain the company that people turn to for quality, beauty and consistency.'
There are more than 13,000 products in the portfolio and the creative output stems from three pillars. The first is collaborations with established and emerging artists and artisans.
'We try to give people who are creative and talented a platform, regardless of whether they have a big name in the industry,' explains Benjamin.
The second is the archive, where existing designs are re-colored or made relevant for today's audience, and the third is the collections designed from scratch by the in-house team.
'We talk a lot about being brave because we want to stand out of the ordinary in a sea of sameness – that's the vision we use as our North Star,' says Benjamin.
Benjamin Frowein has worked for Schumacher since 2016. He has been CEO of Schumacher Europe since 2021, previously acting as president for the brand in New York.
Shop the brand
Schumacher Embroidered Tile Green Pillow
Part of the David Kaihoi collection, this colorful cushion features an embroidered tile pattern, with a knife edge finish. Crafted from linen fabric with feather/down fill insert and hidden zipper closure.
Schumacher Chevron Blue & White Throw
This beautiful throw features a striking blue and white chevron pattern. Knitted and finished in a small family-run mill in Austria, the throw has been made from soft organic merino wool.
Sign up to the Homes & Gardens newsletter
Decor Ideas. Project Inspiration. Expert Advice. Delivered to your inbox.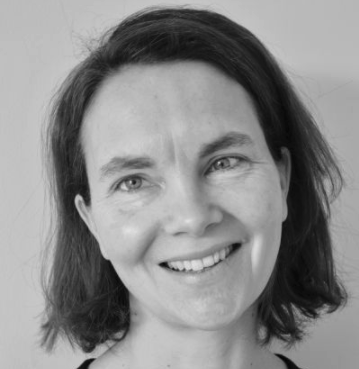 Arabella is a freelance journalist writing for national newspapers, magazines and websites including Homes & Gardens, Country Life, The Telegraph and The Times. For many years she has specialized in writing about property and interiors, but she began her career in the early 2000s working on the newly launched Country Life website, covering anything from competitions to find the nation's prettiest vicarage to the plight of rural post offices.