Revolutionise your kitchen and bathroom with stylish and sustainable surfaces
Sunlit Days celebrates style and sustainability while paying homage to the beauty of the Mediterranean. It is truly something to be marvelled at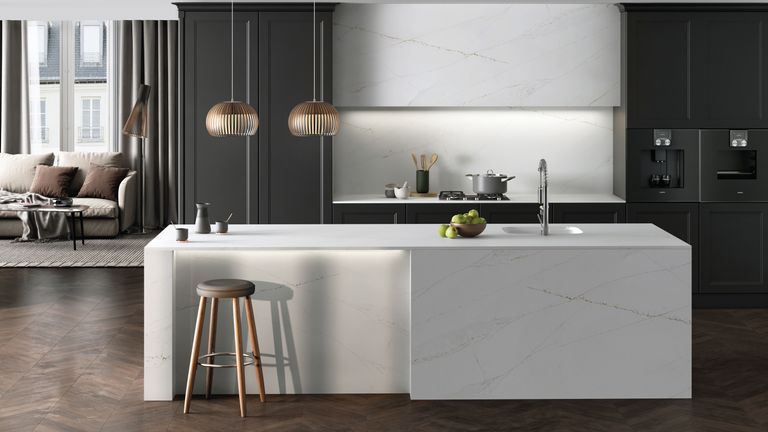 (Image credit: Cosentino)
Choosing a surface is a vital part of the kitchen and bathroom design process. It's important not only that the material complements the look and style of your space, but that it suits your lifestyle and environmental considerations too.
As we become increasingly aware of our carbon footprints, many of us are seeking products that support the circular economy. This is particularly pertinent when redesigning our kitchens and bathrooms – the most practical spaces in the home.
With the abundance of surface options now available to us, sustainability is also a key factor in the decision-making process. Thankfully, sustainability and style are no longer mutually exclusive thanks to Cosentino (opens in new tab). With its beautiful new Silestone® Sunlit Days carbon neutral surface series, we can take that one step closer to achieving the kitchen or bathroom of our dreams - without compromise.
This innovative milestone demonstrates the brand's commitment to sustainability and highlights the environmental management steps Cosentino have taken over the past several years.
This responsibility to create a sustainable surface has been achieved by Cosentino calculating its carbon footprint, reducing impact and offsetting its emissions by continually participating in voluntary offsetting projects which are duly certified and in the framework of the Voluntary Carbon Market. What's more, this initiative is complemented by a partnership program for the preservation of the seabed.
Inspired by the natural hues of the Mediterranean, Silestone® Sunlit Days is made with pioneering HybridQ+® technology and offered in Faro White, Cincel Grey, Arcilla Red, Cala Blue and Posidonia Green. The series offers a journey through the natural world, with a nod to the tones of the Mediterranean, inspired by simple yet profound ways of living.
Not only does this high-performance blend of premium minerals, quartz and recycled glass offer the same timeless beauty and high resistance to scratches, stains, UV rays and heat as other Silestone surfaces, it is made with 100% renewable electric energy, 99% recycled water and a minimum of 20% recycled raw materials.
As well as scoring high on sustainability, this new mineral composition has aesthetic benefits in the way of added textures, tones and richness in the depth of colour of these elegant engineered stone surfaces, thanks to Cosentino's innovative production methods.
Whether you love colour and pattern or calm neutrals, Silestone® Sunlit Days makes an ideal choice of surface in both the kitchen and bathroom. It makes the perfect accompaniment to both modern and traditional fixtures. This is your opportunity to craft the home you have always wanted.
Whatever your project, choosing a world-leading carbon neutral surface will contribute to a beautiful, contemporary and sustainable scheme that you will love for life.
Silestone starts from £450 per sq m, cosentino.com (opens in new tab)
As the UK's first-ever home interest magazine, Homes & Gardens has been shaping British style for 100 years. Our core pillars are inspirational interiors, stylish decorating, beautiful gardens and fascinating stories. With the values of timeless style and considered elegance at our heart, we show an affection for heritage whilst also championing the future, from emerging designers to latest trends. The Homes & Gardens website brings all our beautiful content online, with a focus on stunning room ideas, expert advice from interior designers, architects and design professionals, and more practical expertise, too, on caring for and improving your home. Our website is updated and added to daily and we're delighted to welcome more than 6 million readers monthly. Of course, we've assembled a cracking team of experts in their fields to deliver all this stunning inspiration to you, and we'd love to introduce them. Their contact details are below, too.