Fish recipes – enjoy the fruits of the sea with these flavorful dishes
Alice Hart casts her net wide to bring us tasty fish recipes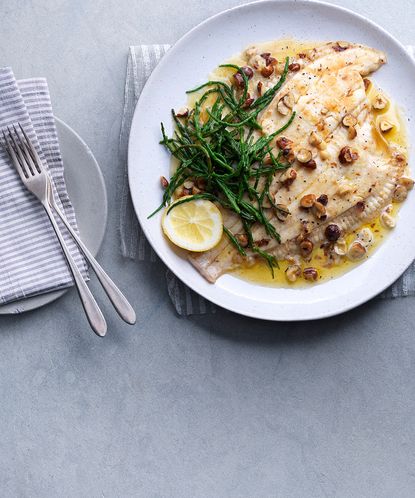 (Image credit: Jonathan Gregson)
What could be more summery and sociable than a fresh fish supper with friends? When it comes to buying fish sustainably, the keys are to steer clear of a species' breeding season and to buy as locally as possible.
You can always substitute types of fish within the same main family, an oily fish for an oily fish, for example, or one flat fish for another. It's better to use an alternative at its peak of freshness and to adjust the cooking time than to choose an imported or endangered version of a specified one.
Perfect for evening meals, these fish dishes make perfect summer lunch recipes, too.
Spiced, aromatic prawns with roast pepper butter
Serves 4 as a starter or light lunch with bread and salad
Now is the time to splash out on fat, fresh prawns or langoustines. This dish is bursting with fragrant and seasoned to perfection.
Ingredients:
For the red pepper butter:
2 red peppers, deseeded and sliced into cheeks
2 tbsp olive oil
100g salted butter
2 tbsp finely chopped parsley
Squeeze of lemon juice
For the prawns:
1.5kg coarse rock salt
1 tsp dried chilli flakes
2 tsp fennel seeds
3 whole star anise
1 large cinnamon stick, halved
Handful of fresh bay leaves
3 rosemary sprigs
12 large raw tiger prawns, shells, tails and heads on
Method:
1. Pre-heat the oven to 220°C, Gas Mark 8.
2. To make the red pepper butter, lay the pepper cheeks in a roasting tin, skin-side up, and drizzle with the olive oil.
3. Roast the peppers for 20-25 minutes, until the skins are blistered and blackened, then put in a plastic food bag, seal and leave until cool enough to handle.
4. Peel and discard the skins, then chop the pepper flesh finely, reserving any juices.
5. Melt the butter in a saucepan and stir in the peppers and juices, parsley, lemon juice and a good grinding of black pepper. Set aside and keep warm.
6. Combine the rock salt and all the spices and herbs in a medium baking dish and put in the oven to heat through for 5 minutes.
7. Using a wooden spoon, carefully push half the salt mixture to the sides of the dish, making a dip in the remaining bed of alt.
8. Nestle the prawns in the salt, trying to prevent them from touching, and push the sidelined salt mixture back over to cover them completely.
9. Return to the oven and bake for 9-11 minutes, until the prawns are just pink through.
10. Brush away all the salt and serve the prawns with bowls of warm red pepper butter for dipping, fresh bread and salad.
Salt-roasted sea bass with tarragon mayonnaise
Serves 4
Rich, satiny homemade mayonnaise is wonderful with fresh sea bass but, if you don't want to make your own, simply stir the tarragon leaves into a small cupful of bought mayor instead.
Ingredients:
For the mayonnaise:
2 egg yolks, at room temperature
1 tsp Dijon mustard
275ml very mild olive oil
2-3 tbsp lemon juice
2 tbsp finely chopped tarragon leaves
For the sea bass:
2 lemons; 1 sliced into rounds and 1 finely grated zest only
Handful of herb sprigs, such as dill or fennel, parsley and chervil
2 tarragon sprigs
2 large sea bass (about 650g each), gutted but with scales, heads and tails left on
1.5kg coarse rock salt
3 eggs; 1 whole and 2 whites only
1 tbsp fennel seeds
Method:
It is very important to buy sea bass that has not been scaled (ask your fishmonger to leave the scales on), so that the salt doesn't penetrate the fish skin. Baking fish in a salt crust should render the flesh perfectly steamed, fragrant from the herbs and seasoned, but not overly salty.
1. Make the mayonnaise using a hand-held electric whisk or balloon whisk. Put the egg yolks in a mixing bowl with the mustard and season generously with salt and freshly ground black pepper.
2. Mix together thoroughly then, whisking continuously, add the oil, drop by tentative drop. As the mixture comes together, the drops of oil can be increased to a thin stream.
3. Once about half the oil has been blended in, whisk in 2 tablespoons of the lemon juice then continue whisking in the oil in a thin stream, as before. When all the oil has been added, the mayonnaise should be thick and glossy. Taste and add a spoonful water to loosen, more seasoning and/or another tablespoon of lemon juice, if necessary.
4. Fold in the tarragon, cover and chill until needed. The mayonnaise will keep in the fridge for a few days.
5. To cook the fish, pre-heat the oven to 200°C, Gas Mark 6.
6. Divide the lemon slices, herb sprigs and tarragon and place them in the sea bass bellies, tucking them in well.
7. In a mixing bowl, combine the salt, egg, egg whites, fennel seeds and lemon zest with 3 tablespoons of water.
8. Lay half this mixture in a roasting tin big enough to fit the fish snugly. Bed the fish into the salt and pat the remaining salt mixture over, leaving the fish heads and tails exposed.
9. Bake for 45 minutes, until the salt has formed a crust; a skewer inserted into one of the fish through the crust, and left for a few seconds, should come out piping hot.
10. Crack the crust, remove it and brush any visible salt away before carefully filleting the fish and serving with the mayonnaise.
Sicilian style agrodolce mackerel
Serves 4
In traditional Italian cuisine, agrodolce means sour-sweet. This is a lovely way to cook oily fish and will work just as well with sardines.
Ingredients:
5 tbsp extra virgin olive oil
4 large or 8 small very fresh mackerel fillets
1 small red onion, halved and finely sliced
200g cherry tomatoes
1 garlic clove, sliced
3 tbsp red wine vinegar
2 1⁄2 tbsp caster sugar
1 heaped tbsp capers, rinsed and drained
2 tbsp golden raisins or sultanas
2 tbsp pine nuts, toasted
Handful of flat-leaf parsley leaves
Crusty bread, to serve
Method:
1. Put 2 tablespoons of the olive oil in a large frying pan set over a medium-high heat.
2. Add the mackerel fillets, skin-side down, and sear for 2 minutes, until the skin is golden and crisp.
3. Carefully turn over the fish, cook for 1-2 minutes, depending on size, then remove to a plate and set aside.
4. Turn the heat down a little, add the onion and cook, stirring often, for 5 minutes.
5. Stir in the tomatoes and garlic and cook for a further 2 minutes.
6. Add the vinegar, sugar, capers, raisins and pine nuts and simmer for a minute or so. Season to taste, then return the fish to the pan.
7. Warm through for 1 minute, then drizzle with the remaining olive oil and scatter the parsley over. Serve with crusty bread.
Shellfish and John Dory bouillabaisse with saffron aioli
Serves 4
Less of soup, more of a seafood celebration, this dish is to be enjoyed with chilled white wine and a large napkin. Halibut or turbot would make a very fine substitute for the John Dory.
Ingredients:
For the saffron aïoli:
Pinch of saffron stamens
2 egg yolks
1 garlic clove, crushed
275ml very mild olive oil
2 tbsp lemon juice
For the bouillabaisse:
200g raw tiger prawns, heads and shells on
2 tbsp olive oil1 fennel bulb, finely chopped
2 leeks, trimmed and sliced
1 fat garlic clove, finely chopped
1 litre fresh fish stock
400g ripe tomatoes, chopped
1 tsp tomato purée
200ml dry white wine
1 strip pared orange zest
3 tbsp pastis (optional)
200g mussels, cleaned
200g palourdes or other small clams, cleaned
200g John Dory, skinned, boned and cubed
8 scallops, shelled and cleaned
Extra virgin olive oil, to drizzle
2 tbsp chopped flat-leaf parsley
1⁄2 baguette, sliced and lightly toasted
Method:
1. To make the aïoli, cover the saffron stamens with 2 tablespoons of just-boiled water and set aside.
2. Put the egg yolks in a mixing bowl with the garlic and a generous seasoning of salt and pepper. 3. Using a hand-held electric whisk or a balloon whisk, blend together thoroughly then, while whisking continuously, add the oil one drop at a time. As the mixture comes together, the drops of oil can be increased to a thin stream.
4. Once about half the oil has been blended in, whisk in the lemon juice, then continue to whisk in the oil in a thin stream, as before. When all the oil has been added, stir in the saffron with the soaking water to loosen the mixture.
5. To make the bouillabaisse, peel all but four of the prawns, reserving the heads and shells. The unpeeled prawns will garnish the finished soup, but should be cooked with the rest.
6. Heat the olive oil in a large casserole or saucepan. Add the fennel and leeks and soften gently over a low heat for 15-20 minutes, until translucent but not coloured. Add the garlic and cook for 1 minute.
7. Meanwhile, in a separate saucepan set over a medium heat, reduce the fish stock with the tomatoes, tomato purée and prawn heads and shells for 30 minutes, until halved in volume.
8. Sieve the tomato mixture into the softened vegetables, pressing the contents of the sieve with the back of a spoon to extract all their flavour.
9. Add the wine, orange zest and pastis, if using, and bring to the boil. Reduce the heat to a gentle simmer and add the mussels and clams.
10. Cover with a lid for 1 minute then add the John Dory, scallops and prawns. Cover and cook for about 4 minutes, until the seafood and fish are just cooked. Season to taste and divide among large bowls.
11. Drizzle with olive oil and scatter with parsley. Serve with the toasted baguette slices and aïoli on the side.
Hot smoked trout salad with potatoes, peas, pea shoots and mint
Serves 4
This could hardly be simpler. It makes an ideal lunch on an early summer's day.
Ingredients:
For the dressing:
1 lemon, juice and finely grated zest
1 heaped tsp wholegrain mustard
4 tbsp extra virgin olive oil
Pinch of caster sugar
For the salad:
500g small new potatoes
Handful of mint leaves, shredded if large, plus 1 sprig of mint
200g shelled peas, fresh or frozen
2 large handfuls of pea shoots (about 90g)
300g hot-smoked trout fillets, flaked
Method:
1. Put all the dressing ingredients plus 1 tablespoon of water in a lidded jar and shake to combine thoroughly.
2. Put the potatoes in a saucepan with enough cool water to cover generously. Add the mint sprig and a large pinch of salt, bring to the boil and simmer for about 16 minutes, until the potatoes are almost tender.
3. Add the peas and cook for about 3 minutes more. Drain thoroughly and slice the potatoes into thick coins as soon as they are cool enough to handle (or slice them wearing rubber gloves).
4. Toss the warm potato slices and peas with the dressing, shredded mint, pea shoots and trout. Season to taste with salt and pepper before serving.
Carpaccio of sea trout with lemon and pomelo dressing
Serves 4 as a starter
This dish is all about texture; a mandolin will make light work of slicing the fennel and celery. Use a segmented pink grapefruit if you can't find a pomelo.
Ingredients:
200g very fresh/sushi grade sea trout, very finely sliced
Large pinch of salt
1 lemon, juice only
1⁄2 tsp honey
2-3 tbsp extra virgin olive oil
1 celery stick, trimmed and very finely sliced
Small handful of celery leaves, optional
1 small fennel bulb, trimmed and very finely sliced
Small bunch dill or fennel tops if present, chopped
1⁄2 pomelo, peeled, pith removed and flesh pulled into small pieces
1 punnet salad cress, snipped
Method:
1. Toss the sliced fish with the salt and half the lemon juice in a non-metallic dish.
2. Marinate for 10 minutes; the fish will turn opaque as it 'cooks' in the citrus.
3. Whisk the honey and the olive oil into the remaining lemon juice.
4. Drain the fish and carefully toss it with the dressing and all of the remaining ingredients.
5. Divide the salad among small plates and serve.
Plaice in hazelnut brown butter with samphire
Serves 4
Crushed new potatoes the perfect accompaniment to this dish; you'll want something starchy to mop up all that decadent toasted butter.
Ingredients:
75g shelled hazelnuts
100g unsalted butter, cubed, plus an extra pat for frying
1 lemon, squeeze of juice plus slices to serve
4 x 150g plaice fillets
1 tbsp olive oil
150g samphire, washed
Method:
1. Lightly toast the hazelnuts in a large, dry frying pan, swirling the pan to brown evenly.
2. Tip the nuts on to a board and roughly chop. Return the pan to a low heat, add the cubed butter and stir until melted. Increase the heat slightly and cook the butter, stirring, until it turns a pale caramel colour.
3. Stir in the nuts. Remove from the heat and add a good squeeze of lemon juice.
4. Season with salt and pepper, pour in a bowl and keep warm.
5. Season the fish fillets with salt and freshly ground black pepper. Wipe out the frying pan with kitchen paper.
6. Return to a high heat and add the pat of butter and the olive oil. When the butter sizzles, add the fish fillets, skin-side down (you can fry them in two batches if four won't fit in the pan).
7. Fry for 2 minutes, then turn over and fry for just shy of 2 minutes. Transfer to warmed plates.
8. Meanwhile, blanch the samphire in boiling water for 2 minutes, drain and season with black pepper; pile beside the fried fish.
9. Generously spoon the hazelnut brown butter over the fish and samphire and serve with lemon slices.
Photography/Jonathan Gregson
Styling/ Tabitha Hawkins
Sign up to the Homes & Gardens newsletter
Decor Ideas. Project Inspiration. Expert Advice. Delivered to your inbox.
Alice Hart is a food writer and recipe developer, working across a wide variety of media, from magazines to books. Alice's recipe books are based on wholesome produce and seasonal eating, and while she takes a balanced approach, using wholefoods and vegetables wherever possible, she also finds joy in an excellent cake. Alice is also invested in sports nutrition and is a Level 3 personal trainer, a seasoned endurance sports competitor and a trained chef.