The Andrew Martin X Sophie Paterson collaboration will bring Mayfair elegance to your living room
Indulge in the grandeur of this Georgian urban paradise without leaving your home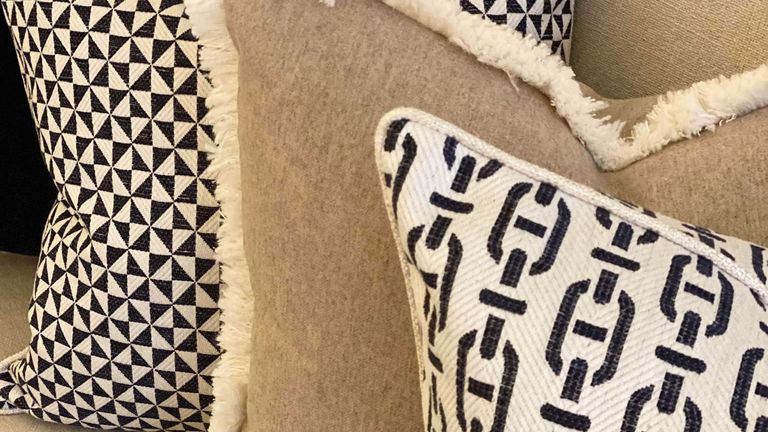 (Image credit: Burlington by Andrew Martin & Sophie Paterson)
By Megan Slack
While memories of Bond Street's boutiques and bustling tailors of Savile Row may seem like a distant memory at present, there is still a way to bring the spirit of Mayfair to your home. Cue Andrew Martin and Sophie Paterson's latest collaboration – Burlington – fittingly named after Burlington Arcade, a chic 19th-century shopper's utopia in the heart of Mayfair, London.  
See more: Living room ideas – inspiring ways to decorate and furnish your space
Following the success of their Brindisi collection, Andrew Martin has once again joined forces with luxury interior designer Sophie Paterson. The result will satisfy our longing for a taste of sophistication from the British capital.
Andrew Martin and Paterson used soft furnishings as their canvas, which they drew from the backstreets of London's most affluent postcode. The result is 25 cushions, six fabrics, and two throw designs that bring a stylish slice of Westminster to your bedroom or living room. 
Burlington equally showcases Andrew Martin and Sophie Paterson's signature styles, combining Andrew Martin's penchant for bold prints, textured weaves, and specialism in high-quality fabrics with Sophie's affinity for neutral shades and love of nautical, navy blue. Each piece is a cocktail of Mayfair's indisputable luxury, shown through trims and fringing, and its fearless fashion houses, through bold geometric prints.
David Harris, Design Director at Andrew Martin, further encourages us to inject the bold character of the West End into our homes, sharing that Sophie had told him, 'My advice would be don't be afraid to mix in a few different colors.'
He continued: 'For Burlington, we have chosen the tones to all work well together, and some of the subtle prints look so chic layered next to the weaves and textured plains,' the designer added.'
Will the Burlington collection offer the much-needed anecdote for our desire to get lost amid fashion houses of London Town? There is only one way to find out.