Black Friday Christmas hampers sales – The H&G edit of fabulous holiday gift deals
We've selected the most beautiful and unusual Christmas hampers and gifts baskets available now, to help you get ahead on your present list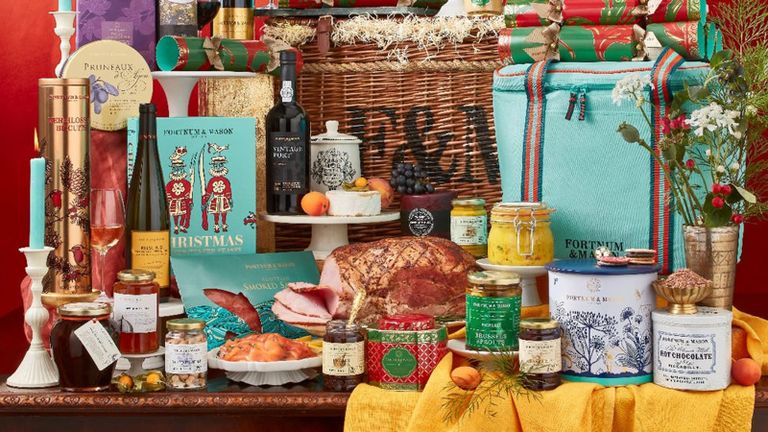 (Image credit: Fortnum & Mason)
Whether big or small, for young or old, Christmas hampers are quite literally the gift that keeps on giving for anyone that is lucky enough to receive one over the holidays.
Depending where you are in the world, hampers (in the UK) or gift baskets (in the US) are fabulous, festive Christmas gifts that can't be beaten.
Like arriving on someone's doorstep bearing armfuls of gifts, sending someone a hamper for Christmas is the ideal treat for those that you won't see over the holidays.
We've selected our favorites from all the ranges available this year to help you send your love to family or friends, wherever you all may be celebrating Christmas this holiday season.
Black Friday Christmas hampers deals
Yankee Candle 11-piece Gift Set | Was £72, now £28, Amazon
Get an amazing £44 off of this festive selection of Yankee Candles, including 8 candles and a wick-trimmer and candle topper.
The White Company Wellness Hamper | Was £110, now £88, The White Company
Use the code 'JOY20' at the checkout to get 20% off this gorgeous hamper packed with soothing, sleep-inducing products.
Marks & Spencer Negroni & Nibbles Gift Box | Was £70, now £56, Marks & Spencer
For the cocktail enthusiast in your life, start their festive evenings right with this hamper containing a bottle of pre-mixed Negroni and paired snacks.
Regency Hampers Christmas Delight Hamper with Sparkling Prosecco | Was £140.50, now £112.40, Amazon
A selection of delicious sweet and savoury treats, with a bottle of bubbles to toast the holidays.
Rituals The Ritual of Sakura Renewing Collection | Was $39.90, now $27.93, Look Fantastic
The contents of this gift box is worth £48.50, but you can get its calming properties for considerably less this Black Friday.
Best Christmas hampers for the UK
Brilliant and beautiful British hampers for those based in the UK - you can't go wrong with any of these bundles.
1. Best Christmas hamper for kids
Santa's Sack of Christmas Treats| £30 at Marks & Spencer
Kids will squeal with delight when this bag of delights arrives to their door. Chocolate and sweets galore together with a Christmas biscuits baking kit, a selection of groan-inducing Christmas jokes, and a cotton sack that they can personalise with the fabric pen included.
2. Best luxury hamper
Fortnum & Mason The Christmas Feast Hamper | £1000 at Fortnum & Mason
Fortnum & Mason are the veritable masters when it comes to luxury hampers, so who else could we come to for this category? The Christmas Feast Hamper includes an entire Christmas ham, chocolates, Louis Roederer champagne, a cookbook, smoked salmon, chutneys, cheeses, teas and much more. If you're still hungry, The Imperial Hamper will feed you five hampers-worth of food and drink, and set you back £6000.
3. Best Boxing Day Hamper
Selfridges Boxing Day Hamper | £200 at Selfridges
After the mammoth cooking session of the day before, no one would blame you for not wanting to lift a finger on Boxing Day. That's where this Selfridges hamper comes in, stuffed with cheeses, chutneys, a panettone, mince pies and a Wiltshire ham. That should keep you going.
4. Best hamper for sweet treats
Harrods Knightsbridge Hamper | £250 at Harrods
For the sweet-toothed friends in your life, this hamper brings together all the sugary best bits of Christmas into one bountiful bundle. From mince pies and Christmas pudding, to spiced salted caramel shortbread and marmalade flavored with Scottish whisky, it all can be enjoyed with a glass of champagne too.
5. Best chocolate only hamper
Hotel Chocolat Christmas Hamper | £27.50 at Hotel Chocolat
Bursting with festive treats for all the family from classic chocolate slabs to bags and boxes of chocs, this is the kind of selection box that we'd love to receive.
Best Christmas hampers for the US
Take a look at our picks of the best gift baskets for Stateside shoppers...
1. Best British hamper for US delivery
The Fortnum's Christmas Box| $112 (approx.) at Fortnum & Mason
Anglophiles will love the English cornucopia of treats in this fabulously festive, British hamper. As well as a super cute Fortnum's mini hamper Christmas decoration, this contains Christmas tea, marzipan candies, orange and cognac dark chocolates, peppermint bark and Christmas biscuits.
2. Best morning after gift basket
3. Best gift box for savory snacks
Di Bruno Bros Perfect Pairings gift box | $100 at Macy's
Know someone who would choose a salty snack over a sweet treat any day? Then this mouthwatering collection of savory flavors is their ideal gift. Containing three fresh cheeses (aged gouda, aged cheddar and piave), together with Di Bruno Bros. signature cheese spread, blood orange grappa jam, white truffle honey, black lava cashews, crostini and salami.
Browse all the gift boxes and baskets at Macy's
4. Best Christmas Day gift basket
Christmas Day Gift | $99.95 at Stonewall Kitchen
Filled with all the festive treats you need for Christmas Day, this gift basket will make the big day a whole lot easier. Start off Christmas morning with the pancake and waffle mix, together with the deliciously spiced holiday syrup, by mid afternoon the gingerbread and sugar cookie mixes will make easy, quick bakes for all, and come evening, everyone can wind down with a mug of peppermint hot chocolate or mulled wine. Bliss.
5. Best sweet holiday hamper for all the family
Mrs Prindables Abundant Holiday Caramel Apple Basket| $150 $112.50 (save $37.50) at Bloomingdale's
Give someone a trip down memory lane with this magnificent family-sized gift basket. Featuring ten delicious caramel apples in assorted flavors, chocolate-covered pretzels, caramels and toffees, peppermint bark, chocolate truffles and jumbo nut clusters, this should keep a family in sweet treats for the entire holiday season.
I started out at British GQ, where a month of work experience turned into 18 months of working on all sorts of projects, writing about everything from motorsport to interiors, and helping to put together the GQ Food & Drink Awards. I then spent three years at the Evening Standard on the GO London team, covering restaurants and bars, and getting to eat and drink a veritable smorgasbord of wonderful things around the city. I left the paper in 2020 and went freelance, writing about food, drink and homes for publications including Conde Nast Traveller, Luxury London and Departures. A little less than a year later, I started at Homes & Gardens as a Digital Writer, allowing me to fully indulge my love of good interior design.