Diptyque taps Luke Edward Hall to bring the Mediterranean to life – in their new summer release
diptyque wants to transport you to the heart of Mediterranean nature with its new Summer Essentials collection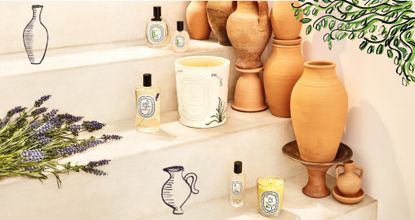 (Image credit: diptyque)
A little party never hurt anybody, and diptyque agrees.
Seemingly drawing inspiration from the Mediterranean landscapes that diptyque founders Ives Coueslant and Desmond Knox-Leet frequently visited in the 1960s, the beloved brand carries on glorifying their 60th-anniversary – with more lavish celebrations – and their latest installation benefits us all.
Honoring the remarkable achievement, everyone's favorite candle connoisseur has released yet another brand-new collection, enlisting Luke Edward Hall – lover of the Mediterranean and world-renowned artist – to bring it to fruition.
Embracing the summer season's signature scent of citronella, the newly-released interior and exterior candles are infused with olfactory ingredients from Italy, Provence, and the Greek islands to create a 'landscape of the soul'.
Known for his bold use of color and Greek neo-classic style – complementing diptyque's natural inspirations – Hall has recreated the beauty and light of the Mediterranean in a modern and joyful manner, invoking those same fond memories of a holiday in the sun the founders possess.
Hall's intricate illustrations are located on the diptyque summer essential collection's candle packaging.
To see the Mediterranean come to life, continue reading!
1. The Citronnelle Interior and Exterior Candle
Citronnelle Interior and Exterior Candle for $360, at diptyque
Scented with lemongrass, which is famous for its mosquito-repelling assets, this candle is supreme for summer evenings spent outdoors. Its delicate aroma exposes surprising facets, at once floral, citrusy, and almost spicy.
Capturing the authenticity of nature in the summertime, Hall illustrates the Mediterranean coast immersed in light as the wind wafts within the trees and, in the background, a home framing the sky.
2. The Citronnelle Candle
Citronnelle Candle for $68, at diptyque
Among its energetic, aromatic notes, lemongrass directly summons summer evenings – when the sun has vanished from the range, and the breeze in the garden subsequently cools down.
Perfuming and mosquito repelling, this candle is committed to times like these.
Here, lemongrass, luminous, reveals floral and citrusy facets where it meets verbena, neroli, and orange blossoms, and Hall's delicate detailing is on the iconic oval of this limited-edition candle.
Brittany Romano wrote for Homes & Gardens as a U.S. Shopping Editor. A graduate of New England College, Brittany started her career as a freelance fashion market assistant at Marie Claire. She later joined AMI, where she designed a highly profitable commerce vertical. Noted for her award-winning content, she's covered everything from celebrity beauty hacks to the most lavish home decor.