Take note: Drew Barrymore masters spring cleaning with this simple step
Drew Barrymore, the founder of @FLOWERbyDrew, gives a lesson on how to Marie Kondo your space just in time for spring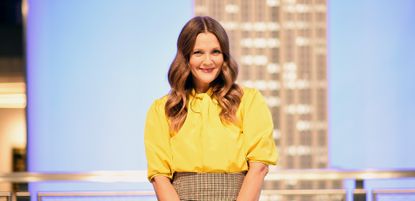 (Image credit: Photo by Dimitrios Kambouris/"Getty Images for Empire State Realty Trust)
Whether you're reorganizing your wardrobe or feng shui-ing your living room layout, after nearly a year in quarantine, a limited number of projects lift our spirits more than organizing our homes.
Managing our spaces – how they look and feel – renders a sense of relief, something many of us so desperately need. And if you're searching for an illustration on how, take Drew Barrymore's lead.
In an Instagram video released on March 2, the Flower Home (opens in new tab) founder displayed a very familiar snapshot – a disorganized floor – which affected viewers in a very relatable manner.
The Drew Barrymore Show host relied on rectangular-shaped boxes to perfectly pack all of her everyday essentials – and it earned our stamp-of-approval as well.
See: Cleaning tips – our essential guide to keeping your home spotless
Storage boxes are an invaluable investment and endlessly multi-functional, particularly when you discover one that grants a streamlined silhouette, with (or without) a top lid, and available in a muted hue.
See: Small living room storage ideas – clever ways to clear clutter in a compact space
A staple such as that is nothing short of an essential – a way to tuck away odds and ends, without disrupting your current aesthetic (and no one will guess your secret).
Consequently, if you find yourself contemplating giving Drew Barrymore's go-to trick a try this spring season, we've carefully curated a collection of suggestions suitable for the task, below.
1. Try a whitewashed storage solution
Whitewash Storage Bins, Medium (opens in new tab)starting at $49, at Pottery Barn
Expertly crafted of rattan and a natural white-wash finish, this storage solution (opens in new tab) additionally features cutout handles for easy transportation.
2. Opt for a classic clasped choice
3. Try an out-of-the-box selection such as this beautiful bin
Jasper Wood and Lacquer Lidded Storage Bin (opens in new tab) for $150, at west elm
Secure items sleekly and safely in any home or office courtesy of this lidded bin. (opens in new tab)Possible in your choice of superb finishes, this bin is perfect for keeping items out of sight, in style.
4. Stay on-trend with this ombré option
Ombré Seagrass Amelia Tote Basket With Lid (opens in new tab) for $79.99, at World Market
On-trend in ombré, the Amelia basket (opens in new tab) features sturdy handles for easy toting and a snug lid for tidy storage. This chic piece is handcrafted by artisans in Vietnam, who weave natural seagrass with white recycled plastic before applying a tonal black finish.
5. Get a natural look with a cotton creation
Brittany Romano wrote for Homes & Gardens as a U.S. Shopping Editor. A graduate of New England College, Brittany started her career as a freelance fashion market assistant at Marie Claire. She later joined AMI, where she designed a highly profitable commerce vertical. Noted for her award-winning content, she's covered everything from celebrity beauty hacks to the most lavish home decor.