See inside Drew Barrymore's living room – and mimic her vintage style with buys from her own interiors collection
The actress-turned-talk-show-host has fully embraced her eclectic bohemian style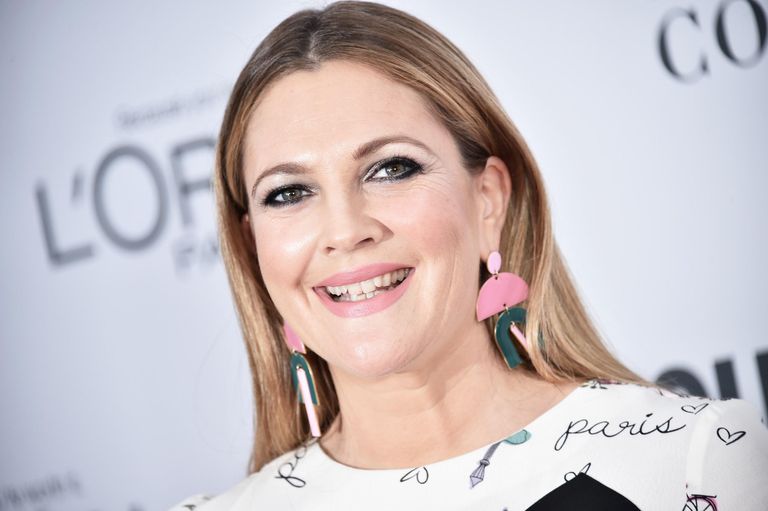 (Image credit: Alamy)
Drew Barrymore's living room really showcases that she has a keen eye for creativity. The Charlie's Angels actress has never been afraid to take risks and be a little daring with her home decor. As a result, her fans and Instagram followers have quickly fallen in love with her eclectic design choices – you can take a look at her living room in her IG clip below. 
In addition to showing off her beautiful abode, Drew has also created her own home decor line called Flower Home, which allows aficionados to imbue some of her quirky style into their own personal projects. 
See: Living room ideas – clever ways to decorate living spaces
Drew, who shares her home with daughters Olive and Frankie, has achieved the art of blending work-time with mom-time. In fact, her home office actually doubles as a playroom for her children. In addition to all of the traditional toys and colorful rugs one would find in a play-room, there is also a wooden table for Drew to tackle work. 
Two of the most iconic features of Drew's home are also a testament to her eclectic tastes. The first is her sitting room which has wall-to-wall bookshelves – the colorful books of varying heights and sizes are enough of a statement all on their own. The second feature is her bold, mismatched wallpaper. She used a traditional striped pattern on the walls, but on the ceiling she opted for a star print. 
Drew has clearly embraced her own unique style and her home decor line allows shoppers to get a taste of her special brand of maximalism. 
Here are a few of our fave pieces:
Forgotten Era Ceramic Face Lamp 
This lamp is a statement piece at its finest. The base of the lamp is made of ceramic and possesses a semi-glossy finish. Carved along the front of the lamp is a face, which made for a truly unique look. The velvet lamp shade is a deep wine color which adds just a touch of elegance. View Deal
Adding artwork to your wall is a quick and easy way to switch up the vibe of any space. This eclectic piece of a leopard drawn over a jungle background, is the perfect way to a unique pop of color to any room. This impressionist-style artwork comes pre-framed and with all of the required hanging tools.View Deal
If you're ready to create your own mix and match wallpaper look, this piece is the perfect jumping off point. This wallpaper features a rich navy blue palm leaf print with a dotted gold accent. The paper comes with a self-adhesive and is easily removable and can be repositioned as needed.View Deal
Botanical Watercolor 16-Piece Dinnerware Set 
This intricately designed set allows you to bring a touch of maximalism to your dining table. Whether you're cooking a holiday feast for your extended relative or just whipping up a quick weekly dinner, this ceramic set will let you chowdown in refined style.View Deal
This retro-inspired piece will let you lounge around in comfort without sacrificing your style. The loveseat boasts a solid wooden frame with tapered wooden legs and, with its plush cushion and bold print, would be perfect in a living room or bedroom.View Deal