Inside Dallas actress Linda Gray's rustic Santa Clarita home – on the market for $2,995,000
Linda Gray's mid-century Californian home is a welcoming and rustic retreat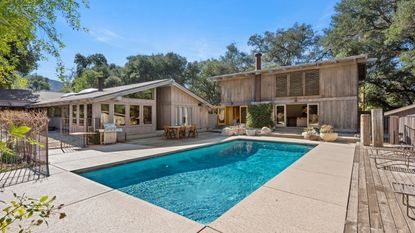 (Image credit: Marc Angeles)
Linda Gray who starred as Sue Ellen in CBS's primetime soap Dallas, reprising her famous role in 2012, is selling her warm and welcoming Santa Clarita home for just under $3m.
Linda bought the 2.7 acre gated private plot in 1973 with her then-husband the late art director and photographer Ed Thrasher. The beautiful 'Oak Tree Ranch' is a three-bedroom main house with a two-bedroom, two-story guest house totaling 4,800 sqft. designed by legendary modernist architect A. Quincy Jones it sits alongside some of the world's best homes.
In a video produced with selling agents The Agency, Linda reveals that she has loved living there.
'It makes you feel wonderful and warm and inviting, it invites you to enjoy your life and that's what my home is basically all about,' she says. 'It's about enjoyment. It's about solitude, about relaxing. It's about enjoying the people you want to have over to your home.'
The property is only a 30 minutes drive from LA but is filled with rustic features anyone could dream of, it even features a chicken coop.
Huge reclaimed tree trunks hold up the living room ceiling, reflecting the name 'Oak Tree Ranch' and setting the scene for a Modernist house that feels close to nature throughout. White walls open up the space and reflect natural light into every corner, the perfect inspiration if you're looking for rustic living room ideas.
Architect Quincy A. Jones' Modernist influence stands out in the living room. The glazed gable and wood-paneled ceiling soar high, bringing a sense of grandeur to the living room.
In the dining room, a carefully-positioned roof light brings in natural light and offers glimpses of the Californian skies in the evening. A. Asymmetric furniture and walls complement each other in warming neutral tones.
The chef's kitchen was designed by Californian architect Josh Schweitzer with professional appliances and a pizza oven. Linda asked him to design the hanging rod kitchen storage idea for her pots and pans so she doesn't have to 'go digging in cupboards' to find things.
A split-level ground-floor guest room opens directly to the garden and has a characterful fireplace and comfortable window seat and benefits from a roof light to bring in lots of natural light – a signature feature of the house.
It leads into a library/snug with built-in bookshelves and space for an oversized cuddle chair and footstool for ultimate relaxation.
A sunken spa bath and a wood-burning stove turn this bathroom unto the ultimate hideaway. Imagine soaking in the tub and looking up at the stars above through the wrap-around glazing.
Rough-hewn timber paneling, stone-cobbled walls, brass faucets, and pipework carry the rustic feel into the bathrooms.
Linda has carefully created sheltered areas for relaxing and entertaining outdoors, with laid-back sofas and a natural stone fire-pit table forming a centerpiece of the organic garden.
Wicker furniture, curved shapes, and textured walls make this bedroom a natural haven.
The estate has stables for four horses, a tack room/barn, a koi pond, and a waterfall which helps to create a relaxing sensory outdoor ambiance.
The property is currently listed with Billy Rose, Natasha Sizlo, and Andrea Korchek of The Agency.
Jayne Dowle is an award-winning freelance gardening, homes and property writer who writes about everything from swimming ponds to skyscraper apartments, for publications including Sunday Times Home, Times Bricks & Mortar, Grand Designs, House Beautiful and The Spectator. Awarded the Garden Journalist of the Year accolade at the Property Press Awards in 2021, she has a degree in English Language and Literature from the University of Oxford and a lifelong love of homes, interiors and gardens. Her first memories include planting potatoes with her grandfather and drawing houses. Her own garden - her fourth - at home in a 1920s house in Yorkshire, is south-facing and on the side of a valley. It's a constant challenge.