5 nightstand design mistakes to avoid – and how to put them right
Follow our 'what not do to' guide on how to avoid the most common nightstand mistakes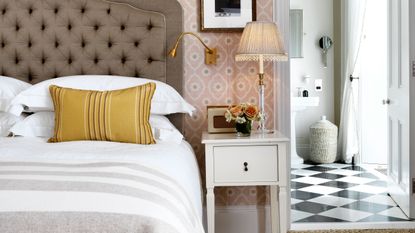 (Image credit: Susie A Fleming at Beaverbrook Hotel)
We recharge and relax in our bedrooms, and aside from our beds, the nightstand is one of the most important pieces to get right. The catchall for numerous items, it has to work hard for us, so it pays to get it right the first time.
See: Bedroom ideas – designs and inspiration for beautiful bedrooms
It's easy to make mistakes when choosing one and there are many key considerations. We cover the top five most common mistakes below with some fabulous expert interior design comments from key designers.
1. Getting the proportion wrong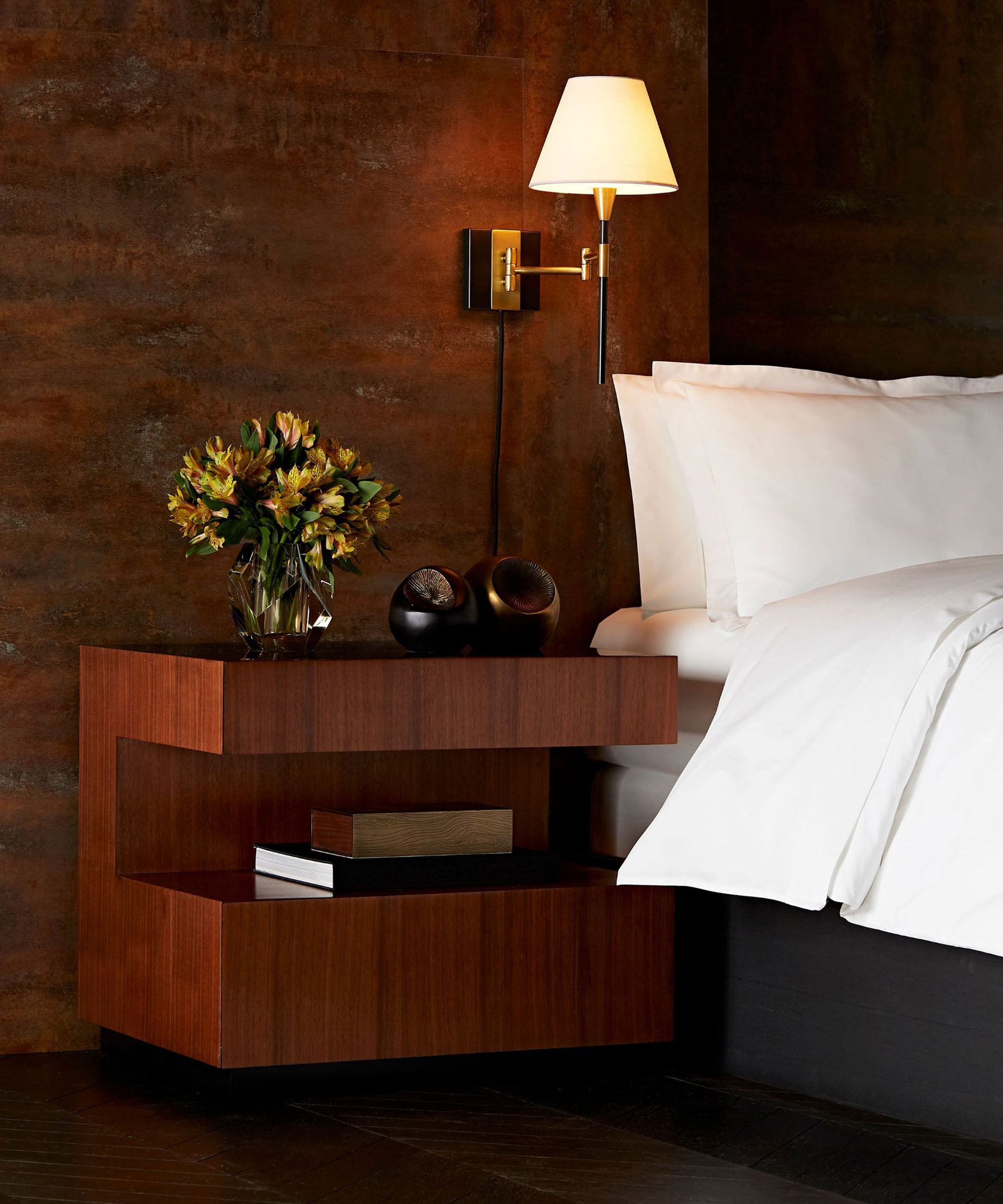 Balance is key here because two matching nightstands crafted from mahogany won't work with a beautiful handcrafted vintage style ironwork bed. However, they will look fabulous next to a chunky button-backed upholstered design.
'A bedside table can take many forms and functions with its purposes no doubt differing from one bedroom to the next,' says Laura Hadad, Design Ambassador at Arteriors London.
'A surface for a lamp and book for some, vital storage for others but aside from function a bedside table has a surprising impact on how your bedroom comes together, completing its end-look and feel. Matching bedside tables are the usual go-to which helps bring balance to the space, giving it a luxury hotel feel.'
2. Choosing the wrong height
Continuing on with proportion, it's vital that you get the correct height to suit your needs as Mariana Ugarte, founder of Interior Fox explains:
'A standard bedside table is usually 24-28 inches, but building your own will allow the freedom to create a height that works best for your space. You'll need to ensure it is easy enough to reach a glass of water or the book you've been reading. Start by measuring the height of the mattress, this will give you a good indication of placement, a few inches above the bed works best.'
See: Interior design tips – decorating secrets for the world's top experts
3. Not picking the right materials for the scheme
If your scheme is light and airy with white linen and gentle greys, a black or mahogany chunky looking bedside will look out of place. This is about getting it right visually – what kind of feel are you after? Glass or perspex is a great option as it enables you to see through the legs which gives the illusion of space - a great trick to use in small rooms. And have you ever considered a color? This blue leather top looks fabulous and the brass edging finishes it off perfectly – a crisp modern nightstand for an uber stylish bedroom.
4. Focusing on style over storage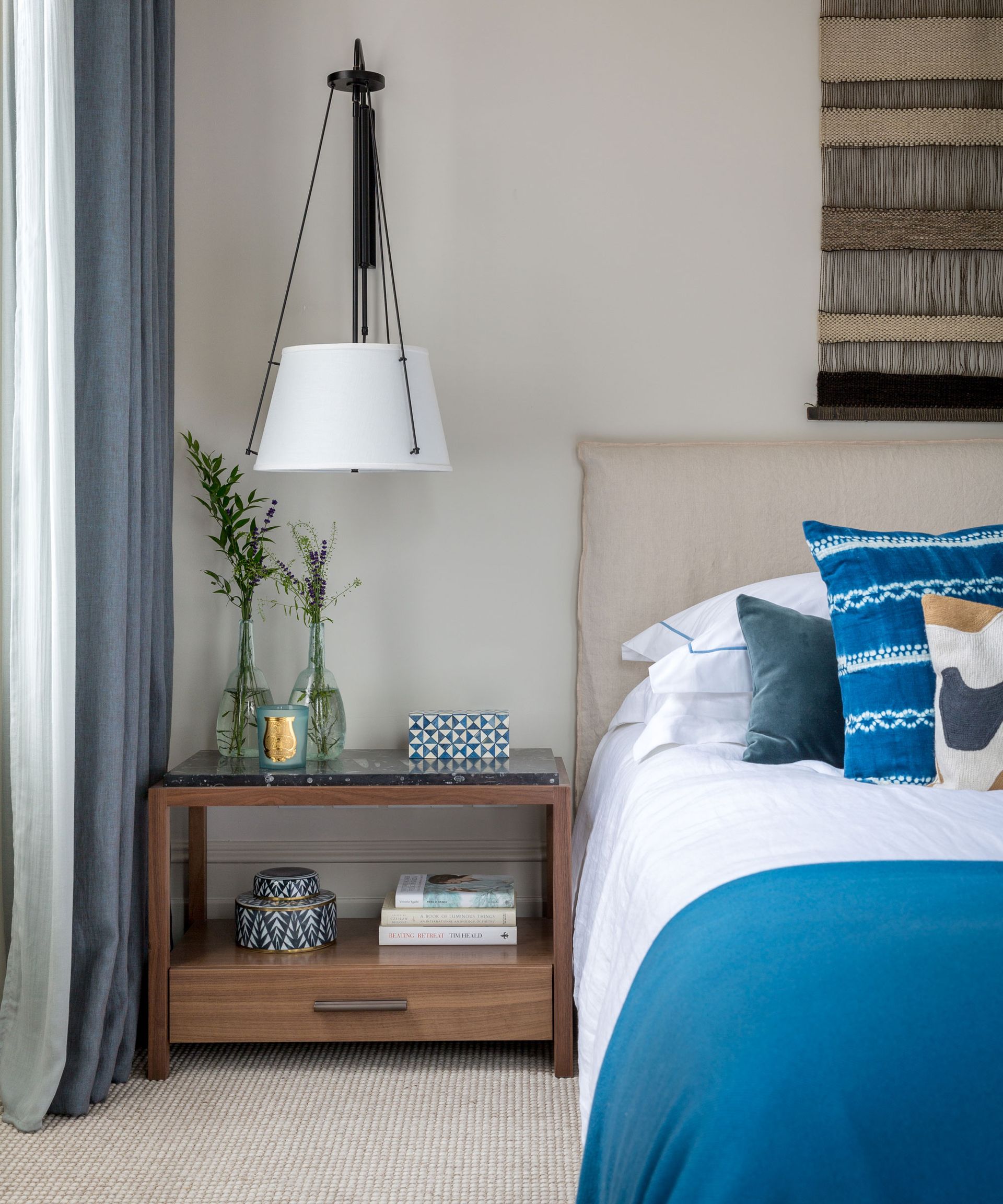 'Bedside tables and nightstands need to be practical as well as beautiful,' says Clara Ewart, Head of Design at London based interior studio at Kitesgrove. 'Put down space is essential whether that is for a table lamp, a book, or a glass of water. Drawers are a bonus when it comes to hiding clutter and a shelf can provide useful additional storage.'
So if your nightstand doesn't cut the mustard then find a design that ticks those boxes. An average nightstand needs to hold personal items: your glasses, books, your phone, jewellery dish and more often than not a lamp – and that's without snacks when watching Netflix. Then there's those pieces you want nearby but out of view - medicines maybe and a journal. So the minimum you might require is one drawer and a shelf. If your nightstand is small then consider using a wall light to free up space - you'll never go back to a table lamp after.
5. Not following the interior design rules
To avoid having a nightstand full of clutter, it's a good idea to follow the rule of three, it's a trick that stylists use to create their beautiful displays. Groups of three work best generally, of course there are always exceptions but follow it as a guide and you won't go far wrong. Here, you can see it in place - the tall lamp, radio and vase of flowers, it works a treat.
Renowned London based Interior designer, Susie Atkinson explains her design and styling process:
'When we are designing a bedroom scheme, we like to include a bedside table with clean lines, and a subtle reference to geometry works well in both contemporary and traditional interiors. The bedside table should fit the space perfectly – it should be generously sized if space allows, without being too dominant. In our hotel schemes, such as this room at Beaverbrook, we often like to include a bedside lamp as well as a reading light, and we often accessorise with a Roberts Radio and a pretty vase of flowers.'
See: Country bedroom ideas – bring charming rustic style to your master and guest bedrooms
Flowers really will bring life to your nightstand, choose blooms that are scented like sweetpeas, garden roses and stocks during the summer, and anemones and poppies during the winter for their bold color.
Sign up to the Homes & Gardens newsletter
Decor Ideas. Project Inspiration. Expert Advice. Delivered to your inbox.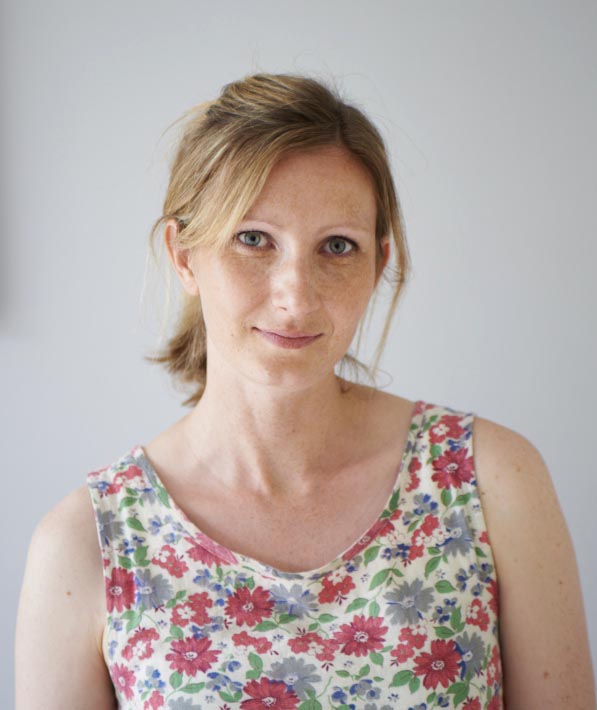 Sophie has been an interior stylist and journalist for over 20 years and has worked for many of the main interior magazines during that time, both in-house and as a freelancer. On the side, as well as being the News Editor for indie magazine, 91, she trained to be a florist in 2019 and launched The Prettiest Posy where she curates beautiful flowers for modern weddings and events. For H&G, she writes features about interior design – and is known for having an eye for a beautiful room.