An elegant and inviting entertainment space is simple to achieve with this luxury flooring solution
With beautiful flooring in place, the rest will follow – see the handsome yet hard-wearing options from Stories Flooring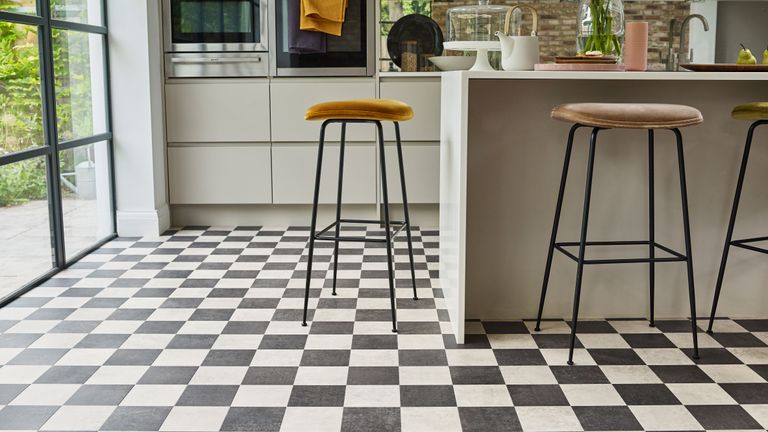 (Image credit: Designers' Choice Check Plaid Flooring, Amtico)
Our homes have had to work harder over the past year but that doesn't mean style standards have slipped. On the contrary, as we seek sanctuary in our surroundings, interior decoration has seen an upsurge. So too with the garden. Expanding beyond the home, exterior rooms, extensions and entertaining spaces in outbuildings are now more than a growing trend, they're de rigueur, so we were delighted to see the luxury vinyl tile (LVT) flooring collection at Stories Flooring.
Beautiful flooring is the foundation to any scheme, able to set the right style tone for your room from the ground up. A once barely used exterior room or outbuilding can undergo a dramatic design overhaul with the introduction of stylish new flooring – and with LVT there's a wealth of wonderful tones and textures to choose from.
Taking its aesthetic influence from real wood and stone, luxury vinyl tile flooring (LVT) is designed to replicate the real thing – with rich tones and textures that will harmonize your space and create a successful scheme – without the need for specialist installation or the upkeep required of natural materials.
Warm and comfortable underfoot, there's a myriad selection of stone styles with luxury vinyl tile flooring. From the vast spectrum and subtle veining of different marbles to the deep and delicately nuanced shades of limestone, slate, graphite and more.
Timber is wonderfully represented too, with the palest of grey oak and bleached elm through to smoked cedar and the rich hues of warm cherry or black walnut. In addition to the beautiful textures and tones, there's the option for planks, parquet or tiles, offering a plethora of design styles encompassing classic, country and timeless looks, through to the current trends.
Whatever your preferred look, nature's rich tonal palette is presented in an elegant yet durable offering that will seamlessly blend the inside with the outside, and delight anyone looking for interior inspiration.
What's more, LVT flooring can be installed with underfloor heating, so your outdoor entertainment space can be used all year round – and that's something to celebrate.
Luxury vinyl tile (LVT) flooring, from £19.99 per sq m, Stories Flooring
Stories Flooring Unit 2, Wortley Business Park, Amberley Road, Leeds, LS12 4BD Tel: 01133200223 Email: info@storiesflooring.co.uk