The Little Market spotlights female artisans ahead of International Women's Day
"When we invest in women, we invest in communities," says The Little Market's co-founder Lauren Conrad. Here's how you can show your support by shopping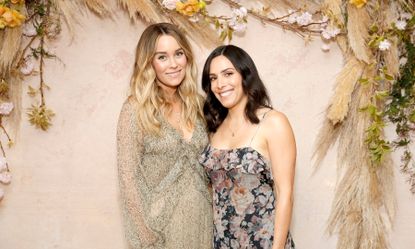 (Image credit: Rachel Murray/Getty Images for The Little Market)
The future is female – and co-founders Lauren Conrad and Hannah Svarkla created The Little Market to show their support. In 2013, the two friends formed the mission-driven non-profit fair trade shop featuring ethically sourced, artisan-made products; behind every product is a person who created it – and a story.
The Little Market extends its products' distribution and supports sustainable income opportunities by selling empowered artisans' handcrafted pieces exclusively in their store. This month, Conrad and Svarkla once more used their platform for the greater good – this time around, spotlighting International Women's Day.
Conversation with Changemakers – The Little Market's new virtual series – enlisted a handful of Hollywood's heavy-hitters to help make their message clear. With the help of Jane Fonda, Charlize Theron, Glennon Doyle, and famed civil rights activist Dolores Huerta (to name a few), to help give voices to women struggling.
"Last year, The Little Market provided one million hours of dignified work for women who come from some of the most underserved communities," she adds. "The bigger we grow, the more women can help create a brighter future for their families."
"It is more important than ever to support women. When we invest in women, we invest in communities," explains Conrad.
Now, for those looking to give back too? The best way we can is by investing in female artisans by shopping these five items from The Little Market.
1. Renew towel collections by adding this versatile eco-conscious alternative
Whether we're utilizing them for recreational use or the shower, towels are a mainstay in our homes. In which case, why not invest in a towel that's handmade by Kara Weaves. Every purchase empowers her work in India.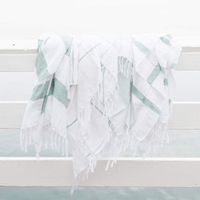 Lightweight Striped Fringe Beach Towel for $60, at Amazon
Artisan Kara Weave's labor-intensive process includes pre-looming, and hand-stitching ensures that this cotton is not only the softness model on the market but eco-conscious. Suitable for home-use or great when brought on-the-road, versatility shines through on this sage striped staple.
2. Support African artisans by investing in these beautiful baskets over traditional ones
Whether you're looking to tuck away papers or hide season decorations, baskets are the solution to space-saving in any home. Plus, if you happen to find a basket that is equally as functional as it is fashion-forward? Talk about a win-win – what is better than that? This set of three baskets support local artisans in Rwanda. Making it the sound investment that won't just look good in your home but do some good too.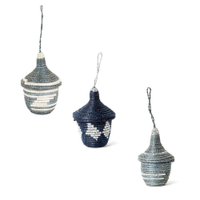 Mini Lidded Ornament Baskets - Charcoal & Navy Set of Three for $30, at Amazon
Supporting artisans in Rwanda, these hand-woven baskets come in a set of three and are harvested from tall elephant grass from local fields and naturally dyed to obtain their vibrant color. Perfect for storing small items, these baskets are equally useful as they are unique.
3. Bring versatility into your aesthetic courtesy of this design from Ghana
Toss your keys, phone, and sunglasses into this endlessly versatile bowl. The handwoven basket hails from Bolga and includes a hang loop to effortlessly decorate your walls and make them Instagram-ready in the process.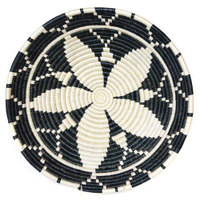 14" Woven Bowl – Black for $98, at Amazon
A timeless icon of African craftsmanship, these Bolga baskets from Ghana are known for their durability, unique patterns, and lively colors.
4. Take strides towards a more sustainable lifestyle with this reusable wine tote
Wine cellars and hand-mounted storage is excellent, but what happens when you're traveling to-and-from the supermarket or heading over to a loved one's home for the holidays? Stuffing a bottle of wine in your purse or tote can be a bit risky. Keep your prized possession safe and sound by opting for a reusable wine tote. Not only is it the safety blanket your wine needs, but its ethically sourced materials are sustainable.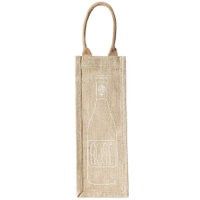 5. This straw tote that's ready for garden duties
With spring right around the corner, our gardens are about to be in full bloom, but without a worthwhile tote or bin to carry them, we risk ruining our produce before even getting the chance to enjoy it. Alleviate any risks by investing in a straw tote. The strap allows versatility when carrying it; easily throw it over your shoulder or hold it. Even more exceptional is its straw material — it's both functional and fashionable enough to wear when running to the supermarket over to a last-minute gathering at a friend's.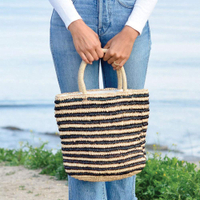 11" Striped Raffia Tote Bag - Black & Natural for $125, at Amazon
Gear up for all your springtime gardening duties with this black-and-white straw tote. Inspired by long strolls throughout the streets of Paris, this bag combines function with fashion — ranking it high on our priority lists.
Brittany Romano wrote for Homes & Gardens as a U.S. Shopping Editor. A graduate of New England College, Brittany started her career as a freelance fashion market assistant at Marie Claire. She later joined AMI, where she designed a highly profitable commerce vertical. Noted for her award-winning content, she's covered everything from celebrity beauty hacks to the most lavish home decor.