Tom Brady and Gisele Bündchen's house – see inside the Superbowl champion's mansion in Massachusetts
The former New England Patriots quarterback now lives in Florida with his family after he signed with the Tampa Bay Buccaneers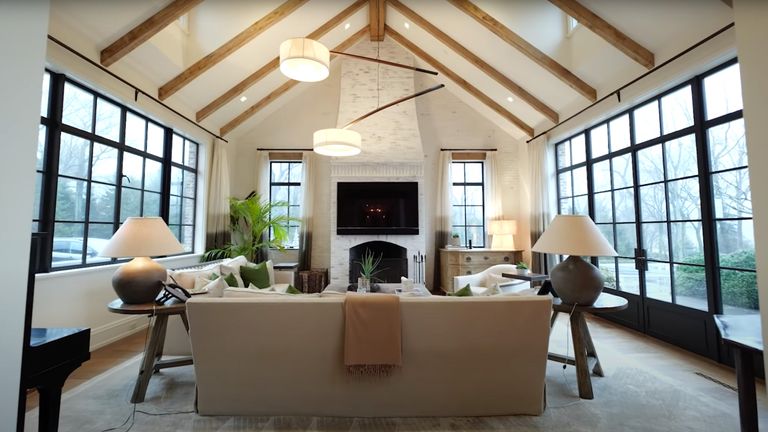 (Image credit: Sotheby's International Realty)
Have you ever wondered how Tom Brady lives? Us, too. We take a tour around his former New England home, and it is certainly a sight to behold.
On Sunday 7 February 2021 – history was made when quarterback Tom Brady lifted yet another Superbowl victory – clocking in seven impressive wins during his 21 year career in the NFL. 
The athlete won six of those with his former team, New England Patriots, and now in his first year with the Tampa Bay Buccaneers, the legendary quarterback has just won another.
Now regarded as one of the greatest players ever, Tom Brady, also known as Thomas Edward Patrick Brady Jr. wasn't drafted until the sixth round of the 2000 NFL draft.
It was in 2020 that Tom Brady said goodbye to the New England Patriots on social media, capping off a historic 20-year run that would seal his status as an all-time great. 
The news was about as big as it gets in the American football world, but in real estate circles, the announcement came as little surprise. Only a few weeks prior to his departure, the star had ramped up the marketing campaign for his Massachusetts mansion that's been on the market for $33.9 million.
Take a tour below – and when you're done, hop on over to our page dedicated to the world's best homes for more.
See the property listing video below
A new two-minute video on the listing page takes us on a tour of the gated estate, which Tom Brady shares with his wife, supermodel Gisele Bündchen. 
The pair first marketed it for sale last summer at $39.5 million.
According to Sotherby's International Realty; The five-bedroom property centers on a 10,000-square-foot manor built by Richard Landry, the same architect who built the couples last home in Brentwood – which the pair sold to music mogul Dr. Dre for $40 million in 2014.
Situated on more than five acres and adjacent to the 9th hole of The Country Club –the oldest country club in the United States – the home features extraordinary views of plush landscaping, all while offering much-needed privacy.
The surrounding accompanying land, which has room for an expansive swimming pool, sun deck and vegetable garden, and a 2,400-square-foot barn-style guesthouse that Gisele Bündchen described as her 'sanctuary' also holds a yoga studio and loft space.
Brady and Bündchen moved to Florida last year with their son Benjamin Rein, and daughter Vivian Lake, after he signed with the Tampa Bay Buccaneers in March 2020.
It was recently reported that they paid $17 million for a home on Florida's Indian Creek Island. The island, found off the coast of Miami, got the nickname 'Billionaire Bunker' because of the high-profile residents that live on the island.
The TB12 Method: How to Do What You Love, Better and for Longer, Amazon
The #1 New York Times bestseller by the Super Bowl champion. This is the first book by Tampa Bay Buccaneers and former New England Patriots quarterback Tom Brady – the now 7-time Super Bowl champion who is still reaching unimaginable heights of excellence in his forties.View Deal
Beth Dickerson of Gibson Sotheby's International Realty held the listing.