4 ways Christmas trees have changed since the year 2000 – how many of these looks did you try?
Have you been tempted by a new look Christmas tree in the past? Was it a style success or a festive flop? We explore the various styles over the past few decades - just for fun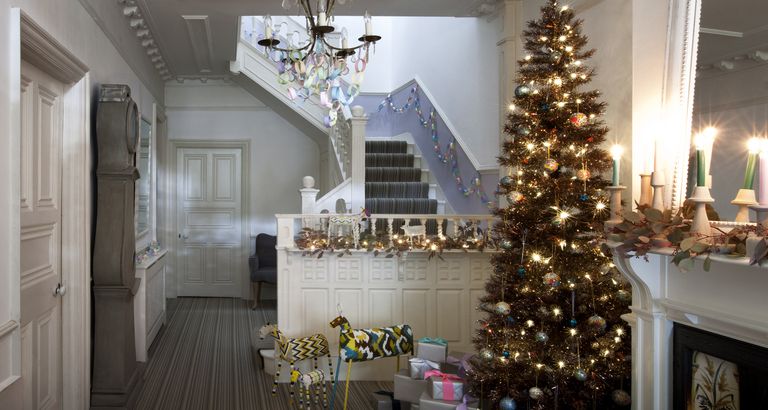 (Image credit: Future/Paul Raeside)
Every year, we're greeted with a host of new Christmas trees and while not all of them may be on your radar, we at Homes & Gardens get to see everything out there - from the classically gorgeous to the quirky, weird and wonderful ones.
From skinny, tall trees to multicolored trees, trees with taller trunks to stop the dog and cat knocking them over, to flat-backed trees that sit against the wall neatly... we've seen them all.
John Lewis & Partners Christmas Buyer Dan Cooper says that as well as trends, the evolution of Christmas trees has changed considerably over the years, too. 'Our trees are always getting taller and bigger. The normal height up until the noughties was 4 to 6ft. Now 7ft is standard, and we go up to 9ft. The tree really has become more of a centerpiece.'
See more: Christmas tree trends – the latest looks for this season
Dan continues: 'The noughties brought height and width to trees, but it's been the past ten years that the truly quirky trees stepped into the spotlight. We wanted to do something more, so we introduced the upside-down tree, and the reaction was incredible.'
'It had never been seen in the UK before and really got people talking. It paved the way for us to introduce designs that were unique, but to also consider how people were living.'
Looking back, the brand launched a purple tree in 2019, while 2018 they ran with a rainbow tree. The year before that, they had a pre-lit parasol tree that was designed to replace your garden parasol.
A self-confessed tree addict, Dan admits: 'I've always been obsessed with Christmas, I had seven trees up at home last year!'
We're taking a look back at some of the fun and fabulous Christmas trees - some brilliant, some bonkers - that John Lewis has introduced over the last couple of decades, so scroll down for a stroll down (the festively decorated) memory lane...
1. The bare branched tree
A true break from tradition, this Scandi-style pre-lit tree tapped into the Nordic minimal trend. It could be used indoors or out, and the bare branches allowed the decorations - the few that it could take - to really take centre stage.
2. The upside down tree
In 2010, John Lewis & Partners launched its upside down tree. Billed as a solution to having a small living room with limited floor space remaining once all the presents are under the tree, the brand literally turned the idea of a Christmas tree on its head. And in that, solved the issue with the fuller end of the tree at eye level.
We can't honestly say we're keen - suffice to say, that beauty is in the eye of the beholder.
2. The charcoal tree
The charcoal branches of this striking tree allowed twinkling lights to really shine out and decorations pop against the deep, dramatic background. The branches had a delicate sheen, too, highlighting the decor further.
4. The singing tree
This September, the brand launched it's first 'singing' tree. Called the Evergreen Classic Holiday Symphony Rainbow Christmas tree, this pre-lit tree can play music while simultaneously flashing its lights to the rhythm.
'Not so long ago, a tree was considered lavish when it had 300 lights', says Dan Cooper. 'Today, some of our pre-lit designs have three times that. This year is all about the Symphony Rainbow Pre-lit tree. It's mesmerising.'
Sadly, the tree sold out extremely quickly and is no longer available. However, if you head to John Lewis, you can still snap up the Twinkly pre-lit tree which you can control via a smartphone app. Check out some of our top picks below.
Hello there, I'm Ginevra Benedetti,
Associate Editor on the Homes Content Team at Future.
I've been fortunate enough to have been writing about interiors for the past 16 years on the majority of Britain's monthly interiors titles, such as Ideal Home, Country Homes & Interiors and Style at Home, as well as Livingetc and of course, Homes & Gardens.
This naturally feeds into writing for wonderful websites like HomesandGardens.com and IdealHome.co.uk.
Over the years, I've interviewed some of the most talented designers in the business and I've pretty much written about every area of the home, from shopping and decorating, appliances and home tech, wallpaper and fabric, kitchens and bathrooms, even extensions and conversions.
I never tire about reading or writing about interiors, from classic timeless designs to innovative smart tech - the subject is always evolving, just as our homes do, year after year.