Nutribullet 7-Cup Food Processor review: ideal for the every-day cook
We put the Nutribullet 7-Cup Food Processor to the test, shredding carrots and even kneading pizza dough, to see if it deserves a spot in your kitchen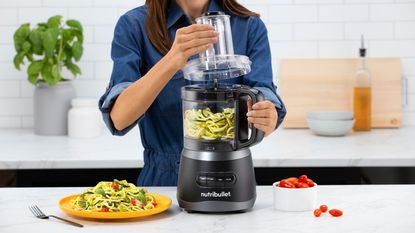 (Image credit: Nutribullet)
You'll be hard-pressed to find a better everyday food processor than this model from Nutribullet, which has everything you need to chop, shred, and even spiralize.
Reasons to buy
+

Well-priced

+

Powerful for its size

+

Three speeds

+

Wide variety of attachments

+

Dual-size chute

+

Stores compactly
Reasons to avoid
-

Shakes during operation

-

Only holds 2 cups of liquid
You can trust Homes & Gardens. Our expert reviewers spend hours testing and comparing the latest products, helping you choose the best for you. Find out more about how we test.
Food processors can be a somewhat polarizing small appliance—some people can't live without one, while others simply don't understand the appeal. No matter which camp you fall into, though, you have to admit that the Nutribullet 7-Cup Food Processor is anything but a one-trick pony. This food processor can play a lot of different roles in the kitchen, helping you to chop, shred, and slice ingredients faster than a knife ever could. It also comes with a spiralizer and dough blade for even more versatility.
This mid-size food processor might not be the largest or most expensive model you can buy, but it certainly stands out thanks to its wide range of attachments (some of which I'd never seen before) and sleek, compact design. It can hold up to seven cups of ingredients at a time, and it offers three different power levels to suit the task at hand, but is it one of the best food processors out there today?
To see how this food processor stacked up against other popular models, I tested it in my kitchen alongside the Cuisinart Custom 14-Cup Food Processor and the Ninja Professional 9-Cup Food Processor. Although it was the smallest appliance in the lineup, the Nutribullet still managed to hold its own against bigger models, and after weeks of testing, I think it's an ideal everyday food processor for any household.
Nutribullet 7-Cup Food Processor: Product specs
Power: 450W
Capacity: 7 cups
Size: 7.4 x 11.5 x 15.75 inches
Weight: 6 lbs.
Cord Length: 39.3 inches
Included: Chopping blade, dough blade, spiralizer disc, reversible thick slice/shred disc, reversible thin slice/shred disc, recipe book
Unboxing
As soon as I picked up the box, I noticed that the Nutribullet 7-Cup Food Processor is extremely lightweight and manageable at just 6 pounds—it's a stark difference when compared to the Cuisinart Custom 14-Cup Food Processor, which weighs in at close to 20 pounds.
Most of the packaging in the box was cardboard, which is easy to recycle, but I was a little disappointed to find that almost every component was wrapped in a thin layer of plastic—not the most eco-friendly option.
As I unpackaged this food processor, I was taken aback at how many attachments it came with. Food processors I've used in the past came with a chopping blade and a shredding/slicing disc, but the Nutribullet comes with two blades—one metal and one plastic—as well as two reversible discs and a strange spiralizing attachment. I'll admit I was intimidated by the last accessory, as I'd never seen anything like it before and wasn't sure how, exactly, it would work. However, I was ready and willing to find out, so I jumped into testing.
Making energy bites
I started out with a straightforward food processor recipe: energy bites! We usually keep a container of these tasty bites in our fridge at all times, as they're ideal for a mid-afternoon snack, and I love that they only take a few minutes to make in a food processor.
After putting the regular chopping blade into the food processor, I combined oats and shredded coconut in its work bowl. I pressed the pulse button on the food processor's base to chop up the ingredients a little bit, but it didn't work the way I expected. Most food processors instantly spin their blades when the pulse button is pressed, but the Nutribullet has a slight delay before it jumps into action. I ended up simply turning the processor on low—it has low, medium, and high settings, unlike the Cuisinart Food Processor, which simply has one power level—and letting it run for 20 seconds or so to mix up the oats and coconut.
Next, I added in the other ingredients, which included peanut butter, chia seeds, honey, and chocolate chips. I opted to turn the food processor on medium this time, and I was surprised to find that it shook a little bit as it churned up the ingredients. Thankfully, the base has four suction cups that stick it to the counter, so it didn't go anywhere. Overall, the machine did a great job creating a uniform mixture, and it was easy to remove the blade so I could scoop out the batter. I was pleased with the appliance's performance, but this was also one of the easiest tasks I had planned for it.
Making banana 'nice cream'
Banana "ice cream" is another recipe that I frequently make in my food processor—if you're not familiar, it's essentially just frozen bananas that are processed to resemble soft-serve ice cream. However, it requires a fairly powerful blender or food processor to achieve the right consistency, so I was interested to see how the Nutribullet performed, as it's only powered by a 450-watt motor. (For comparison, the Cuisinart has a 720-watt motor and the Ninja offers 1,000 watts.)
For best results, you should generally chop up the bananas before freezing them to make it easier for your food processor, but I forgot this step. I managed to break the frozen fruit in half, and I added it to the work bowl along with a splash of milk. After a few pulses, I turned the Nutribullet onto its high setting and let it chop up the banana. I had to add another splash of milk to help it grab the frozen ingredients, but the appliance did a great job creating a smooth, lump-free consistency. I also added a little bit of peanut butter and cocoa powder for flavor, and the "ice cream" made a perfect dessert.
However, I did notice during this test that the "max liquid" fill line on the work bowl is fairly low. I wanted to see just how much liquid it could hold, so I filled the bowl up with water to the line then transferred it into a measuring cup. It was exactly 2 cups, so you probably won't be making any soup in this appliance.
Sliced and spiralized vegetables
I needed to shred some carrots for a recipe one night, so I decided to use the Nutribullet to make quick work of the prep. I tested out both the thin and thick shredding discs—the thicker option is the standard thickness you'd expect from a food processor, while the thin disc delivers really fine shavings.
I absolutely loved that I could simply feed the carrot into the narrow center of the chute, which is the perfect size to keep the vegetable upright. Additionally, the food pusher has little spikes that help to grab the vegetable, keeping it in place as you push it into the blade. For larger ingredients, you can simply take the whole chute out—that's the beauty of its dual-size design.
The shredding discs worked as expected, so I wasn't really wowed by them, but the spiralizer attachment really blew me away. I had to consult the manual to ensure I was installing it correctly, as the unique attachment doesn't spin like the discs or blades. Instead, it stays in place inside the work bowl while the motor turns a small, circular blade inside the attachment. This allows it to quickly create vegetable spirals—it was much faster and easier than any other spiralizer I used.
The curly strands were perfectly uniform, and the attachment was able to spiralize pratically the entire carrot in one fell swoop, resulting in foot-long carrot curls. Personally, I think it's a much better way to spiralize vegetables, and I can't wait to try it on potatoes—the resulting curly fries would be epic.
Pizza dough
The Nutribullet Food Processor comes with a "dough blade," which looks just like the regular chopping blade except it's made of plastic. To try it out, I found a recipe for pizza dough that was made in a food processor. It was fairly straightforward—you just added all the ingredients into the bowl and pulse until a sticky ball forms. At least, that's what was supposed to happen.
My dough never came together, and instead, I ended up a dry, cumbly mess. I couldn't even get it to resemble dough after working it with my hands, so I just gave up and went back to my usual pizza dough recipe made in the best stand mixer. I think this failure had more to do with the recipe than the performance of the food processor, though, and the appliance would definitely work well for making pie crust or other crumbly doughs.
Cleaning the Nutribullet 7-Cup Food Processor
Food processors can get fairly messy when you're working with ingredients like honey and peanut butter, so I was happy to find that most of the removable pieces, including the blade adaptor, blades, work bowl, lid, and food pusher, are all dishwasher safe. (Top rack only, though!) I was able to simply toss them in the dishwasher, and they were ready to clean the next day. My only suggestion is to take the blade off the blade adapter when you put it in the wash—I didn't do this the first time, and gunk got trapped between the two pieces.
One of my other favorite aspects of this food processor is how nicely it stores. With many other food processors, including the Ninja Professional 9-Cup Food Processor, attachments have to be stored separately, but the Nutribullet is designed to fit all but one of its attachments right inside the work bowl. There are two ways to stack them, and you'll be left with just one of the shredder discs or the spiralizer attachment to store separately. (It would be nice if everything fit inside, but there really are a lot of accessories.) Additionally, the power cord wraps up under the bottom of the base for even more compact storage.
Should you buy the Nutribullet 7-Cup Food Processor?
While there are a few quirks with the Nutribullet 7-Cup Food Processor—namely its weird pulse button and slight shaking during operation—I was really impressed with the performance of this compact appliance.
It's powerful enough to tackle tough ingredients like frozen fruit, and its spiralizer attachment is one of the coolest accessories I've seen in a long time! Plus, the mid-price model is thoughtfully designed for compact storage, making it a great option for smaller kitchens.
About this review, and the reviewer
Camryn Rabideau is a freelance writer and product reviewer who has been testing small kitchen appliances (as well as other home goods) for several years. She's tested everything from toasters to oil infusion machines, and as an avid baker, she loves trying out any gadgets that promise to make her creations more delicious or easier to bake.
Camryn does her product testing from her small homestead in beautiful Rhode Island. When she's not tinkering around with the latest home gadgets, she spends her time tending to her animals, working in her garden, or crafting.
Sign up to the Homes & Gardens newsletter
Decor Ideas. Project Inspiration. Expert Advice. Delivered to your inbox.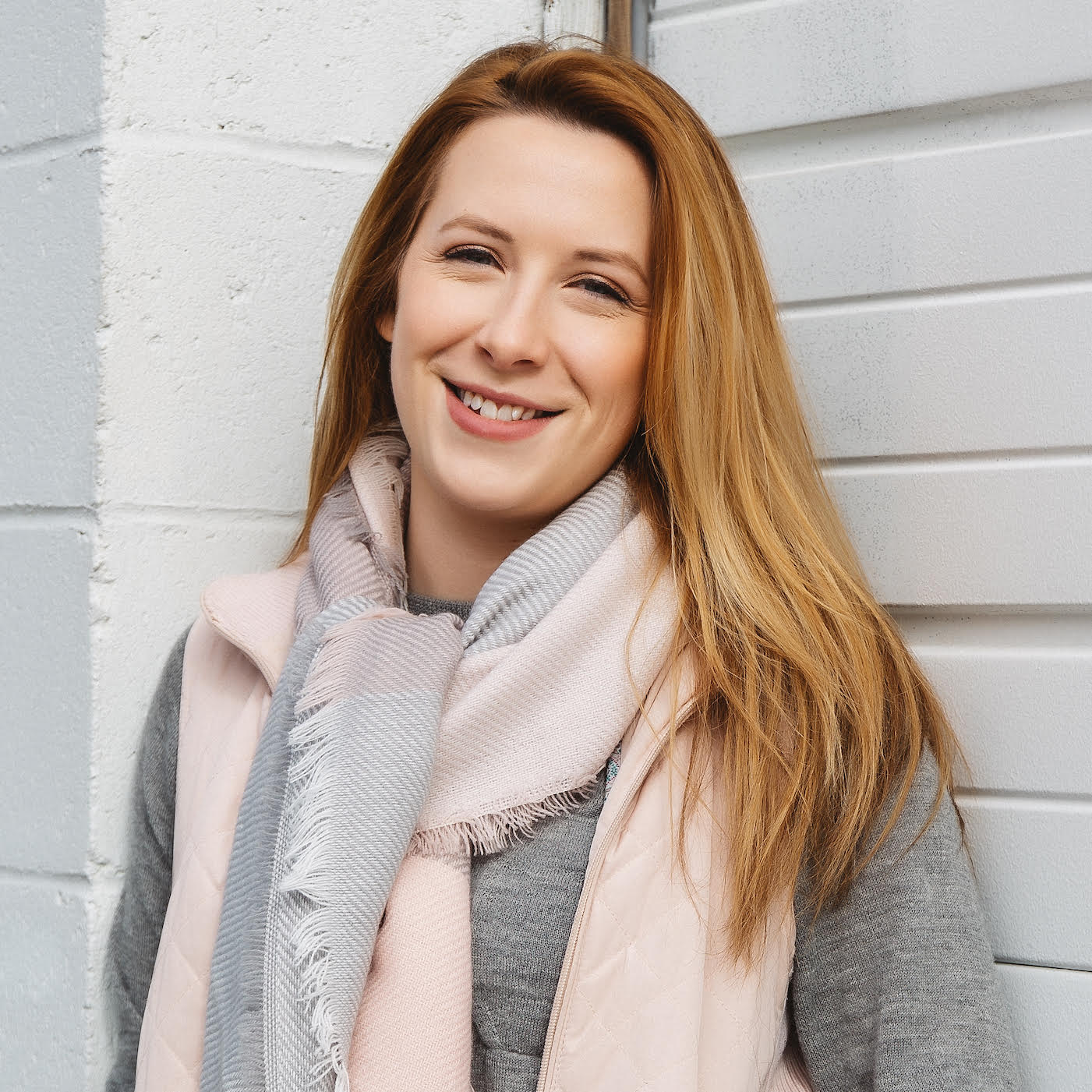 Contributing Reviews Editor
Camryn Rabideau is a writer and product reviewer specializing in home, kitchen, and pet products. In her five years as a product tester, she's tested hundreds of items first-hand, including many, many kitchen appliances for Homes & Gardens. Camryn does her product testing from her small homestead in beautiful Rhode Island.