The best outdoor Halloween lights – for eye-catching illumination and inviting seasonal character
Ensure your yard has both creepy and cozy curb appeal with our selection of the very best outdoor Halloween lights to buy right now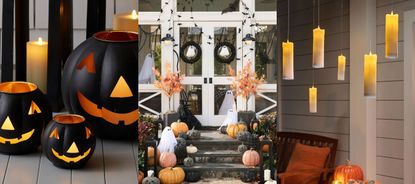 (Image credit: Pottery Barn | Balsam Hill)
When planning decorations for your outside space for Halloween, lighting should be at the very top of your list.
Not only can the right lighting uplift your outdoor Halloween decor ideas with a beautiful glow, but many of the best outdoor Halloween decorations combine illumination with fabulous decoration; helping your home really stand out from the crowd for the spooky season.
From traditional jack-o-lanterns to more contemporary neon signs, garlands, and string lights, there's no point in decorating the outside of your home for Halloween if no one can see it, right? Plenty of outdoor lighting ideas will ensure your home is dressed to impress (and spook) this Halloween.
The best indoor Halloween lighting ideas
Give your home's exterior a Halloween makeover at the flick of a switch with the best seasonal lighting buys from our favorite brands.
Pumpkins
The most traditional and popular Halloween decorating idea of them all, you can't beat decorating with pumpkins.
Of course, pumpkin carving ideas and pumpkin painting ideas on a freshly picked pumpkin will always make for a fun Halloween craft, but dressing your outside space with a collection of eye-catching pumpkin lights will help to create a cozy and warming glow with this spooky squash.
1.
This illuminated pumpkin offers an elevated alternative to candlelit jack-o'-lanterns, perfect for creating a more contemporary, cozy glow.
2.
White Powder Coated Tall Pumpkin Luminary
Light up the fall evenings with this versatile Pumpkin Luminary; a more contemporary, creative take on the classic fall gourd.
3.
Metal Pumpkin Decoration, Set of 2
Perfect for fall and Halloween, these LED pumpkin lights can add stylish decoration and a warming glow to your outside space.
Lanterns
Perfect for placing beside a front door or for lighting up your porch for Halloween porch decor, lanterns have a wonderfully cozy, traditional feel and can work well in Halloween schemes of all styles. Shop some of our favorite lantern designs below.
4.
Metal Jack-O-Lantern Candleholder
This metal jack-o'-lantern can take flameless candles or string lights to bring a little hocus-pocus to your outdoor Halloween decor.
5.
Caleb Handcrafted Metal Outdoor Lantern
These handcrafted metal lanterns can be used all year round, but are perfect for adding an extra glow and warm welcome to your home at Halloween.
6.
Candle Impressions Set of 3
For this lantern, you can choose between bats, fall leaves, pumpkins, stars, and more for your chosen impression.
Garlands
When many of us think of garlands, we picture beautiful, rustic creations crafted from fall flowers and foliage, but there are also many other modern garland designs that can bring both a natural accent and eye-catching illumination to your outside space.
7.
2 Pack Maple Leaf Fall Garland
This Maple Leaf Fall Garland design is perfect for fall, Halloween and Thanksgiving, and can enhance your outside space with inviting illumination and cozy character.
8.
This bundle of sparkling light strands casts a gorgeous, striking glow, perfect for illuminating other Halloween decor, or for a more simple, stripped-back seasonal design.
9.
Pre-Lit Halloween Wreath Garland
This pre-lit artificial garland features an all-black appearance and purple light strings. We love how this garland can be used for both outdoor Halloween decor and outdoor Christmas decor.
Wreaths
Just like our favorite light-up garlands, some of the best Halloween wreaths feature intricate twinkling lights and can uplift your Halloween door decor with a warming, soft glow.
10.
Handcrafted Ghost Light Up Wreath
Glittering under dozens of energy-efficient bulbs, the branches of this handcrafted wreath are crafted from black vine – and haunted by a floating spirit.
11.
Light Up Boo Halloween Hoop Wreath
This playful wreath will add inviting illumination and a simple seasonal statement to your doors, walls, and windows in any indoor or covered outdoor area.
12.
Black Halloween Wreath with Purple Lights
This more modern Halloween wreath can add colorful character to your indoor or outdoor space, and it can even be used for Christmas wreath ideas, too.
String lights
One of the easiest ways to decorate the outside of your home for Halloween is with a set of string lights. Perfect for wrapping around porch railings, illuminating trees and hedges, or adorning doors and windows, these lights may be small, but they sure can create a wonderful illumination.
13.
Connectable Light String System
These versatile, timeless string lights can be used throughout the year to bring a beautiful glow to your outside space, and are perfect for a more understated seasonal look.
14.
Brizled Purple & Orange Halloween Lights
These colorful, purple, and orange string lights are perfect for wrapping around a front porch or front door.
15.
Halloween 10-Count Indoor/Outdoor Orange Pumpkin Lights
Ideal for wrapping around porch railings, a fence, or even around your front door, these pretty pumpkin lights can add a fun, seasonal charm to your outside space.
Fun lights
And finally, Halloween is all about embracing unique and entertaining decor, so if you're looking to add a few new fun additions to your yard to spook the neighbors and the trick-or-treaters, there are plenty of lighting decorations that can do the trick.
16.
Outdoor Spellbound Floating Candles Set
Create a surreal lighting scene with these enchanting floating candles. Ideal for hanging from a porch ceiling, the unique lights will be sure to make an eye-catching statement.
17.
LED White Ghost Outdoor Halloween Lawn Stakes, Set of 12
This ghostly lawn stake set is both scary and sweet simultaneously, perfect for placing near a front path or by a porch.
18.
This eye-catching neon sign will be sure to make a colorful statement that neighbors, trick-or-treaters, and passersby can enjoy on Halloween. You can also shop for many customizable options on Etsy.
FAQs
How do you light up outside the house for Halloween?
As we have explored in this piece, there are so many creative ways you can light up the outside of your house for Halloween.
From more traditional pumpkins and lanterns to floating candles and neon signs, no matter the style of your Halloween scheme, there will be lighting ideas to suit.
When decorating the outside of your home for Halloween, decide on your theme first. Are you thinking more scary and spooky or cozy and cheerful? Once you've decided on a style, this will help you choose the right kind of lights and decor for your space.
Don't forget to embrace Halloween window decor too, lanterns, pumpkins, garlands and more can all be placed on the inside of your window, working to light up both the inside and outside of your home.
---
If you really want to go big and bold for your Halloween lighting ideas this year, a lighting projector that casts seasonal motifs upon your external walls will be sure to spook (and impress) the neighbors. Some of our favorites included this skeleton projection light from Amazon and this