These are the best Pottery Barn Thanksgiving decorations to shop right now
From beautiful tableware to candles and pumpkins, enrich your home with cozy seasonal charm and welcoming decoration with the Pottery Barn Thanksgiving collection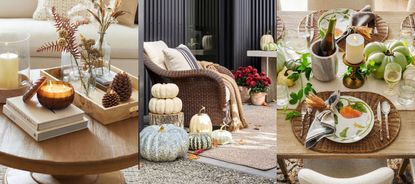 (Image credit: Pottery Barn)
Renowned for its stylish homeware, it will come as no surprise that Pottery Barn has released a collection of stand-out seasonal decorations so you can celebrate Thanksgiving in style.
To help you plan the perfect scheme for your Thanksgiving decor ideas, we've picked out the very best Pottery Barn Thanksgiving decorations to shop for right now. From elegant tableware for your Thanksgiving table decor to wreaths and decorating with pumpkins, these pretty Pottery Barn picks are guaranteed to transform your home into a warm and welcoming retreat for the season.
Our favorite finds from Pottery Barn's Thanksgiving collection
The Pottery Barn Thanksgiving collection elegantly celebrates harvest-inspired color palettes and the beauty of the natural world through a whole host of unique decor. Whether you're looking to create a stand-out Thanksgiving tablescape, or are in need of some cozy candles, the collection can help your home feel that little bit more special – and stylish – for your Thanksgiving celebrations.
Tableware
As the place where you sit with friends and family to enjoy your delicious Thanksgiving dinner, your dining table really is at the heart of Thanksgiving celebrations, and enhancing this space with wonderful seasonal decoration will only make your meal more enjoyable, fun and special.
From artistic dinnerware collections that celebrate traditional Thanksgiving motifs (you can never go wrong with anything pumpkin-themed) to stylish tablecloths and napkins, explore our favorite dining table accessories from Pottery Barn's Thanksgiving collection below.
Serveware
A Thanksgiving dinner has many components to it – that's what makes it so delicious and unique, so make sure before the big day you have all the serveware and accessories you need to smoothly present all of your delicious dishes to the table.
From a show-stopping turkey cloche to elegant party buckets, these accessories are not only practical, they can look great set down on the Thanksgiving dining table, too.
Rustic Turkey Shaped Stoneware Tureen
This Rustic Turkey Shaped Stoneware Tureen can had can add a fabulous finishing touch to your Thanksgiving table, working as a fun decoration and practical tureen simultaneously. We think it's a great Thanksgiving centerpiece idea.
Heirloom Ceramic Party Bucket
Get your Thanksgiving party started with this Heirloom Ceramic Party Bucket. Inspired by favorite flea market finds, this nostalgic piece honors the past but can still work wonderfully in a modern setting.
Pumpkins
This seasonal squash is synonymous with fall decor ideas, Halloween decor ideas and of course, Thanksgiving, so, the more pumpkin decorations you have in your home throughout these seasons and celebrations, we think, the better.
From rustic pumpkins that can be used to decorate your outside space, perfect for welcoming friends and family into your home, to cute pumpkin cushions that can be used to add a beautiful texture, color and cozy charm to your seating areas, explore our pretty pumpkin picks below.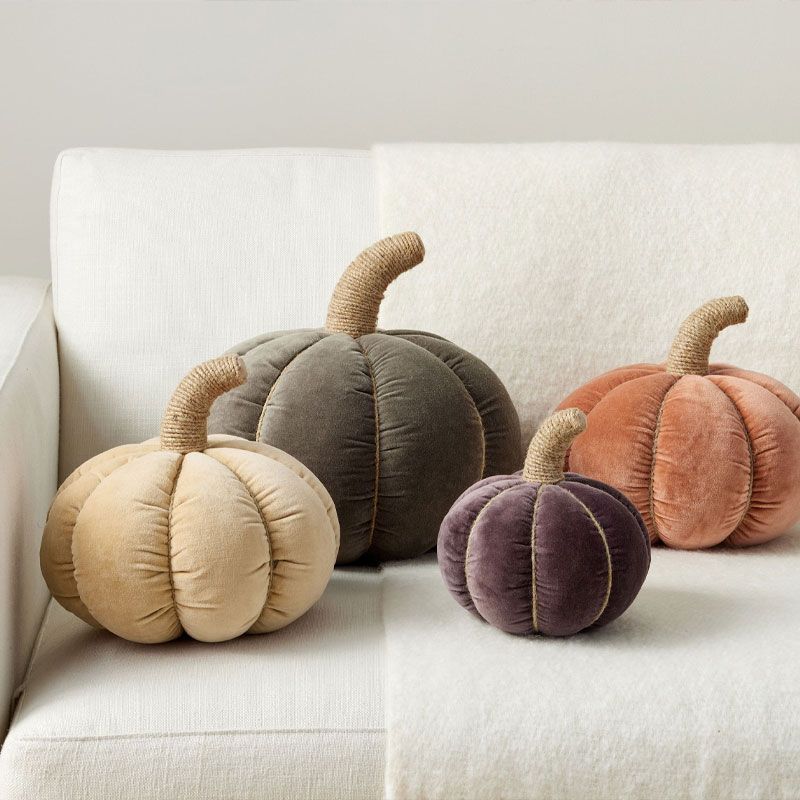 Velvet Pumpkin Shaped Pillow
These pretty pumpkin pillows are perfect for adding a cozy seasonal accent to a sofa, chair, or bed. Made from soft velvet, the designs are available in a palette of harvest-inspired colors.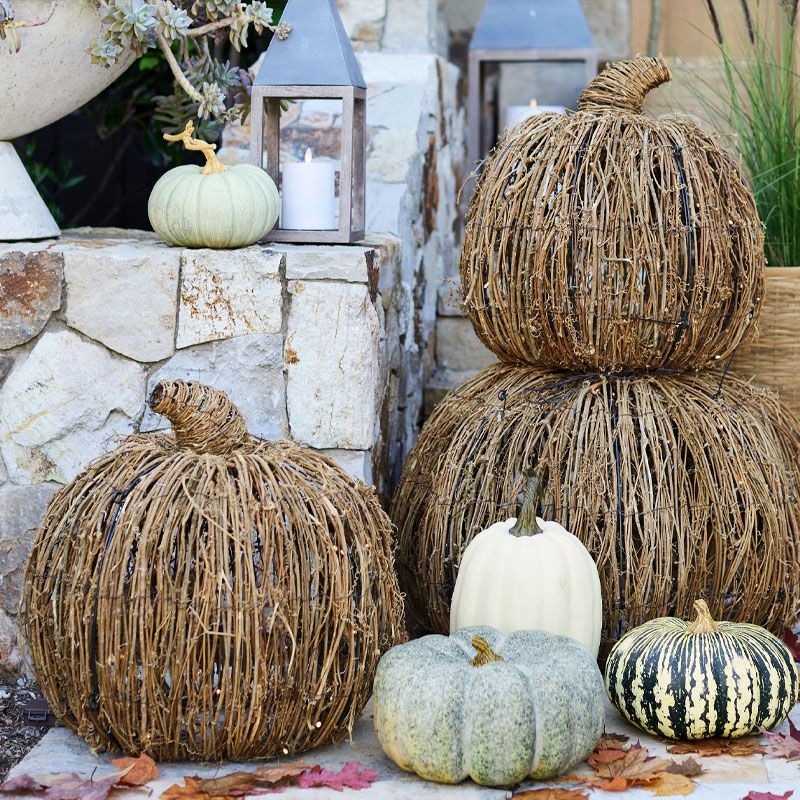 This stylish pumpkin has been crafted using rattan to give it texture and warmth. A lovely, rustic no-clean-up alternative to traditional candlelit jack-o'-lanterns.
Flowers and foliage
Fall decor and Thanksgiving decor are often centered around the beauty of the natural world and the changes in nature as we shift from summer to fall and winter. From beautiful Thanksgiving wreath ideas and glorious garlands to styling your space with vases of fall flowers and foliage, these natural accents can make your home feel more in sync with the Thanksgiving season.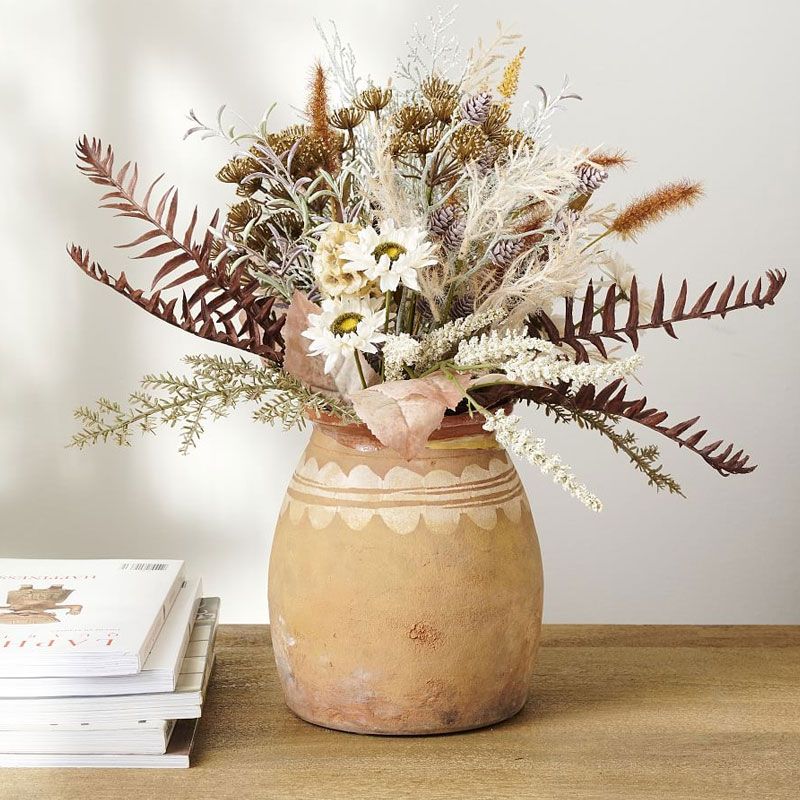 With the soft beauty of mimosa and reed blooms, even one bundle of these botanical blooms can make a beautiful statement, ideal for placing on a dining or coffee table to celebrate the season.
Handcrafted Lit Maple Pumpkin Wreath & Garland
A beautiful burst of golden color and natural texture, this wreath and garland set celebrate the changing of the seasons with maple and oak leaves. Bejeweled with tiny pumpkins, the wreath and garland can elevate doors, mantels, tables and banisters for Thanksgiving celebrations.
Candles and candleholders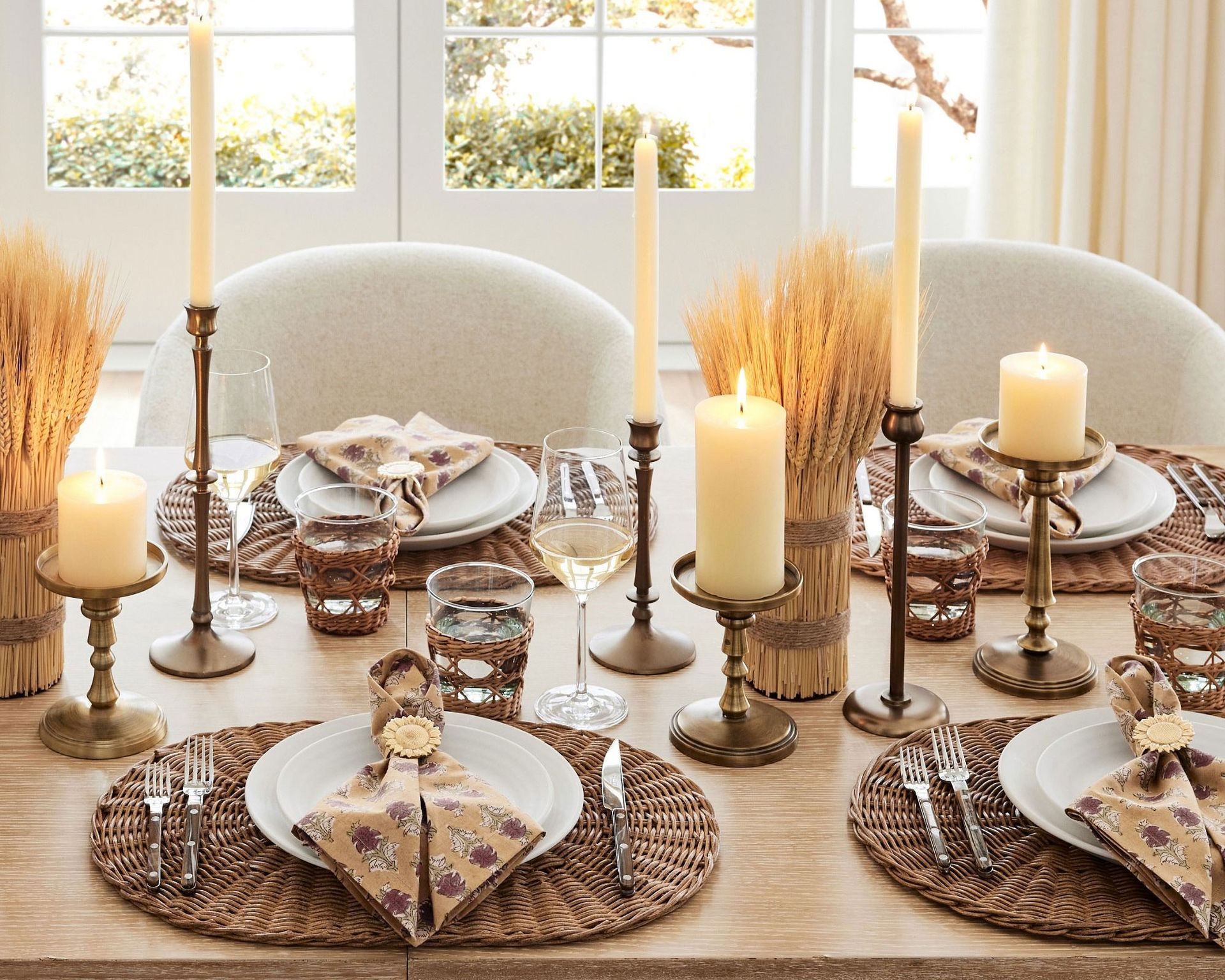 Perfect for adding cozy candlelight and stylish decoration to your Thanksgiving table, or for layering with other decorations in a living room or bedroom, candles are an easy and effective way to make your space feel more warm, and inviting.