How to create a summer flower arrangement – with dahlias and poppies
Follow the easy step-by-step instructions to recreate this incredible summer flower display from floral designer Brigitte Girling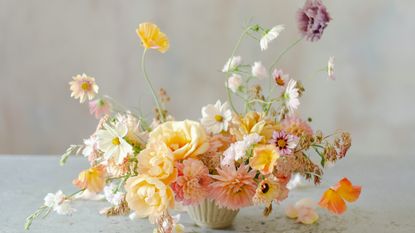 (Image credit: Brigitte Girling/Moss & Stone)
Sign up to the Homes & Gardens newsletter
Decor Ideas. Project Inspiration. Expert Advice. Delivered to your inbox.
Thank you for signing up to Homes & Gardens. You will receive a verification email shortly.
There was a problem. Please refresh the page and try again.
Created by floral designer Brigitte Girling, using flowers from her own garden, the starting point for this summer flower arrangement was the seasonal return of dahlias and plume poppies to her flower beds.
'Their warm apricot and peachy tones combined with the thundercloud colors of the 'Amazing Grey' poppy is a lovely combination,' Girling says. 'A walk through the garden unearthed the hint of both shades in a new addition to the garden party this year – coreopsis 'Starlight' – which simply sealed the deal.'
You will need:
Materials
Chicken wire, a small bowl, pot tape – try your local florist or hobby store.
Flower ingredients
Perennials: medium-headed dahlias 'Cornel Brons', 'Sylvia' and 'Linda's Baby' 'Nicholas'; garden roses 'Lark Ascending' and 'Just Joey'; Achillea 'Apricot Delight'; Macleaya cordata, plume poppy; Coreopsis 'Starlight'; Gaura 'Whirling Butterflies'
Hardy annuals: Papaver rhoeas 'Amazing Grey'; Calendula 'Touch of Red Buff'; Eschscholzia californica, 'Thai Silk' Series, 'Apricot Chiffon' and 'Pink Champagne'
Half Hardy Annuals: Cosmos bipinnatus 'Purity' and 'Apricot Lemonade'
Brigitte Girling grows the flowers for her displays in her own chemical-free wildlife-friendly garden. For inspiration for your own plot, take a look at our country garden ideas.
1. Prepare your vessel
Scrunch some chicken wire loosely inside a bowl (a cereal bowl is ideal) and secure with pot tape. This will be the scaffolding that holds your stems.
Add clean water to the top of your bowl.
2. Add your plume poppies
Create an outline shape using the plume poppy.
Insert stands into the chicken wire around the outside of the bowl. The stems will feel a little loose at first but don't worry; as more stems go in, they knit together and stabilise the design.
3. Insert the roses and dahlias
Add in the heavier roses and dahlias, trimming off thorns and unwanted leaves first.
Group similar flowers together rather than scatter. The idea is to try to recreate a garden within your bowl.
To grow your own flowers for a display like this, we have a guide to how to grow dahlias.
4. Create different heights in the display
Ensure all the flower heads are at different heights and different angles – not facing forward like a choir. Remember, the back of a flower can be just as beautiful as the front.
5. Finish with the most delicate blooms
The final flowers to go in are the airy dancers that float across the top. These are usually the most delicate so easily damaged if they go in too soon.
In this arrangement, it's the annual poppies that are most delicate. See below for our tips to keep them fresher for longer.
Florist's tip: how to keep poppies looking perky
Annual poppies are fleeting; their vase life no more than three or four days. Furthermore, they can literally 'flop' very quickly once picked. Here, Brigitte Girling shares her knack for preventing poppies from drooping.
This boiling water treatment has the double benefit of sealing the stem ends and removing any air bubbles within the stem which cause the droop.
Brigitte Girling is the founder of Moss & Stone, where she offers 'undone floral designs' and workshops.
Sign up to the Homes & Gardens newsletter
Decor Ideas. Project Inspiration. Expert Advice. Delivered to your inbox.
Andrea has been immersed in the world of homes, interiors and lifestyle since her first job in journalism, on Ideal Home. She went from women's magazine Options to Frank. From there it was on to the launch of Red magazine, where she stayed for 10 years and became Assistant Editor. She then shifted into freelancing, and spent 14 years writing for everyone from The Telegraph to The Sunday Times, Livingetc, Stylist and Woman & Home. She was then offered the job as Editor on Country Homes & Interiors, and now combines that role with writing for sister title homesandgardens.com.