This Georgian manor in Yorkshire is brimming with antiques
Vintage fabrics expert Angela Wardale discovered a gem of a historic home and set about restoring it just as carefully as she repairs her antique textiles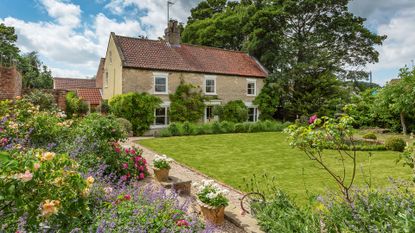 (Image credit: Dave Burton)
Angela Wardale loves decorative antiques, beautiful old textiles, classic style and original features, so when she saw her elegant Grade II-listed Georgian manor house, set in a private walled garden, it was love at first sight.
Seeing beyond the painted yellow walls and sparse kitchen, Angela visualized the property's true potential as a beautiful five-bedroom family home, its lovely old features intact and furnished in uncomplicated period style.
'We were living in a townhouse in the middle of York when my late husband became ill and couldn't climb the stairs, so in 2005 we decided to move,' says Angela. 'This house was just what we were looking for. It was beautifully presented. The previous owners had repaired or replaced the roof so the biggest job was already done.'
Soon after moving in, Angela had the 'leaky, smoky' chimneys realigned and a new bathroom fitted. What was left of the original kitchen was taken out – apart from a kitchen sink unit – and replaced with a combination of fitted and freestanding furniture, indulging Angela's love of country kitchen ideas.
Angela employed a man who could 'turn his hand to anything' to fit the kitchen units, sourced online, which she painted in Railings, by Farrow & Ball. The Aga was secondhand from a listed house in York, and the lovely old light fitting belonged to Angela's great-grandmother.
An old aluminium lean-to was taken down and replaced with an oak-frame sunroom, and they also had a number of garages knocked down at the back of the house to create better access. 'You wouldn't believe the amount of stuff that was taken away,' says Angela. 'It made a huge difference to the back – really opened it up. Then we landscaped the garden by repositioning a pond and levelling it all. We even found an old well!'
Inside, the house had a wealth of original features, including tiles in the spacious entrance hall, original windows, wooden floors and stunning oak beams in the attic space.
It was the perfect backdrop for Angela's ever evolving collection of elegant furniture and textiles, which have spilled into her home from her former shop in Malton and from her new stand at Station Mill Antiques in Chipping Norton, Oxfordshire.
For anyone looking for dramatic hallway ideas, the spacious hall is a great example; with its original floor tiles, it creates a grand entrance to the Georgian house and takes the eye to the sweeping staircase. The mahogany table was inherited and the wing-back chair was a bargain find from Newark Antiques Fair.
Angela's dining room furniture is a combination of family pieces, and items bought from antiques fairs and shops found on her travels around the UK. 'The table is a Georgian oak drop-leaf table that belonged to my parents,' says Angela. The chairs are country chairs, bought many years ago from a shop in Chipping Norton.
'It's not unusual for things to find their way from the antiques stand into the house,' says Angela. 'Some of the antique furniture in the house was inherited, some came from shops and fairs discovered on my travels around the country. If I find something I really like I tend to buy it there and then, because I know there is rarely a second chance. You can guarantee that if you hesitate and go back later, it will have gone. I go all over the place looking for things. I'm drawn to anything that is different.'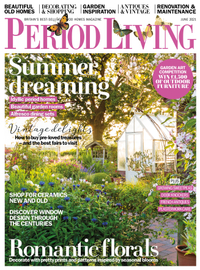 This house is taken from H&G's sister brand, Period Living magazine
Subscribe to Period Living for more inspiration Period Living is the UK's best-selling period homes magazine. A subscription provides you with all you need to know about caring for and improving a traditional house and garden.
Angela's fascination for antiques developed in her childhood when her parents furnished their own home with beautiful old furniture.
'It was cheaper than buying new and always came with its own history and story,' says Angela. 'My mother had a massive influence on me – she particularly loved beautiful quilts and textiles and that's something that's rubbed off on me. I love anything tactile and colourful. At school we did needlework and I was always making my own clothes, or turning damaged quilts into cushions.'
Angela's passion for sewing developed into a business when, 30 years ago, she started selling her cushions and quilts at country fairs. Before long she was hooked.
Angela always has piles of fabrics around the house, most of which she can't bear to part with. 'I think it's an addiction,' she says. 'It doesn't have to be anything very expensive – I just love the look and textures.' Her shop is an extension of her home, full of chairs and headboards she upholsters, antique garden furniture, mirrors, lights, chandeliers, linens, quilts and vintage fabrics.
The bed above, from Beevers in Whitby, features a magnificent tapestry bedhead, while the wardrobe came from David Duggelby Auctioneers. 'I try not to overcrowd the rooms with furniture,' says Angela. 'I like the character of the house to speak for itself.'
The attic was once a self-contained apartment but is now a guest bedroom and workroom. The bed had to be taken apart to get it into place between the rafters. Angela's workroom is where all her beautiful textiles are stored, many of which are made into soft furnishings for her home or sold through her stand at Station Mill Antiques.
The freestanding bath makes best use of the space in the family bathroom. The bath is from Watermark Plumbing Supplies and Angela added a cupboard which was a car-boot find.
In the green bedroom the curtains and bedhead were made by Angela and most of the furniture came through a shop she ran for many years in Malton. The wallpaper and matching headboard fabric is vintage Laura Ashley.
However Angela is now planning to gather everything up and transfer the beautiful furniture and soft furnishings to another property.
'This is a beautiful house but it's time for me to move to somewhere smaller and closer to my family,' says Angela. 'I'm really sad to go. It's been a wonderful home, but things change and I really hope I can sell the house to a family who will love it just as much as I have done.'
Heather was a news journalist in regional papers until an interview with a theatrical couple living in a very theatrical house took her career down a very different route – and led to a long-standing passion for homes and interiors.
For 30 years Heather has travelled the length and breadth of the UK sourcing and writing about readers' beautiful homes.