Lighting designer Tom Raffield's home is a masterclass in timber construction
Tom and Danielle Raffield have created an extraordinary timber home in the heart of a Cornish forest that's perfect for all the family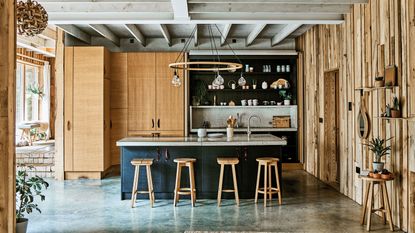 (Image credit: Benjamin Edwards/ Ryland Peters & Small)
Rarely has a building project seen such a Herculean effort from a husband and wife team as that of Tom and Danielle Raffield's forest home.
The duo, who run the furniture and lighting business, Tom Raffield, found their company taking off just as they began their epic build project. By making extraordinary sacrifices in the evenings and at weekends, the pair were able to apply their skills to a new home with a very unique identity.
The idea for the building came after the pair relocated from a seaside home on the Cornish coast to a woodland plot of six acres with a small stream running through it. With the land, they inherited a number of outbuildings, including a 19th-century Grade II-listed gamekeeper's cottage where they lived for three years with their children before completing the new house.
See: World's best homes – tour the globes most beautiful houses
'The cottage was barely modernised, cramped and mouldy. The first week there was fun, but it quickly began to wear thin,' says Tom. 'The bathroom was across a courtyard, which was not ideal with young children in winter.'
The couple employed architectural technologist Chris Strike of RA Design to help create a wooden home that would fit with the contours of the landscape and link with both the bathroom outhouse and the gamekeeper's cottage. Key to the project was the wood steam-bending technology Tom and Danielle are known for.
'We got a contractor to put up the wood and steel frame and after that we completed many of the finishes ourselves,' Danielle explains. 'We used as much timber from the land here as we could and kept anything that came down in the storms,' adds Tom.
In order for the steam-bent house to sit snugly alongside the old outbuildings, 3,000 tonnes of earth had to be shifted and a retaining wall built. Once the site had been handed over to the couple, one of Tom's first evening jobs was to build the wall out of tyres.
'On reflection, I think the tyre wall was a little ambitious. We spent so many evenings lugging tyres back and forth, stacking them and filling them with wheelbarrows of soil. Eventually we roped in our workshop team, plying them with pizza and beers,' recalls Tom.
They were tackling the building work at the same time as expanding their business to meet a flood of new orders, which meant the build took longer than anticipated. Another contractor was brought in to help when Tom and Danielle were committed elsewhere.
'We had many mad weeks that blurred building the house, making products and attending meetings in London,' Tom recalls. In the end, the project took two years to complete.
Entryway
The staircase, one of Tom's favourite features, is a sculptural tribute to the Raffield lifestyle. 'It's a random array of logs, like a game of Jenga. Like everything else in the house, it's been inspired by nature,' says Tom.
Curved walls either side beckon visitors upwards, where Tom's giant flock chandelier casts shapes and shadows through its feather-light wooden curls.
A bench is placed for viewing the spectacular staircase, while exposed steel beams emphasize the structure's character.
See: Hallway ideas – stylish ways to create a welcoming first impression
Living area
Strips of ash and sweet chestnut wood evoke the relaxed cosy mood of an Alpine chalet. Walls are clad in strips of wood with no two lengths the same.
See: Living room ideas – clever ways to decorate living spaces
Kitchen
The vast kitchen and dining area looks out through several large glass doors to the woodland. 'The house is enclosed by a large canopy of trees and we love being surrounded by nature,' says Danielle.
Appliances and storage are concealed behind neat concertina doors that slide into gaps in the cabinetry. Blackened oak veneer brings contrast to the warmer wood tones.
See: Kitchen ideas – decor and decorating ideas for all kitchens
Dining area
The house links old and new elements, with the back of the old bathroom outhouse opening into the vast new living area.
See: Dining room ideas – inspiration for decorating and furnishing your space
Main bedroom
The wood cladding surrounding the bed and texture of fleece evokes a cosy Alpine setting.
Bathroom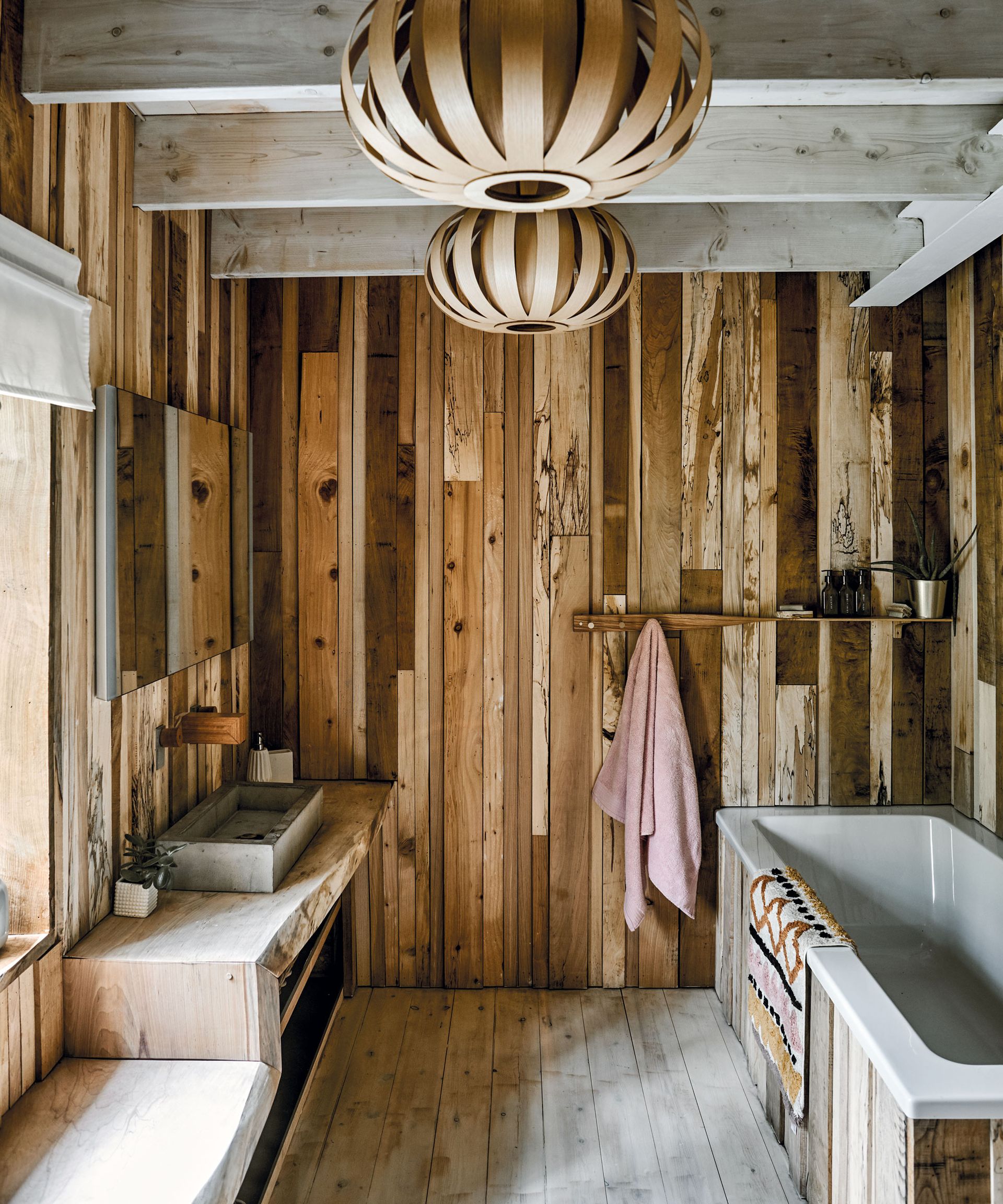 Untreated floorboards are reminiscent of a beach hut, while the pendant lights were inspired by sea urchins.
A new glass walkway connects with the much-improved gamekeeper's cottage. 'At first we used the cottage as a snug as it has a wood-burning stove but now it's been requisitioned as a playroom for the children,' says Danielle.
The steam-bent house now has four bedrooms upstairs and a main bedroom downstairs.
The house is mostly decked out with Tom's curvy creations, both light fittings and furniture, with a few modern pieces thrown in for functionality.
'Our home has become where we test and live with our new products before launching them,' says Danielle.
The steam-bent house has become the backbone of the Raffield woodland lifestyle, and as much of a character in their narrative as their family and business.
See: Bathroom ideas – stylish decor ideas for all bathrooms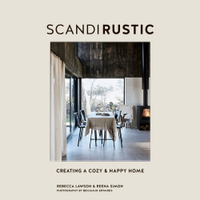 Lighting and furniture Tom Raffield
Architecture RA Design
Photography/ Benjamin Edwards © Ryland Peters & Small
Text/ Juliet Benning
Sign up to the Homes & Gardens newsletter
Decor Ideas. Project Inspiration. Expert Advice. Delivered to your inbox.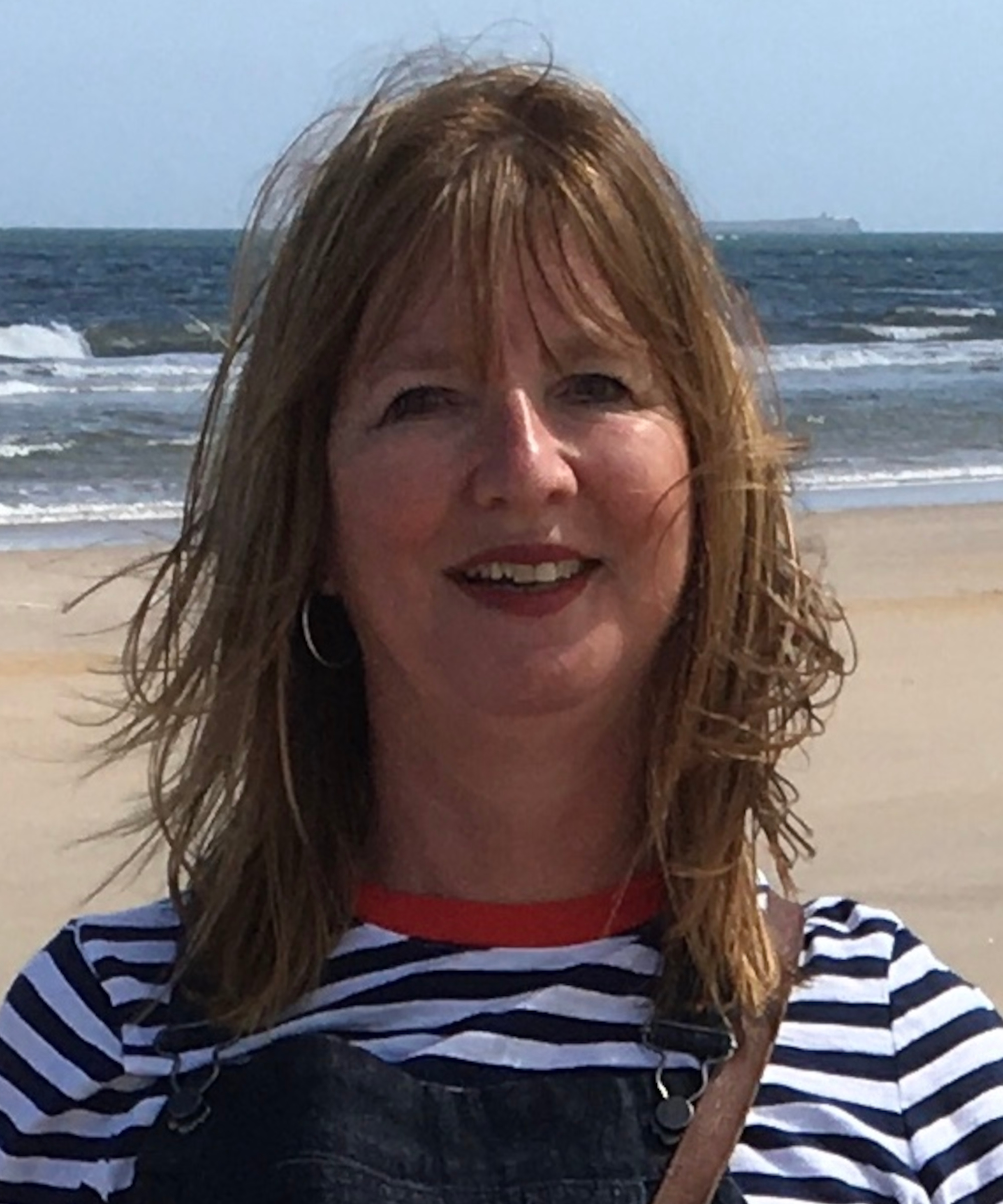 Interiors have always been Vivienne's passion – from bold and bright to Scandi white. After studying at Leeds University, she worked at the Financial Times, before moving to Radio Times. She did an interior design course and then worked for Homes & Gardens, Country Living and House Beautiful. Vivienne's always enjoyed reader homes and loves to spot a house she knows is perfect for a magazine (she has even knocked on the doors of houses with curb appeal!), so she became a houses editor, commissioning reader homes, writing features and styling and art directing photo shoots. She worked on Country Homes & Interiors for 15 years, before returning to Homes & Gardens as houses editor four years ago.