This listed Yorkshire cottage is full of pretty country charm – take the tour
Neutral paints, vintage furniture and a mix of floral prints have transformed Laura Yates' pretty country cottage into an inviting family home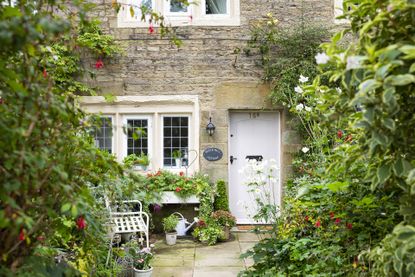 (Image credit: Jeremy Phillips)
Do you love classic English country cottages? Dating to 1660, the home of Laura Yates and her family is brimming with character and period features. The couple have redecorated throughout, have updated electrics, heating and plumbing, as well as tackling damp problems in the kitchen. Laura also created a pretty courtyard garden.
Fond childhood memories of visiting homeware events and interiors shops with her mother, nurtured Laura's creative flair. 'My interiors journey began as a child watching and helping my mum,' she says. 'I grew up in a similar cottage in Cheshire, where mum was always redecorating or changing the décor.'
Laura first noticed this Yorkshire stone cottage four years ago when she was new to the area, having moved into a rented house with her partner Andy. 'I didn't want to leave my job working for a large hotel chain, which is where I met Andy, who had to be a commutable distance from Leeds for rugby training. So we agreed to rent a little house in Saddleworth to see if we could live here long-term,' explains Laura.
'On our second day here, I walked down the little cobbled lane at the top of the road, saw this cottage and fell in love with it in a heartbeat. I took a photo and put it on my Instagram account with the words: dream house at the bottom of my road, maybe one day!'
Laura continued to admire the cottage from afar, showing it to her friends when they visited, and always catching a glimpse of it on her way home. Two years later, a chance meeting at her work led to a miraculous turn of events.
'The cottage had come up for sale but it was out of our price range,' says Laura. 'Then the strangest thing happened. I got chatting to a lady at work who told me she happened to live next door to THE cottage. I work about 25 miles away from where we live, so this was a real twist of fate.'
Laura wrote to the owner expressing her passion for the cottage and received a phone call a few weeks later. 'I could hardly contain my excitement,' Laura continues. 'The owner explained she bought the property as an investment that she no longer wanted. I was the first to view the cottage, early one morning just before Christmas. The moment I stepped inside, I loved it even more. Brimming with character and so much potential, I knew it would make a lovely home.'
After months of negotiations the couple secured a private sale. 'We finally moved into the house of my dreams on 6 May 2016,' says Laura. 'Everyone said it was meant to be and I felt extremely lucky as this house means everything to me.'
'Saddleworth was historically part of Yorkshire and a lot of people still class this area as Yorkshire although it's Greater Manchester now,' says Laura. 'A lot of houses in the area are built with the same Yorkshire stone. The 1770 plaque on the cottage was put up by the previous owner, who told us it was taken from a nearby barn before it was demolished and that the house is much older, built circa 1660. He left us some history on the house so we have little nuggets of information including a poster for when it was sold for 50p, way back in time.'
Living in a listed building comes with restrictive challenges. 'We had to attach our satellite dish to a pole in the garden disguised behind a tree,' says Laura. She and Andy managed all the decorating work themselves during their spare time.
'As the cottage was a holiday home it was rarely used and the pipes were blocked, so our first job was to fix all the plumbing,' says Laura. 'Next we cleaned it all up, gave it a fresh coat of paint throughout and did our best to make it look homely and cosy. My dad had to take all the doors off their hinges to fit the sofa inside.'
The main focus of the project was the kitchen, located below ground level next to a cobbled country lane; 'I imagine the lane was used for a horse and cart years ago,' explains Laura, who tragically lost her father suddenly, two months after moving in. 'Dad loved the cottage as much as we did and focusing on the renovation kept
me going during my lowest time.'
In 2018, Laura and Andy were married and found out they were expecting soon after, which gave them an extra sense of urgency to finish the renovations. 'The kitchen was the worst room in the house with dark wooden units, tiled worktops and a terracotta floor,' says Laura. 'We removed all the plaster, and took it back to
a shell to install a damp-proof membrane.'
To introduce more light, Laura opted for white cabinets and open shelves. 'My brother took over dad's building company and fitted our kitchen,' says Laura. 'When I was 39 weeks pregnant, mum painted the kitchen ceiling and my lovely neighbour helped with the cleaning. Arthur was born three days later. Before, I hated going into
the kitchen and now we love it. Dad would have really loved it too. He couldn't wait to spend Christmas at the cottage and sadly it wasn't to be, but mum loves spending time here with Arthur.'
Laura's love for decorating and gardening has inspired her to set up her own home and garden décor business. When she's not working, there's plenty to keep her and Arthur busy nearby.
'I love walking Willow across the fields and meeting friends with Arthur in our local village for coffee,' says Laura. 'We spend weekends visiting artisan markets and enjoy buying fresh flowers for the cottage, and doing what we can to enrich and respect the heritage of this beautiful building.'
Original Feature / Natalie Flaum
Karen is the houses editor for homesandgardens.com and homes editor for the brand's sister titles, Period Living and Country Homes & Interiors, and an experienced writer on interiors and gardens. She loves visiting historic houses for Period Living and writing about rural properties for Country Homes & Interiors, and working with photographers to capture all shapes and sizes of properties. Karen began her career as a sub editor at Hi-Fi News and Record Review magazine. Her move to women's magazines came soon after, in the shape of Living magazine, which covered cookery, fashion, beauty, homes and gardening. From Living Karen moved to Ideal Home magazine, where as deputy chief sub, then chief sub, she started to really take an interest in properties, architecture, interior design and gardening.