This London kitchen is the epitome of serene elegance – here's how it happened
5 design considerations which created this effortlessly chic kitchen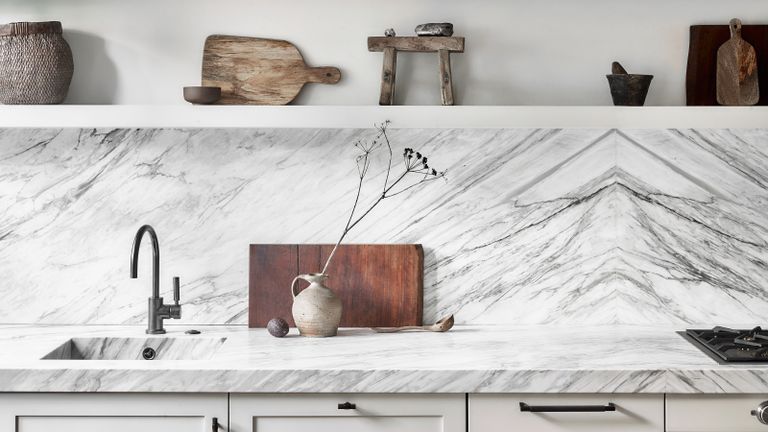 (Image credit: Roundhouse/Mary Wadsworth Photography)
Achieving a truly elegant, yet practical kitchen, is at the top of many homeowner's wishlists - and this London kitchen has done it to perfection.
Roundhouse designer Sam Hart worked hard to deliver seemingly effortless beauty for the Danish owner of this Notting Hill, London, home. A masterclass in creating a serene kitchen, this space is full of great ideas.
Here are 5 ways in which this look was achieved.
1 Choose sleek finishes
'The owner of this cottage wanted to host brainstorming sessions around the island that could effortlessly flow into lunch or supper,' says Sam. Therefore a sleek and practical, yet beautiful space was desired.
'He asked for an elegant Nordic feel with pale finishes and simple lines. 
The classic Shaker-style doors were chosen in honour of the property's period architecture.' Choosing a sleek but traditional style of cabinetry like this warms the space up, and adds more interest than a full minimalist look.
2 Make the splashback a feature
'The book-matched marble splashback helps accentuate the room's depth and ensures the island doesn't steal the show,' says Sam. 'Deciding where to stop the marble was determined by the height 
of the first shelf.'
'Besides, the owner wanted to fill the shelves with shapely ceramics and rustic treasures, which stand out against a plain backdrop.'
3 Create a statement island
'We worked in collaboration with 23 Architecture on the island and aimed 
to create a statement piece with almost sculptural qualities,' says Sam. 'The cantilever sections are supported by a steel internal structure.'
'Slim strips of bronze between the top sections enhances the floating appearance, as if two slabs of stone are merely balanced together.'
4 Show off natural beauty
One main material - the showstopping marble - is the indisputable star of the show in this kitchen. To make the most of such an impressive stone, the veining was painstakingly lined up to created a mirrored effect on the backsplash.
Adding extra interest was the clever decision to alternate the direction of the veining on the varying levels of the stone making up the island. This adds dynamism while also reinforcing the natural beauty of the stone
5 Consider the flow of materials
'The sink is stone clad around the sides with a base formed from high-grade gunmetal,' says Sam. 'From a distance it appears as if the marble flows seamlessly into the bowl.'
'If we had used an undermounted steel sink, the switch in materials would have interrupted the veining, spoiling the line. Moving to metal for the base makes it more resilient to stains and scratches, and kinder on crockery than stone.'