Textile designer Cathy Nordström's Swedish home is a treasure trove of pattern and color
Each room of this Stockholm house is decked out with delightful textiles, giving it a smart look that is unique and charming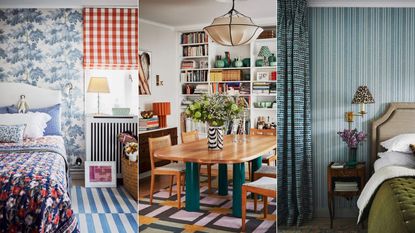 (Image credit: Fanny Rådvik)
Sign up to the Homes & Gardens newsletter
Decor Ideas. Project Inspiration. Expert Advice. Delivered to your inbox.
Thank you for signing up to Homes & Gardens. You will receive a verification email shortly.
There was a problem. Please refresh the page and try again.
Textile designer Cathy Nordström has a plan. 'I'm working on my fellow Swedes to encourage them to incorporate more color and pattern,' she confesses to Jennifer Morgan. 'I think it's going well; we are getting there slowly.'
If they need a little inspiration, then a tour of the Stockholm home she shares with her husband and their three children should certainly fire the imagination. Like her brand, it's not typically Swedish in style, although Cathy's ethos is very much focused around Swedish production, with her wallpapers and fabrics designed, produced and hand-printed in her native country by local, skilled print masters and craftsmen.
'We actually use very little fabric in our homes across Sweden and Scandinavia,' says Cathy, 'which is strange given that we like to be cozy.'
This 'cozy' is something Cathy has achieved in her own home, a 1925 four-bedroom property perched up on a hill. It was designed by Sven Markelius and built to be part of a community – 'almost a mini society' as Cathy explains, with a butcher in one house and a pharmacy in another.
'Ours was planned to be the local café/restaurant, although it was never used as such, and a family moved in.'
And it's a good family house today, almost 100 years later.
Cathy believes that a home should be 'an eclectic mix of who lives there', preferring to keeping people guessing as to where things are from in a scheme.
'I don't really like it when I look around and think "this interior designer did this house" or "that's the work of one interior designer". A home needs to look like one, and not a showroom.'
In her own home, she 'naturally' has her own patterns, but not in abundance. 'I have lots of designs from other fabric houses and designers that I love and admire too,' she tells, as well as lots of online auction site finds. 'I'm always encouraging my clients to mix things up, telling them not to buy eight cushions (although of course, that would be nice!), but to mix with what they have at home, finds from their travels or pieces inherited. A home should be personal.'
Cathy has also worked with other creatives to create her unique Swedish home, such as Australian Rebecca Pitt of Inuti Design, whom she turned to help renovate the kitchen (above).
'I wanted to create something that wasn't your typical Swedish kitchen,' says Cathy, 'rather one that felt more international in its design. Rebecca brought in a totally different look, which was just amazing. We just clicked.'
While work went on with the kitchen, Cathy discovered the installation team comprised of one of the co-founders of furniture design studio Diaform, Philip Duniec, who collaborated with Cathy to produce her beautiful dining table (above), with its chunky green legs painted to echo her ceramics collection on the nearby shelves.
The living room (above), which leads off the dining space, is Cathy's favorite part of the house, 'although I do love the banquette seating in the kitchen (just above), which is lovely and deep. I'm convinced one morning, in a few years' time, I'll come down to find one of the children's friends sleeping here.'
The living room is very much a place to sit and relax or socialize with friends. Visitors ask how Cathy's managed to make pattern mixing look so easy?
'I just know when something works and when it doesn't,' says Cathy, although she does admit to getting things wrong sometimes. 'I'll put something on the couch, back away and think "no", then it's back to the studio I go.'
Cathy has always loved textiles and pattern, training as a graphic designer. It was after the birth of her youngest, in 2014, that she had a 'lightbulb moment', when she discovered a year-long online course in pattern design.
'I juggled a baby, a four-year-old and a two-year-old – no idea how, but I did it,' she confesses. Cathy then freelanced as a pattern designer for brands big and small – IKEA and Uniqlo included – before establishing Cathy Nordström in 2019.
'I wanted more control over the color, quality and use of my designs, and also started to look at Swedish production.'
When she started her brand, one 'particularly dark November, with three hours of daylight a day', she knew she wanted her palette to work with many other designs and brands, 'with lots of greens, reds, blues and yellows'.
It's a palette that continues around her home, although luckily her family are on board with frequent changes. 'There's always a new wallpaper popping up in one of the kids' bedrooms,' Cathy laughs. 'They are just used to it.'
And as Cathy Nordström continues to grow, having opened a showroom on Stockholm's Karlavägen in 2022, perhaps her fellow Swedes will get more attuned to her pattern hits, love of layers and confident color choices.
'Every room gets better with textiles,' she concludes, 'I always feel I come home to a hug when I walk into a room that has pattern.'
Sign up to the Homes & Gardens newsletter
Decor Ideas. Project Inspiration. Expert Advice. Delivered to your inbox.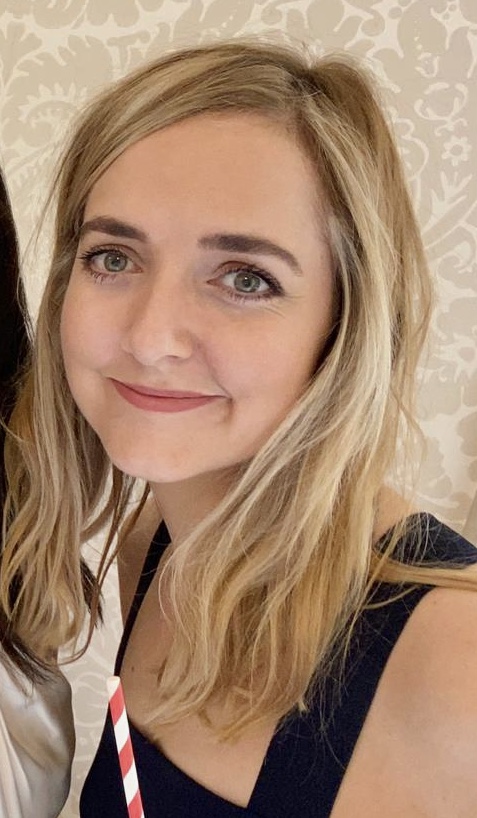 Jo Bailey has been Deputy Editor of Homes & Gardens since late 2021, overseeing all features for the print edition. Previously, she worked as the News & Shopping Editor across H&G and Livingetc - one of Future Plc's sister brands - this is where she learnt to discover the best news stories, latest trends and honed her understanding of Homes and Gardens' over 100-year-old brand.
Before joining Future Plc, she worked as an interior stylist for over ten years, specialising in commercial photo shoots for luxury clients such as; Design Centre Chelsea Harbour, The Romo Group, Christopher Farr Cloth and Heal's. She has worked closely with Homes & Gardens and Livingetc for over a decade, having styled and produced editorial shoots and events for both titles over the years.