Inside Al Capone's $10.75 million Florida beach house
The Chicago crime boss lived at the upscale address until his death in 1947…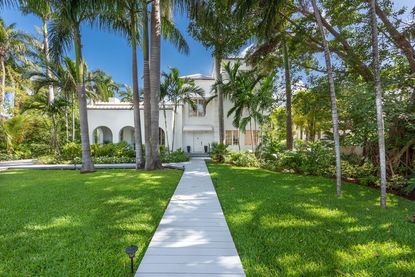 (Image credit: EWM Realty International )
Infamous crime boss Al Capone caused a stir in polite society back in 1928 when he snapped up a property on upscale Palm Island in Miami.
The home was the perfect place for the gangster's luxury hideaway. During the early development of Miami Beach, causeways – roads built on landfill and bridges – spanned the distance over Biscayne Bay from Miami to Miami Beach.
Developers also dredged the bay to create man-made residential islands extending off the causeways. With only one gated entry and exit to each island and heavy police security, homes were considered to be very secure.
Capone bought the property for $40,000, two years after the Great Miami Hurricane of 1926. He then poured $200,000 – over $3 million in 2021 dollars – to install a gatehouse, a seven-foot-high wall, searchlights, cabana and coral rock grotto. The stunning swimming pool would certainly inspire some stylish pool house ideas.
He lived at the home after he was released from prison in 1939, and he lived there until he died in 1947.
The 6,077 square-foot four-bedroom property has now been bought by developer Todd Michael Glaser, who recently purchased, and then demolished, Jeffrey Epstein's Palm Beach mansion.
Glaser reportedly plans to also demolish Capone's home and replace it with a modern high-spec property, with eight bedrooms, eight bathrooms, a Jacuzzi, spa and sauna.
The new property will certainly cater to an elite buyer, with Palm Island being one of the most sought-after addresses in Miami, where property prices range from $20 million to $40 million.
Star Island and Hibiscus Island are close neighbours, and all three islands are home to a number of high-profile celebrities, including Jennifer Lopez, Gloria Estefan, Don Johnson, Sean Combs, and Shaquille O'Neal.
Pictures courtesy of Top Ten Real Estate Deals.
Who was Al Capone?
Al Capone was an American gangster who was dubbed 'Scarface'. He attained notoriety during the Prohibition era as the co-founder and boss of the Chicago Outfit.
Despite some viewing him as a 'modern day Robin Hood', the Saint Valentine's Day Massacre, in which seven gang rivals were murdered in broad daylight, damaged the public image of Chicago and Capone, leading influential citizens to demand government action and newspapers to dub Capone 'Public Enemy No.1'.
He was convicted of tax evasion in 1931, and spent eight years in prison, before returning to his Palm Island home in 1939, where he lived until his death from cardiac arrest in 1947.
Ruth Doherty is an experienced digital writer and editor specializing in interiors, travel and lifestyle. With 20 years of writing for national sites under her belt, she's worked for the likes of Livingetc.com, Standard, Ideal Home, Stylist and Marie Claire as well as Homes & Gardens.