See Ben Affleck's spectacular home – this Georgia property evokes classic Southern-style
Ben Affleck's house is a remarkable imitation of a plantation house and is located on 35 hectares of land on Hampton Island, Georgia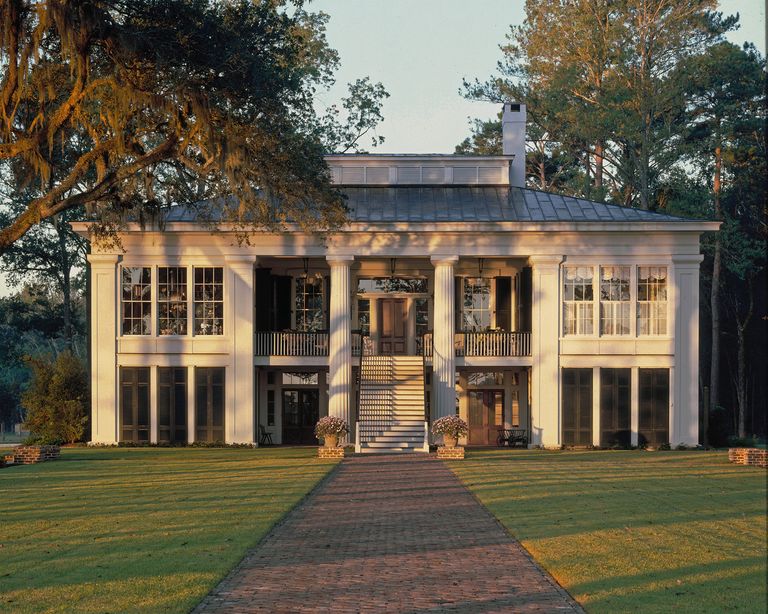 (Image credit: Engel & Völkers / Richard Leo Johnson)
Ben Affleck's extraordinary home on the market – and we think you'd agree that it is quite spectacular.
The 'Big House', as the primary mansion is known, is a remarkable imitation of a plantation house and is located on 35 hectares of land overlooking the North Newport River on Hampton Island, Georgia.
It is considered one of the crown jewels along the coast of Georgia.
Take a tour below – and when you're done, hop on over to our page dedicated to the world's best homes for more.
The 'Big House' comprises a total of 557 square meters of space and includes a veranda that offers a view on the river. The special pinewood flooring, massive arched fireplaces and four-meter high ceilings make the house a true mansion of the Southern States.
See: Obama house – tour Barack and Michelle's new Martha's Vineyard home
Along the path that leads from the rear veranda to the river sits the secluded 'Summer Cottage' with its large fireplace, its metal roof as well as its exposed and slanted ceilings.
The third house, known as 'Oyster House', comprises around 930 square meters and offers three master suites and five bedrooms featuring bunk beds salvaged from ships. The property also offers equestrian facilities, access to the sea from the private deep-water dock and endless tranquillity.
'This property truly captures the spirit of Savannah's Southern charm,' says Engel & Völkers Americas, Savannah's License Partner, Richard Mopper.
'From its veranda views of the river and expansive pastures, to the properties' multiple luxurious residences adorned with decadent features and classic Southern style, every corner of the estate exudes the warmth and hospitality that are unique to America's South.'
The summer house
The Summer Cottage is the perfect place for summer entertaining. Selling agent Dicky Mopper of Engel & Völkers says the space is perfect for fun outdoor feasts and barbecues when the weather (and pandemic) allow.
The tin-roofed cottage features an original brickwork fireplace, exposed beam ceiling and stone tiled floor. Its attractive outdoor deck overlooks the property's scenic riverfront dock that even has a replica of Ernest Hemingway's much-loved fishing boat, Pilar, on a lift.
The oyster house
Lastly, a short walk away from the main house will lead you out on to to the Oyster House.
This property is a 10,000-square-foot, five-bedroom residence. It includes three master suites and an array of kids' rooms featuring rustic bunk beds constructed from timber salvaged from old sailing ships.
This exclusive property belonging to American actor Ben Affleck can be acquired for 7.6 million US dollars (6.9 million euros) through Engel & Völkers Savannah in Georgia.