The new Ikea Buy Back furniture recycling service will give old pieces a chance at a new life
Ikea has pledged to recycle and reuse old furniture using a straightforward new scheme to buy back customer's unwanted pieces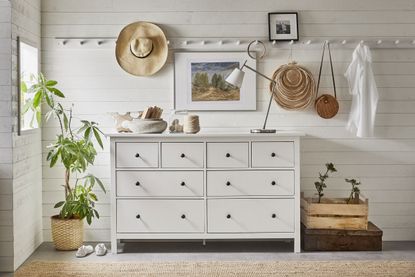 (Image credit: Ikea)
Whether you're looking to earn money in return for old furniture or simply prefer to see it go anywhere other than landfill, Ikea has a solution.
The Swedish furniture giant has just announced plans to start a new service wherein it will buy Ikea furniture from homeowners that don't want it anymore, which they'll then sell in-store in a special second hand area (previously known as Bargain Corner).
Launching in stores in the UK and Ireland on Black Friday (November 27th), the scheme welcomes a host of furniture from display storage and cabinets to sideboards, dining furniture and bookcases.
While Buy Back is limited to furniture only, not all of the company's ranges are eligible, with certain items including upholstered pieces or outdoor furniture excluded from the scheme.
'The Ikea vision has always been to create a better everyday life for the many people which right now means making sustainable living easy and affordable for everyone,' says Hege Sæbjørnsen, Country Sustainability Manager at Ikea UK & Ireland.
'Currently, 45 per cent of total global carbon emissions come from the way the world produces and uses everyday products, so Buy Back represents an opportunity to address unsustainable consumption and its impact on climate change.'
Find our best-of buyer's guides and all the latest news on our shopping page
The scheme is relatively straightforward, too. Simply fill in an offer request here including the details of the item you wish to sell back to the company. Based on the information you provide, you'll receive an offer via a QR code.
Bring this code, along with the fully-assembled furniture to the store for inspection. Depending on the condition of the furniture, the offer will be matched or adjusted.
If your furniture is in 'as new' condition, you could receive back half of the listed cost of the item. Furniture with minor scratches will receive 40 per cent and well-used pieces could be exchanged for 30 per cent of the original price.
Payment is via an Ikea refund card that has no expiry date so you needn't feel rushed to use it on something unnecessary. Anything not resold in store, will eventually be recycled by the company.
With the environment and climate change at the forefront of the company's policies, the Buy Back scheme was conceived to help their commitment to be a climate positive business by 2030.
'Sustainability is the defining issue of our time and Ikea is committed to being part of the solution to promote sustainable consumption and combat climate change.' says Peter Jelkeby, Country Retail Manager and Chief Sustainability Officer Ikea UK & Ireland.
'With the launch of Buy Back, we are giving a second life to many more Ikea products and creating more easy and affordable solutions to help people live more sustainably.'
Buy Back launches in stores across UK and Ireland on Friday November 27th.
Ginevra Benedetti is Associate Editor on the Homes Content Team at Future. She has been writing about interiors for the past 16 years on the majority of Britain's monthly interiors titles, such as Ideal Home, Country Homes & Interiors and Style at Home, as well as Livingetc and of course, Homes & Gardens. This naturally lead her into writing for websites like HomesandGardens.com.