Nell Diamond's Hill House Home décor section is full of hidden gems
Yes, the Nap Dress reigns supreme, but Hill House Home's décor section is hard to beat too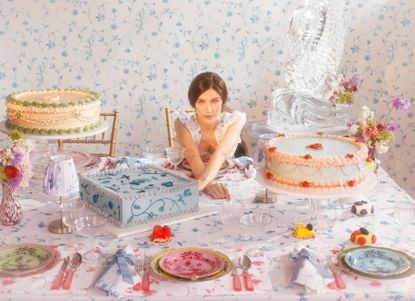 (Image credit: Hill House Home)
How Nell Diamond's female-founded brand Hill House Home (opens in new tab) was established is one for the books. After moving into her first adult apartment, the Ivy League grad had difficulty finding well-priced, thoughtfully sourced products that were beautiful.
While her goal – to create a little sanctuary that lifted her spirits after a long hard day of work – was understandable, she found it wasn't obtainable, or at least it wasn't until she created a bedding brand that did all of the above.
In 2016, Diamond set out to balance aesthetics and design and establish home décor that brings little joy into every consumer's life.
Fast-forward nearly six years later, Hill House Home has evolved from something more than a brand to dress your best mattress up in – now offering a range of categories spanning everything from bed to baby, and, of course: the nap dress.
Yes, while the Nap Dress (opens in new tab) is the most talked-about piece in her company – she sold nearly a million pieces in under 12 minutes – when it comes to our personal preferences we prefer her whimsical home décor selections over anything else.
And, why is that? Let us show you.
5 Hill House Home favorites to elevate your homes
From whimsical strokes of botanical flowers to ethereal bows, Hill House Home and their home décor section are full of hidden gems, and these five are on the top of our list.
1. Start by setting the scene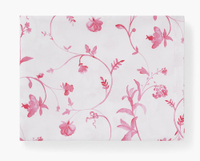 (opens in new tab)
Botanical Tablecloth (opens in new tab) for $100, at Hill House Home
No matter what's on the menu, this botanical tablecloth (opens in new tab) will set the scene. Available in both a rectangular and circle pattern, you can opt for the softer rose-hued printed floral arrangement or go a bit darker with the blue botanical rendition; either way, it's the timeless tablecloth you'll repeatedly be reaching to use.
2. Retire to this silk selection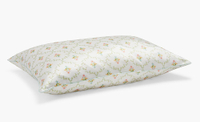 (opens in new tab)
Sisi Silk Pillowcase (opens in new tab) for $85, at Hill House Home
Inspired by 17th-century French textiles and delicate garden trellises, this print (opens in new tab)sold out almost instantly last February. Fortunately, it's back once more, and we're in for a treat. Pair with the silkiest bedding or double points and score the matching dress (opens in new tab): either way, this pillow will reduce frizz and breakage when retiring to it every night.
3. Add a tailored touch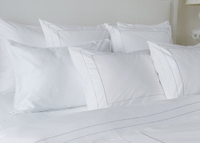 (opens in new tab)
Chancery Lane Bed Set (opens in new tab)starting at $825, at Hill House Home
The only way to dress up the best mattress is by wrapping it up in this tailored set (opens in new tab). Shoppers will receive two pillowcases, two euro shams, a fitted sheet, a top sheet, and a duvet cover. Each item is crafted from 100% percale and has a crisp matte finish with a monogrammed feature, too.
4. Treat tabletops to these delicate details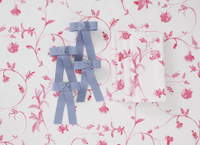 (opens in new tab)
The Dinner Party Set (opens in new tab) starting at $250, at Hill House Home
After investing in the best outdoor furniture, the next course of action would be to scoop up this dinner party set. (opens in new tab)Featuring Hill House Home's favorite Nap Dress print, the 100% cotton selection offers four or eight napkins, napkin rings, and one rectangular or round tablecloth, all available in two different shades.
5. Update your outdated towels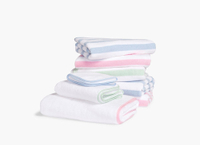 (opens in new tab)
Sankaty Bath Towel Set (Set Of 4) (opens in new tab)for $200, at Hill House Home
Add a pop (or some pops) of color to your bathroom by investing in this four-piece set (opens in new tab). Featuring three different color variations, shoppers can monogram this all-inclusive option to elevate any outdated towel collection.
Brittany Romano wrote for Homes & Gardens as a U.S. Shopping Editor. A graduate of New England College, Brittany started her career as a freelance fashion market assistant at Marie Claire. She later joined AMI, where she designed a highly profitable commerce vertical. Noted for her award-winning content, she's covered everything from celebrity beauty hacks to the most lavish home decor.