An irresistible buy: Bialetti x Dolce & Gabbana Moka Pot Review
As a barista, I can't stress this enough: the Bialetti x Dolce & Gabbana Moka Pot will take your coffee rituals to the next level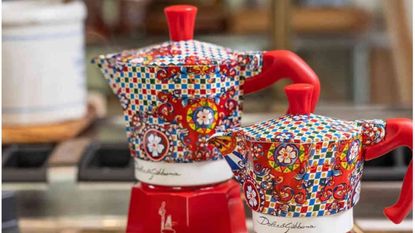 (Image credit: Minimax)
Not only is this moka pot stunning, it makes a beautiful cup of coffee. It's easy to use, incredibly stylish, and will infuse your coffee rituals with extra levels of Italian style.
Reasons to buy
+

Eye-catching and beautiful

+

Feels premium

+

Makes great coffee

+

Easy to use
Reasons to avoid
-

Handle isn't the most tactile

-

Expensive

-

Small capacity

-

Have to rinse before the first use
You can trust Homes & Gardens. Our expert reviewers spend hours testing and comparing the latest products, helping you choose the best for you. Find out more about how we test.
Sign up to the Homes & Gardens newsletter
Decor Ideas. Project Inspiration. Expert Advice. Delivered to your inbox.
Thank you for signing up to Homes & Gardens. You will receive a verification email shortly.
There was a problem. Please refresh the page and try again.
The iconic fashion house Dolce and Gabbana have teamed up with Bialetti, renowned for making some of the best moka pots on the market.
Yet I was very skeptical when I first saw this moka pot. Dolce and Gabbana have teamed up with some of our favorite brands before, but it's almost always been expensive. For example, their collaboration with Smeg a couple years ago produced a $800 toaster, and – hold onto something – a fifty thousand dollar refrigerator.
However, this moka pot is one of the few affordable Dolce and Gabbana crossovers. While looks certainly aren't everything when it comes to coffee, the vibrant red pattern pays tribute to the colors and landscapes of Sicily. It's an eye catching without being garish.
As a barista, I was really looking forward to making some retro coffee at home and this didn't disappoint. This simple coffee maker was styled to be seen and designed for a discerning coffee drinker. It looks stunning and makes really great coffee, but there's a lot more to love.
Specifications
Swipe to scroll horizontally
| | |
| --- | --- |
| Dimensions | 6.3 x 4.7 x 8.5 inches |
| Weight | 32.5 oz |
| Capacity | 3 or 6 cup |
| Materials | aluminium and thermoplastic |
| Cleaning | Hand wash only |
| Compatible with | Gas, electric and glass ceramic stovetops, induction with an induction plate |
Unboxing
I'll be honest, it was love at first sight with this moka pot. It comes in a beautiful box, nestled in premium, printed tissue paper. This is all recyclable, so ticks the environmental box, but it's almost too beautiful to throw away. I would happily sit this on display and never touch it (except that it makes such good coffee). Dolce & Gabbana, in their classic style, scattered Sicilian Cart motifs across the striking, chequered pattern. These artful takes on cartwheels look beautiful, creating a distinctly Dolce & Gabbana aesthetic.
But before getting started with this moka pot, you have to give it a rinse and run some coffee for it before you taste any. That's because the manufacturing process means there were some aluminum flakes in the moka boiler, which I didn't want to add to my coffee. It's understandable, and a good safety process, but it feels a little wasteful.
Who would it suit?
If you're designing a coffee station, this is all you need. The design is all about aesthetics, but they haven't designed it in any way that compromises the coffee flavors. This easy to use moka pot made strong and smooth brew.
You definitely pay a premium for the appearance; I wouldn't say it makes any better coffee than a normal Bialetti, which you could buy on Amazon for around $40. But sometimes your eyes desire more than tasty coffee.
What was it like to use?
Moka pots are generally straightforward to use and this is no exception. I poured three cups of filtered, room temperature water into the boiler. Some people add water from the kettle, but this speeds up the extraction process, so you won't extract the full flavors from your grounds. There's a safety level on the inside that you won't want to exceed; the top won't screw on properly and your coffee will taste weak.
I added freshly ground coffee to my moka funnel without pressing down. Don't use the finest grind on your coffee grinder, because these will make a grainy coffee. The rest was easy. I placed the funnel onto the boiler, screwed on the top and found that it's impossible to screw the boiler to the body without having the Dolce & Gabbana label facing forward. This might sound superfluous, but when you have an eye for detail, it's infuriating when lids don't match up with writing. This is one of many subtle, but premium touches.
I placed the moka pot on the lowest gas setting. When the coffee had risen into the collector - mine took a few minutes - it was ready to pour. Like other moka pots, it isn't suitable for an an induction stovetop unless you buy a special converter. Thankfully, Bialetti makes an excellent one which you can buy on Amazon.
The whole moka pot gets hot, but the handle is heat resistant plastic, so you can hold it. If the six cup moka pot is full, this can feel quite heavy and it's not the most comfortable to grip on to, but if you're just pouring cups of coffee it's fine.
Only pour the coffee into your cup when you're ready to drink. You'll be able to savor that fresh coffee taste much more. My coffee was strong, smooth, and beautifully chocolatey. I used the Bialetti hazelnut coffee grounds which tasted really sweet and nutty, but Dolce and Gabbana also seel their own brand of ground coffee, Sicilian Carretto Perfetto Moka Irresistibile. You can grab a tin of this if you buy the moka pot directly from Dolce and Gabbana. My editor Alex has tried this branded coffee and loved it – it has amazing chocolate and cinnamon notes.
However, both three cup and six cups capacities are pretty small coffee makers. It tastes amazing, but you'll only ever make enough for a mug of coffee.
Cleaning, Storage, and Maintenance
This is easy to clean, as most moka pots are, but if you want to preserve your moka pot's appearance, I would recommend washing all parts by hand in warm soapy water, This will be much more gentle on the paint.
It's small and compact for storage, but it looks incredible on a countertop. If you're styling your kitchen, I would leave this out as a focal point. It's a stunning moka pot that can be displayed with pride.
How does it rate online?
This a new release so there aren't many reviews online. Almost all the ratings are five star. People love the statement style, which they say gets commented on by guests. It's perfect for Americanos and lots of people enjoyed the smooth tastes. I was surprised at how many people were ready to invest in this as a gift for someone else. It's expensive, but clearly worth it.
Some people found that the handle gets quite hot. If this happens for you, make sure that the gas isn't coming up the sides of your moka pot. This is the most common reason for the handle to heat up.
How does it compare?
Moka pots are all very similar. This is almost identical to other Bialetti moka pots, except for the appearance. the only difference is the price, by a factor of ten. If you're willing to spend on a designer moka pot, I think this is worth it.
Some people prefer Grosche Milano's moka pot, which you can buy at Walmart for just over $30. This biggest difference is the silicone handle. This is comfier to hold, solving my only gripe with the Dolce & Gabbana moka pot. It comes in the same capacity and makes really similar tasting coffee.
I thought the Dolce & Gabbana moka pot felt premium and quite heavy, but some Grosche fans say that Bialetti moka pots feel flimsy in comparison. Grosche moka pots are heavier, which could correlate to quality, but I didn't think the Bialetti felt cheap. The handle on the Grosche is better, but I prefer a lighter moka pot anyway.
Should you buy it?
This pot is beautiful. I caught myself showing it to all of my family and friends, because that's the kind of coffee product it is. It's made to be gazed at. The fact that it brews a delicious cup of coffee is – almost – secondary.
How we test
Before we recommend any product, we test them in our dedicated test kitchen or in our homes. I loved living with this moka pot in my house for a week and have missed it ever since. I used it to make my morning coffee every day, so that I could get a sense of how it would fit into the average coffee drinker's daily routine. I made notes on everything, from unboxing, to cleaning, and, of course, the coffee flavors. If you would like to know more, you can read our how we test coffee makers page.
Sign up to the Homes & Gardens newsletter
Decor Ideas. Project Inspiration. Expert Advice. Delivered to your inbox.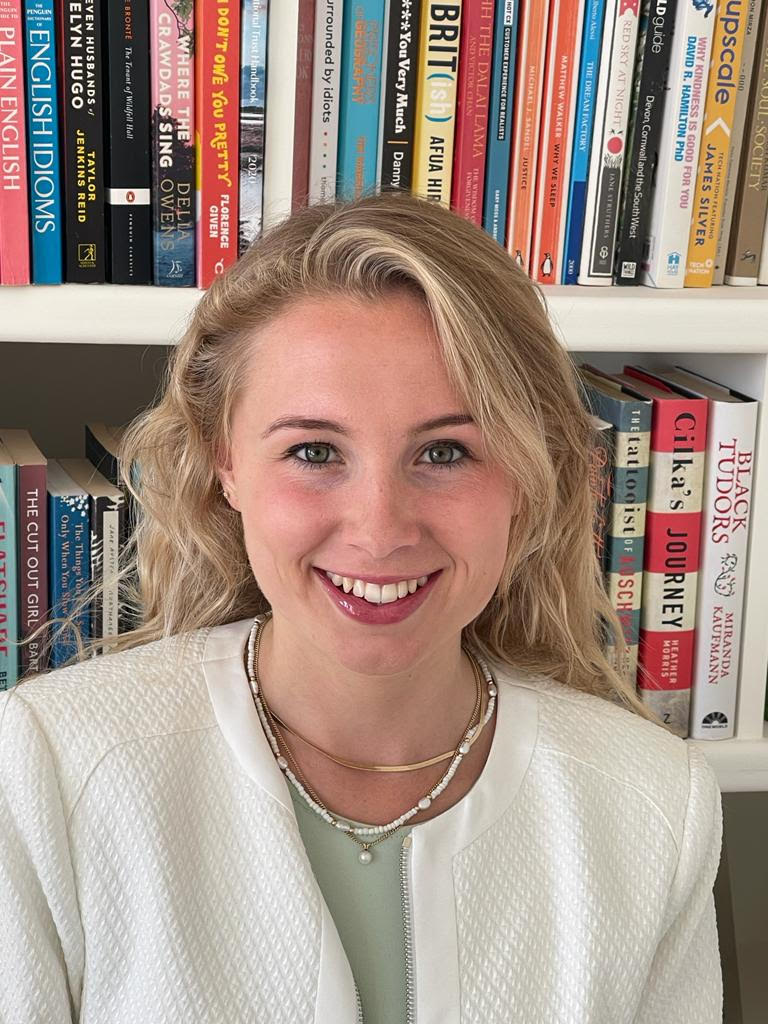 Laura is our eCommerce editor. Before Homes & Gardens she studied English at Oxford University. Alongside her studies, she qualified as a barista and trained as a master perfumer. This makes her our certified expert for all things coffee, candles, and fragrance. She has passed our five-step tests to become a certified Customer Advisor, making her our resident expert. Laura has worked for luxury retail brands, reinforcing the importance of quality and style over quantity and fads. She looks for products which have been designed with thoughtful finishes.