Instant Pot Duo Crisp with Ultimate Lid review: is this their best multicooker yet?
Instant Pot has outdone itself with its latest and greatest multi-cooker that really can do everything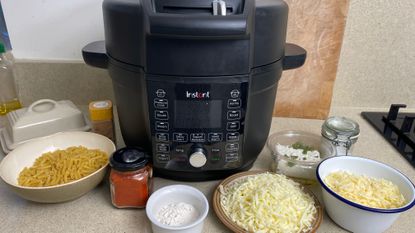 (Image credit: Helen McCue)
The Instant Pot Duo Crisp with Ultimate Lid is the most versatile multi-cooker you can buy from Instant. It offers everything you could possibly want and more, from slow cooking to air frying, pressure cooking to roasting. It does all this while being effortlessly easy to use. It cooks great food and I love it.
Reasons to buy
+

Automatic pressure release

+

13 cooking functions

+

Instant Pot's top-of-the-range model

+

Simple settings

+

Easy one-pot cooking
Reasons to avoid
-

Cooking pot isn't non-stick

-
You can trust Homes & Gardens. Our expert reviewers spend hours testing and comparing the latest products, helping you choose the best for you. Find out more about how we test.
Instant Pot is the original multi-cooker, so when its rival Ninja launched a one-lid model that can perform all cooking functions without switching lids, I was waiting to see when and if Instant would do the same. Happily, just a few months later it launched the Instant Pot Duo Crisp with Ultimate Lid.
With 13 cooking functions and no need to switch lids, this is the most advanced Instant Pot to date. And yet, it's not vastly more expensive than previous models, which is refreshing. In fact, it's not even the most costly Instant Pot you can buy, though this is in part because the 6.5-quart capacity means it's not the largest.
I was itching to get my hands on this model and it didn't disappoint, though it should be noted that there's an inner lid insert that has to be removed and replaced depending on the function you're cooking with. So, Instant Pot hasn't quite managed to create a true one-lid model like its rival, but it's still a lot better than working with two bulky lids, and my new favorite model among the best Instant Pots.
About this Review
About this Review
Helen McCue
Helen has a background in Home Economics, and as such food and cooking form the backbone of her varied 20-year career. She is a freelance writer specializing in home appliance reviews, but she's most at home when trying out the latest kitchen gadgets.
She tried this Instant Pot at home for several weeks, making meals for herself and her husband, as well as batch cooking and filling up the freezer. Instant sent her this product for the review and allowed her to keep it afterwards.
Instant Pot Duo Crisp with Ultimate Lid Product specs:
Power: 1,500 Watts
Dimensions:13.4 x 15.4 x 15.5 inches
Capacity: 6.5 Quart
Modes: Pressure Cook, Sauté, Steam, Slow Cook, Sous Vide, Yogurt, Warm, Air Fry, Roast, Broil, Bake, Dehydrate, Proofing
Accessories: stainless-steel cooking pot, steaming/ air frying rack
Who will the Instant Pot Duo Crisp with Ultimate Lid suit?
Anyone who is yet to be convinced by multi-cookers. If there's ever a multi-cooker that'll convince you it's this one. At the risk of sounding dramatic, it has the power to change the way you cook forever. One-pot cooking is addictive, especially when you have 13 cooking functions to choose from.
People who are scared of pressure cooking. There are three steam release options and you select the one you want via a button on the control panel at the start of cooking. After that, you can walk away until the display tells you it's safe to open the lid. It's so hands off you'll barely even realize you've been pressure cooking.
Anyone looking for the best Instant has to offer. This is the newest development from Instant, so naturally, it features all the latest innovations and smart technology. Clever sensors detect when the lid isn't locked properly or when the pressure cooking insert needs removing. It walks you through everything with clear alerts on the screen – it's very user-friendly
Unboxing the Instant Pot Duo Crisp with Ultimate Lid
I wasn't surprised that this new model came in a chunky box, but having unboxed many Instant Pots in the past, I was surprised by the foam inserts protecting it inside the box. Instant Pots usually come with fully recyclable cardboard packaging, so I was a little annoyed that this one doesn't.
It lifts out of the box pretty much fully assembled and ready to go. There are not loads of accessories which for me is a relief since I don't have much spare storage space, but there are plenty of optional extras to buy online if you feel the need.
There's the usual stainless-steel inner pot and I'll admit, I was surprised that this hasn't been upgraded to a non-stick version. But, having said that, these stainless-steel pots are long-lasting and durable. Since I was reviewing this in the UK, my model came with an air frying basket. The US model comes with a slightly different air fry/ cooking rack. I've no idea why the two models are the same in every other way but come with a slightly different accessory, but it serves the same purpose.
The only other part in the box is the pressure cooking cover; it's essentially an insert that clips to the inside of the lid. It's the way in which Instant has managed to create the one-lid design while incorporating so many functions. It clicks easily into place and there's a button and a finger loop for removing it. And the best part is, for the avoidance of doubt, the screen tells you when to insert or remove it.
There's not really a user manual in the box, just a safety manual with QR codes that take you to the online manual and recipes. This is fine by me, but it'll definitely frustrate people who like a manual to flip through.
First impressions of the Instant Pot Duo Crisp with Ultimate Lid
I've reviewed several Instant Pot multi-cookers and this one is distinctly different in its appearance. The all-black curvy plastic exterior is unlike the models that have come before it. I actually like the matte black plastic finish, but I can see how it might be too plasticky for some people's taste.
Another big difference is that the lid is hinged and there's a sliding bar at the front of the appliance to lock it. Again, this is a smart machine and it'll tell you when it's necessary to slide the bar across to the locked position, these reassuring notifications mean you can't get it wrong.
The next thing I immediately noticed was the lack of any steam release controls on the lid. When pressure cooking, the steam release is fully automated, you just select one of three options when programming it to start and it takes care of the rest. So for anyone nervous of pressure cooking, this model simplifies the process and allows a completely hands-off pressure cooking experience.
Each of the 13 functions has its own button on the flat touch control panel. Then, once you've selected the cooking function, time and temp buttons allow you to adjust the settings using the central dial. And as I said, the display walks you through any necessary steps, such as when to lock it and when to insert the pressure cooking cover. I think it's the most intuitive Instant Pot to-date and it's fast becoming my new favorite.
Roasting Chicken
I started big and decided to roast a whole chicken. And while I did toy with the idea of cooking it purely using the roast setting, in the end, I opted to pressure cook it first before roasting it to brown and crisp the skin. Everything I read online indicated that this would be the best way to create a deliciously moist and succulent chicken. So I found this recipe and though I didn't follow it fully, I based the time and temperature settings on those stated in the recipe.
My chicken was about 3 ½ lbs, I put it in the air fry basket and added two cups of water. I set it to pressure cook for 20 minutes and selected the pulse pressure release. It took 12 minutes to preheat and the pulse release added a further six minutes to the total time. But I love that it releases the pressure automatically and alerted me when the lid could safely be opened.
Once the pressure cooking part was done, I tipped out the liquid and smothered the skin in oil and spices. Then I closed the lid and put it on roast at 400oF. I checked it after 20 minutes and decided to leave it for a further 10. The spices on top burnt slightly but the skin crisped up nicely. My husband was astonished at how juicy and tender the meat was, so I'll definitely cook it this way again in the future.
Pressure cooking potatoes
I read somewhere that it doesn't matter what quantity of potatoes you're cooking, as long as they are just covered with water they will pressure cook to perfection. I was making a big batch of mashed potato so I had about 6 ½ lbs of potatoes and this pretty much filled the pot to the max line.
Though the timer was only set for 12 minutes, the preheat was a lengthy 29 minutes due to the volume of food in the pot. I'd set it to quick pressure release, and this was the only time that I saw water splatter out of the steam hole. Again, I think it's because it was filled to maximum, but there was a fair bit of splashing so I was happy I saw it and could wipe up the splashes on the counter and wall.
It was worth it though, the potatoes were the perfect texture. They were so soft that mashing was effortless, but they hadn't started to break down and take on water, the resulting mash was delicious.
Pressure cooking broth
As someone who hates food waste, I always boil up the chicken bones into a broth that can be used in soups and sauces, this way I feel like I'm using up every part of the chicken. So this time, instead of letting it bubble on the stove for an hour or so, I thought I'd try pressure cooking.
I added all the chicken bones, six cups of water, and seasonings to the pot. I set it to pressure cook for 10 minutes. The preheat took 14 minutes before the timer started counting down. But I set the pressure release to natural, so I intended to leave it all in the pot until it had cooled down.
When I came back to it a couple of hours later, I had a tasty chicken broth and I'd been able to go about my day, without watching over a pot on the stove, so it was super low maintenance.
Pressure cooking a curry
My next tasty creation was a chickpea curry using dried chickpeas. I started off by sauteing onions, garlic ginger, and spices. There are six heat levels to choose from when sautéing. I opted for level four which seemed to be the right amount of heat.
After adding the chickpeas and the liquid ingredients like broth, cream, and a can of tomatoes I closed it up to pressure cook. I set the timer to 50 minutes and selected natural pressure release. The whole process including the preheat and pressure release took around one hour and 40 minutes. I opened it up at the end to check the chickpeas were cooked and then closed it and let it sit for another couple of hours.
When I came back to it – about 4 hours after I originally started cooking, it was still warm enough to eat (the keep warm function wasn't even on) and the flavors were rich and warming. The chickpeas were cooked but they hadn't over-softened or broken down, so there was plenty of texture.
Making Mac & Cheese
I was excited about this one. Usually, my homemade mac & cheese requires pots on the stove and then a different dish in the oven and there's quite a lot of cleaning up afterward. I followed this recipe which Instant developed specially for this new Instant Pot.
It involved using the sauté function to make the sauce, followed by pressure cooking to cook the pasta, and then it gets finished off with the broil function for a golden crisp topping. I followed the recipe exactly, I only modified it slightly by adding some panko breadcrumbs at the end for an even crisper topping and to soak up some of the oil from the cheese.
This recipe was so easy and it worked perfectly. It's the easiest homemade mac and cheese I've ever created. I only wish I'd made extra. We must be greedy in our house because the recipe is supposedly for 4-6 people but we managed to get three servings from it! The best part is that it was all in one pot so there was way less to clean at the end.
Slow cooking Chili
I found a vegan bean chili recipe designed for a slow cooker. There was no sauteing involved, I just had to throw all the ingredients into the pot and set it to slow cook on low for eight hours. It bubbled away all day and when it was done, the sweet potato had broken down to thicken the sauce and the spices had developed a warm and tasty flavor.
I left it on keep warm while I went to the gym and came home to a yummy chili bowl for my dinner, it felt like I hadn't done any cooking, which is the dream.
Air frying bacon
I used the air fry setting to cook some bacon and it worked just as well as my usual standalone air fryer. The preheat only took two and a half minutes and the bacon was ready to eat with crisp rendered fat in just seven minutes, a great result.
Cleaning the Instant Pot Duo Crisp with Ultimate Lid
The good news, the removable parts such as the pressure cooking lid and stainless-steel pot can be washed in the dishwasher.
As I mentioned earlier, the stainless-steel pot isn't non-stick and there will be occasions when food sticks to it. When this happened, I simply filled it with hot water and dishwashing liquid and left it to soak, to make it easier to clean by hand. The pressure cooking lid is a little more fiddly to clean, but to be honest, it didn't really get that dirty, and generally, a quick wash with a soapy sponge did the trick.
The black plastic exterior sometimes marks with greasy fingerprints, but they wipe away easily with a lightly damp cloth. Likewise, the inside of the hinged lid will need an occasional wipe. And there's a little cup round the back that collects condensation, you just have to remember it's there and it'll need emptying and rinsing frequently.
How does the Instant Pot Duo Crisp with Ultimate Lid compare to other Instant Pots
The most direct comparison is the one-lid range from Ninja, like this Ninja Foodi 14-in-1 8-qt. XL. The Ninja model offers a similar set of functions and features, but there are differences. The Ninja has a larger 8-quart capacity and offers some innovative steam and crisp combo functions. It also includes a unique meat thermometer that allows you to select how you want your meat cooked. But all these extras come with a higher price tag and it'll cost you around $350, a significant chunk more than the Instant Pot.
Alternatively, if you want all the functions offered by the Ultimate lid, but you don't mind switching lids occasionally, you could opt for the Instant Pot Pro Crisp. You will need storage space for whichever lid you're not using, and it does cost an extra $20 but it has a large 8-quart capacity. Unfortunately, though, it doesn't come with an automatic pressure release.
The Instant Pot Duo Crisp + Air Fry is the most economic option from Instant if you still want air fry and roast functions included. Like the Pro Crisp, it has two lids and an 8-quart capacity. But considering it's only $30 cheaper than the Ultimate lid model, the larger capacity is really the only reason I think you'd want to choose it.
Finally, if you don't necessarily require the bells and whistles that come with the Instant Pot Duo Crisp with Ultimate Lid, the Duo or Duo Plus are extremely versatile and can often be found for under $100.
Instant also offers an easy comparison chart to decipher among the six different models currently available.
Should you buy the Instant Pot Duo Crisp with Ultimate Lid?
If you're considering an Instant Pot, this is the best you can buy. It's the easiest to use and offers the most cooking functions, so it has maximum versatility. And if you want a top-notch multi-cooker that can do it all, this is the best one you can get from Instant.
It's a shame the cooking pot isn't non-stick, but that's really my only grumble. It's a fantastic appliance that'll not only be a useful addition to your kitchen, but it's also likely to revolutionize your cooking. I've already used it a lot and yet I feel like I've only scratched the surface in terms of what it's capable of. I can't wait to try out more meals in mine.
Instant Pot Duo Crisp with Ultimate Lid: Where to buy?
Sign up to the Homes & Gardens newsletter
Decor Ideas. Project Inspiration. Expert Advice. Delivered to your inbox.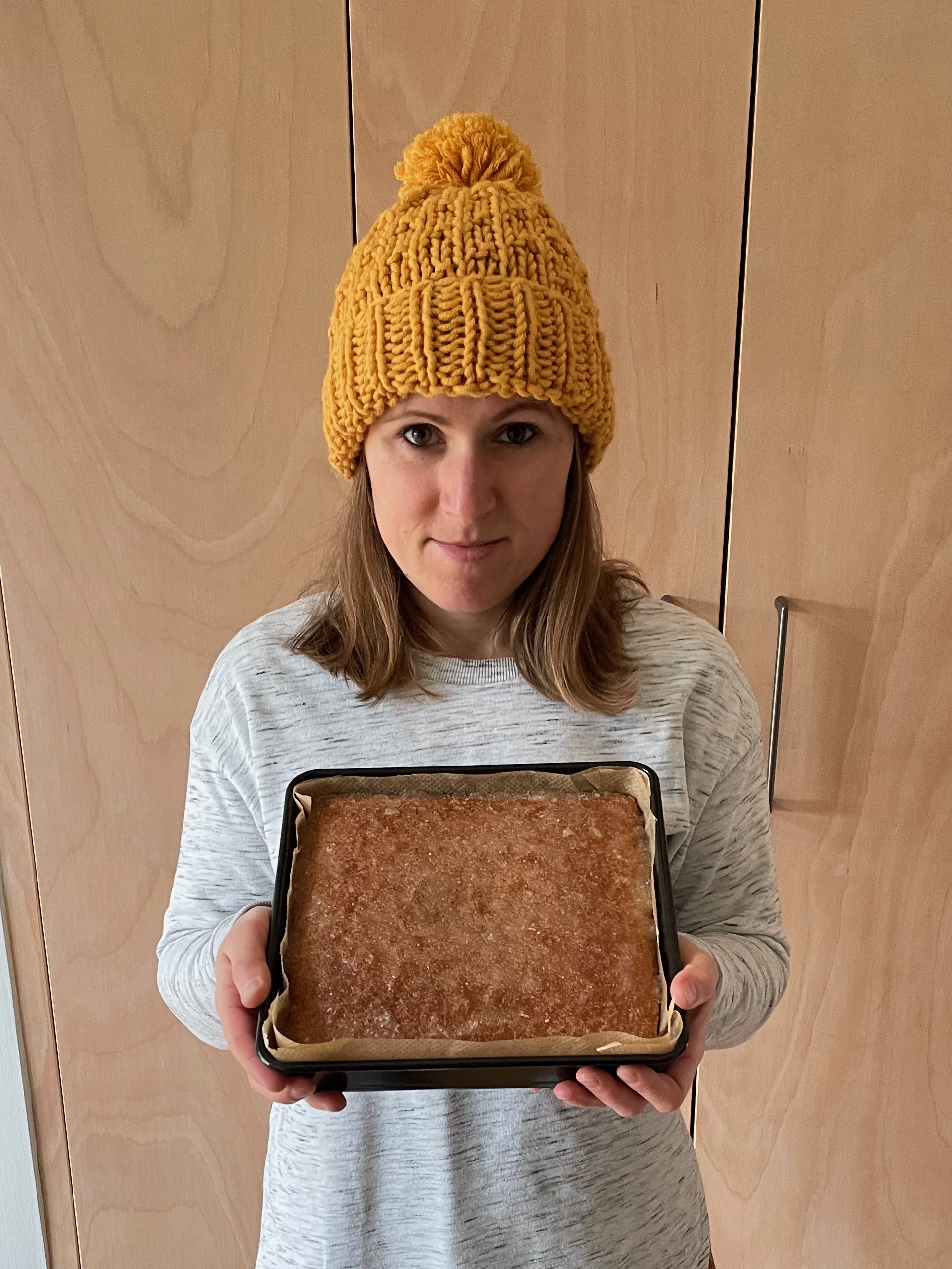 Helen McCue is a freelance contributor who trained as a Home Economist. After starting her career in the food industry, she moved into home appliance reviews, utilising her cooking skills and experience to put all kinds of products to the test, and over the years has reviewed hundreds of home and kitchen appliances for a variety of publications.
Having completely renovated her current house, Helen reviews kitchen appliances from her open plan kitchen at home in a beautiful Berkshire village. When she's not working, Helen can be found enjoying the local countryside or dreaming about her next house renovation project.