Instant Pot Pro Crisp review
We put the Instant Pot Pro Crisp to the test in this review. Is Instant Pot's most premium multi-cooker also its best?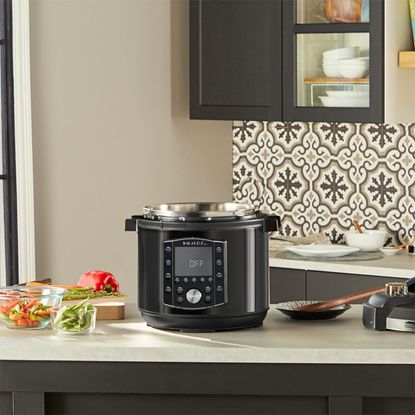 (Image credit: Instant Pot)
The Instant Pot Pro Crisp is Instant Pot's most premium multi-cooker, with an air fryer lid and straightforward digital controls. We used it to make fries, bolognese, and an pressure cooked chicken, and here's what we thought.
Reasons to buy
+

Pressure cooking is safe and easy

+

Heatproof silicone handles on the pot

+

Can be used on the stovetop or in the oven

+

Extras are dishwasher-safe
Reasons to avoid
-

It's the brand's most expensive option

-

You will need lots of storage space

-

Recipes may need to be adjusted when slow cooking
You can trust Homes & Gardens. Our expert reviewers spend hours testing and comparing the latest products, helping you choose the best for you. Find out more about how we test.
In this Instant Pot Pro Crisp review we put Instant Brands' most premium model to the test. It has an air fryer crisp lid as well as the brand's classic pressure cooker lid, effectively doubling how much you can do in just one multi-cooker.
Once you've invested in the best Instant Pot, there is no limit to what you can do with it. When testing I made bolognese sauce, potato wedges, and a whole roast chicken, using many of the 11 cooking modes available with this machine. Not all Instant Pots come with an air fryer lid, but it came in particularly handy when making roast chicken because I could pressure cook and then air fry the chicken for crispy skin and juicy meat in under an hour.
The LED screen shows pre-heating, cooking, and keep-warm progress in real time to keep you tuned in with what's happening underneath the lid. Of course, because it has two lids, storing both can be a bit tricky. The addition of a heatproof protective pad makes the air fryer or pressure cooker lid easy to rest between uses. You can just rest your hot lid on it without having to worry about shielding your kitchen surfaces.
Instant Pot Pro Crisp review: specifications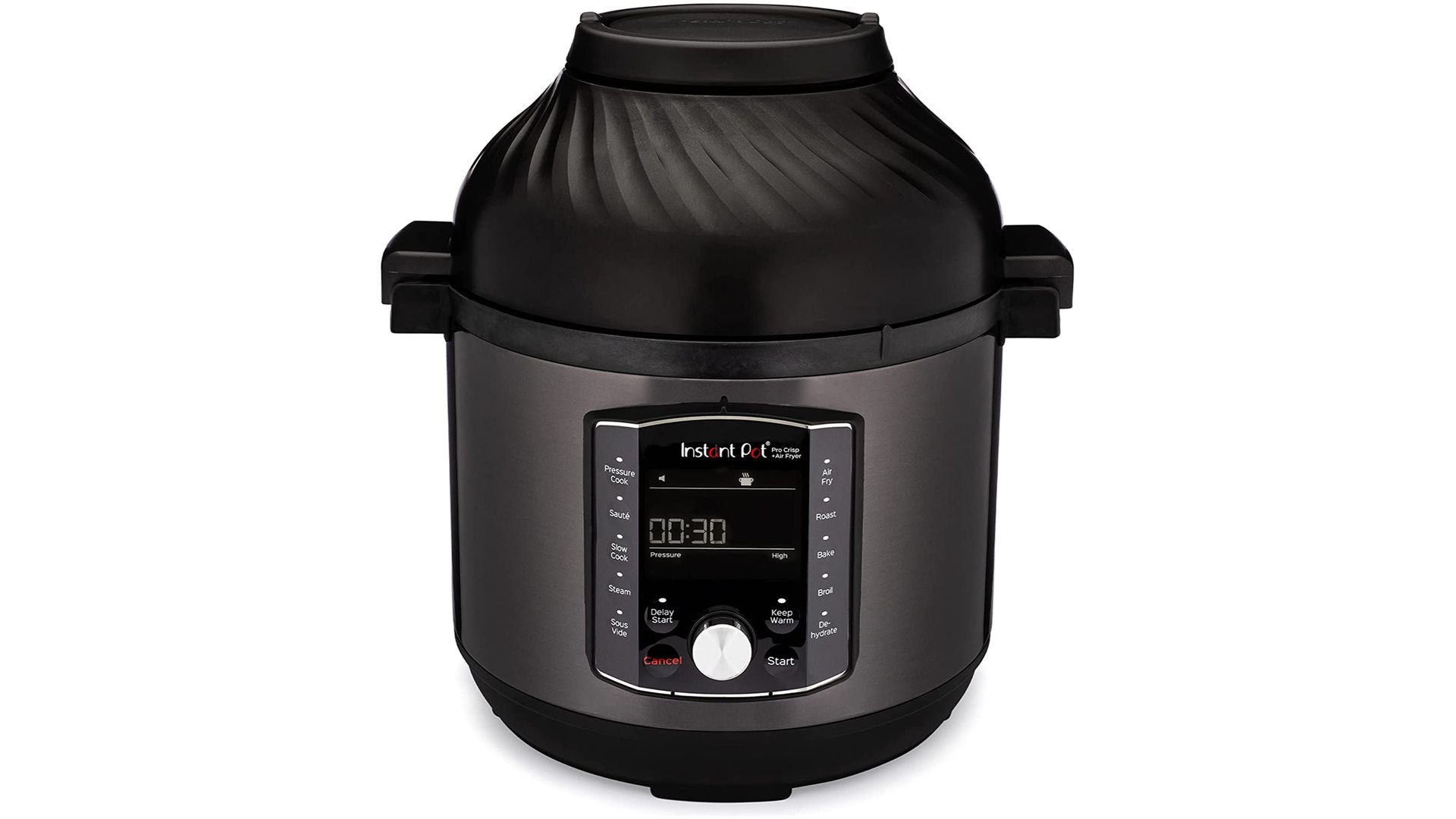 Capacity: 8 Quart
Cooking programs: 14
In the box: Air fry lid, pressure cook lid, air fryer basket, dehydrator insert, steam rack, protective pad
Modes: Pressure Cook, Sauté, Slow Cook, Steam, Sous Vide, Warm, Air Fry, Roast, Bake, Broil, Dehydrate
Power: 1,200 Watts
Dimensions: 15.35 x 12.57 x 14.78 inches
Instant Pot Pro Crisp: first impressions
The Instant Pot Pro Crisp is generously sized but not too heavy. It has a stainless steel insert pot that can also be used in the oven or on the stovetop, and thankfully it is dishwasher-safe. The pot has silicone handles which make it easier to lift out of the pot than many Instant Pots, and these rest in grooves at the side of the cooker, so the pot won't spin if you stir.
You can switch out the lid between air fryer or pressure cooker, and the machine comes with a resting pad that allows you to store hot lids safely while you're cooking, or once you're done.
Many Instant Pots come in a stainless steel finish, but the metallic black finish of the Instant Pot Pro Crisp is an elevated touch that makes it look as high-tech on the outside as it is on the inside. The LED controls show the pre-heating, cooking, and keep warm progress in real time, as well as displaying a timer when in use.
You can use the dial on the front of the multi-cooker to adjust temperature and timings. The control display shows ten pre-sets, including air frying, pressure cooking, broiling, baking and slow cooking. I tried as many modes as possible when reviewing the Instant Pot Pro Crisp, and was impressed by how easily they complement eachother.
Slow cooking
If you already own one of the best slow cookers, you may wonder if you even need an Instant Pot. Personally, I always like to brown my vegetables and meat before slow cooking. This adds plenty of flavor and makes sure that you get the most out of your ingredients. However, if your slow cooker doesn't have a stove-safe pot, it can be tricky to do. With the Instant Pot Pro Crisp I was able to brown my soffrito before adding minced beef and browning that too. I used the sauté setting to do this. Stirring was straightforward due to the handles which rested in a groove to prevent the pot from spinning.
Once I was happy with my sauté, I added bone broth, tinned tomatoes, bay leaves and some seasoning before adding the pressure cook and turning it onto the slow cooker mode.
I left it to slow cook for four hours on high heat, hoping to reduce my bolognese sauce down to a deliciously rich consistency. However, after the four hours I found that it was still a little watery. I have found this with many multi-cookers, because the pressure cook lid is designed to keep condensation inside the pot, which means you don't lose as much moisture in the cooking process. Next time I would add less bone broth before cooking.
Fortunately the bolognese sauce was easily fixed, thanks once again to the sauté mode. I switched the Instant Pot over to sauté and removed the lid, stirring as it bubbled away to cook off some of that residual sauce. After about 10 minutes I had my desired consistency, and was left with a lot less washing up than if I had used a slow cooker.
Air frying
It's great to combine your cookers into one device, but I was keen to find out of the Instant Pot Pro Crisp could really rival one of the best air fryers. For a start, its circular air frying insert has a much larger capacity than a regular air fryer, but this means your food will be further away from the heating element on the air fryer lid when cooking.
Having reviewed air fryers for over a year, I've got my potato wedge recipe down to a fine art. I tossed some wedged potatoes in a drizzle of oil and some paprika and herb seasoning, as well as salt and pepper, before adding them in to air fry for 25 minutes.
The handles of the air fryer basket are not heatproof, so when it came to shaking the fries mid-cycle, I had to use oven gloves. I was pleasantly surprised at the midway point though, because everything was very evenly cooked.
When using the pressure cooking lid on the Instant Pot Pro Crisp you need to twist it into place, but you simply drop the air fryer lid into place and press it down to secure it. This is easy to do thanks to the handle, and when shaking the fries I rested the lid on the heatproof mat to keep my table safe.
The finished result was definitely close to the results I've had in a standalone air fryer, although ever so slightly less crispy. I suspect this is down to the same issue I had when slow cooking, and that condensation was not able to escape from the cooking pot quite so easily.
To remedy this I would recommend leaving your potato wedges to soak in cold water for a while before cooking, and patting them dry thoroughly, to remove starch from the potatoes and lead to a crispier fry.
Cooking a whole chicken in the Instant Pot Pro Crisp
Instant loves to advertise that you can cook an entire chicken in their machines, so I knew I had to try it for myself in the Instant Pot Pro Crisp. I was pleased that my chicken had no difficulty in fitting into the pot. In fact, it even fit into the air fryer basket, which came in very useful for even cooking.
To start I rubbed my chicken in a herby butter, and then put on the pressure cooking lid into place. I pressure cooked it for just 20 minutes, and I was pleased to find that the pot did not take long to pressurize. I added some seasoned water underneath the pot to allow it to stay juicy, and after the chicken was cooked, I took off the lid and checked on the progress.
The chicken was very moisy but lacking in color, so I poured out the juices from the bottom of the pot (I used this to make a delicious sauce to pair with the chicken) and switched out to the air fryer lid.
After air frying for 20 minutes, the chicken had a much crispier skin and was still very juicy. While it's not the most attractive roast chicken I've ever made thanks to the pale skin, it was still very tasty indeed. The chicken was ready to eat in under one hour, which turned out to be a real time-saver, as the chicken was recommended to be cooked in an oven for one hour and 40 minutes.
Cleaning the Instant Pot Pro Crisp
The cooking pot, air fryer basket, and steaming rack can all go in the dishwasher, which makes cleaning the Instant Pot Pro Crisp review a lot easier than other brands. Because it's not non-stick, you may find cleaning the pot by hand a little trickier, but I prefer the durability of the stainless steel for day-to-day use.
Should you buy the Instant Pot Pro Crisp review?
If you are not deterred by the price and want a high-tech Instant Pot to make meal prep quick and easy, I would highly recommend the Instant Pot Pro Crisp review. It does take up a lot of space, especially because there are two lids to store, but it will save you the space that an air fryer takes up by offering all the capabilities in one smart machine.
Despite the higher price, I still think that this is one of the better Instant Pots you can buy. It sits neatly underneath kitchen counters, and looks the part with a sleek metallic black exterior. Of course, you might find that it will feature in our guide to the best Black Friday slow cooker deals this year, so keep an eye out for an all-rounder at a discount.
About this review, and the reviewer
Millie Fender is our Editor for all things small appliances at Homes & Gardens. She spends a lot of time testing everything from toasters to air fryers and recommending the very best ones to readers.
All our reviews are tested from home, and the Instant Pot Pro Crisp review is no exception. Millie tested it from August to November to fully make the most of all its capabilities before bringing you this review.
Sign up to the Homes & Gardens newsletter
Decor Ideas. Project Inspiration. Expert Advice. Delivered to your inbox.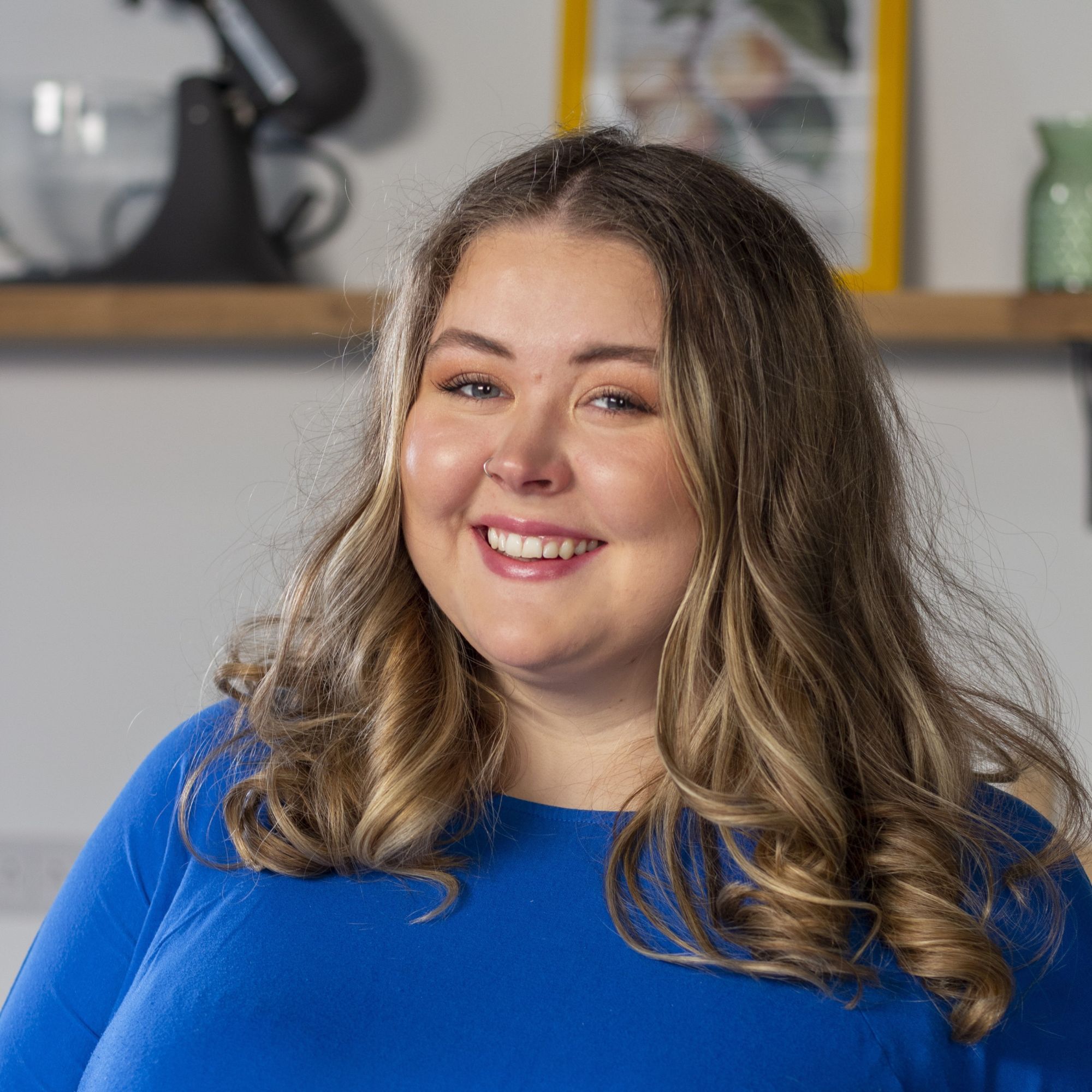 Millie Fender is Head of Reviews on the Homes and Gardens Ecommerce team. She specializes in cooking appliances, such as the best kettles, and also reviews outdoor grills and pizza ovens. Millie loves to bake, so she will take any excuse to review stand mixers and other baking essentials. When she's not putting products through their paces in our dedicated testing kitchen, Millie's reviews are conducted at home, meaning she uses these products in her own day-to-day life.