How much does it cost to install bathroom flooring?
Find out how much it costs to install bathroom flooring so you can pick the best material to suit your budget and style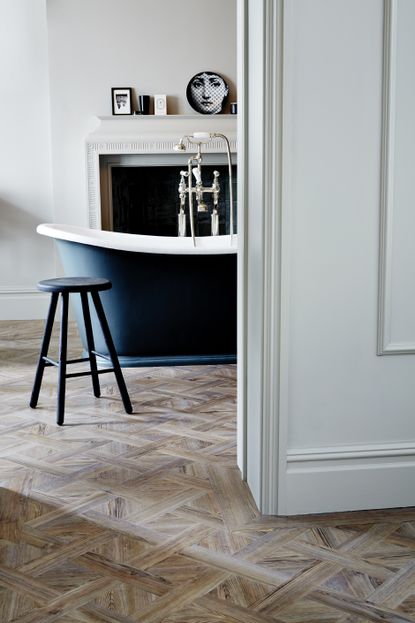 (Image credit: Amtico)
Sign up to the Homes & Gardens newsletter
Decor Ideas. Project Inspiration. Expert Advice. Delivered to your inbox.
Thank you for signing up to Homes & Gardens. You will receive a verification email shortly.
There was a problem. Please refresh the page and try again.
When it comes to planning a remodel, bathroom flooring installation costs are an important consideration – and not just for reasons of style and impact.
'Choosing the right flooring is crucial,' says Sarah Escott, Amtico design manager. 'Not only does it have to complement the design aesthetic, it also needs to withstand the trials that come from water and humidity.'
The good news is that there is wide variety of choice and price point, so there really is something for every budget, with plenty of bathroom flooring ideas that are hardwearing, easy to clean and maintain, as well as offering good slip resistance under foot.
How much does it cost to install bathroom flooring?
Like many bathroom ideas, it is worth considering the flooring at the beginning of your project, so that you have the time to make the best and most practical choice, and so that it can be installed before fittings are fixed into position. Below, we examine the installation costs for bathroom flooring.
Porcelain tile
Porcelain tile has become increasingly popular as bathroom floor tile ideas – including wet rooms - and for good reason. Available in a myriad of designs and colours, including realistic stone- and wood-looks, the material is durable, stain and scratch resistant and non-porous.
Widely available, prices start from a modest $2 per square foot (or £15 per square meter) rising to well over $13 per square foot (£100 per square meter), according to factors such as production techniques, formats, graphic repetition of design and finishes.
These Norway Forge Matt porcelain tiles, $14 per square foot (£80 per square meter) from C.P. Hart, are designed to have the look of natural stone without the maintenance requirements. Based on a blue-grey ornamental Ceppo di Gre stone from Italy, they feature an irregular pebble effect with an organic appeal that contrasts beautifully with the polished blue-green wall tiles.
Large format tile
Large format porcelain tiles have a more seamless, space-enhancing effect, since fewer grout lines will criss-cross the floor, but be aware that there may be more wastage in smaller spaces.
As technology has advanced, their price has become more competitive: these Silica Storm 47.2 x 23.6 inch (120 x 60cm) porcelain tile cost $7.26 per square foot (£58.80 per square meter) from Mandarin Stone making them similar in price to smaller, more 'standard' formats. This design also has a textured high grip finish making the tile particularly well suited to floors in wet areas.
Marble tile
Long known for their natural beauty, marble bathroom flooring ideas add an instant sense of luxury. It is one of the more porous natural stones, however, so does need careful on-going maintenance to protect it from stains and scratches; always consult your supplier for advice before purchase.
Simple subway tiles in Carrara marble cost around $17 per square foot (£137 per square meter), with prices rising for more elaborate designs in rarer marbles.
In this elegant bathroom, handcrafted Elite 15 flooring in Emperador Light and White Thassos marble, price upon request from Devon&Devon has been cut in a geometric pattern, for a contemporary take on a classic material. It is shown with a Nobel console, also by Devon&Devon.
Encaustic tile
The latest encaustic tiles are designed to give a modern spin to the classic Victorian tile. Made using artisanal methods, they tend to sit in the mid to upper price bracket. Interior designer Samantha Todhunter has recently collaborated with tile specialist Bert & May to create a joyful range designed to introduce playful color into bathrooms.
'They can be used in a multitude of installations – there are broad possibilities from a crisply simple pattern,' says Samantha. Ric Rac handmade encaustic tiles, $27.25 per square foot (£220.50 per square meter) are made using a blend of natural pigments, cement, sand and marble to create a 'perfectly imperfect' finish. They are suitable for floors and walls, and require sealing to protect against staining.
Patterned tile
There is a wealth of choice in designs to create impact on your floor, in a host of materials from cost-effective machine-made porcelain to pricier handmade tile.
The burst of color and pattern on the tiled floor of this elegant bathroom has been created using Promenade cement tile in Clover Wheel design, $39 per square foot (£318 per square meter). Sealing is recommended for bathroom use. They are shown with a Rowan double washstand and Architectonics handmade ceramic wall tile, all from Waterworks.
Mosaic tile
Mosaics tend to be a luxurious choice, from about $20 per square foot (£150 per meter square), with prices rising for hand-crafted and intricate designs in rare materials. The small size of the individual tiles makes them particularly useful for floors in shower areas, since they readily conform to the necessary slope to the water drain. The grout required between the tiles adds slip-resistance too.
This hand-cut Arbus stone mosaic floor is shown in polished Calacatta Radiance, Desert Sky, Nero Marquina, Carrara and honed Cavern. It is made to measure, prices on request, from mosaic specialist New Ravenna.
Vinyl tile
Vinyl bathroom flooring ideas are a cost-effective way to get the look of real wood or tile. Commonly made from multiple layers of vinyl, LVT (luxury vinyl tile) can be a hardwearing, cost-effective choice, prices from around $5 per square foot (£40 per square meter).
'LVT is a fantastic option for the bathroom, as it boasts water and stain resistant qualities,' says Sarah Escott, design manager at Amtico. 'It is particularly good for family bathrooms that are used by young children, as it is able to withstand frequent splashes during bath time, while offering slip resistance.'
LVT is widely available in wood and stone effects, providing the natural look without the extra care required for the real materials. This Signature Parisian Pine LVT in Basket Weave laying pattern costs from $9 per square foot (£71.99 per square meter) from Amtico.
Cork tile
'Made from the bark of the great cork oak in Portugal, cork is one of the few wooden floors that does not require trees to be cut down in the harvesting process,' explains Lena Corner, director of Colour Flooring. 'It is waterproof and has excellent natural insulating properties, so is perfect as a bathroom floor.'
Corka flooring, shown here, $6.50 per square foot £53 per square meter) from Colour Flooring is finished with a tough protective coating to make it stain resistant and easy to clean: simply sweep or vacuum, before washing with a damp cloth or well-wrung mop. It is supplied as planks which simply click together, and is designed to work well with underfloor heating.
Painted finish
To refresh tired floorboards or plain tiles, consider painting the floor. It is a budget-friendly solution, not least because you can do it yourself. Most paint manufacturers offer a tough formulation designed for use on floors: this checkerboard effect is created using Chalk Paint in Old Violet by Annie Sloan, $132 per gallon (£21.95 per liter), finished with a coat of Chalk Paint Lacquer, $176 per gallon (£21.95 for 750ml), for durability.
Wood flooring
The trend towards designing bathrooms with the same warm attention to detail as living rooms has brought wooden flooring into the spotlight. It can be used throughout a home, helping rooms flow seamlessly from one to another and adding natural character and rich color in each space.
But the dramatic fluctuations of moisture and temperature in a bathroom environment can cause problems, so most companies advise that you select engineered wood flooring made of a thin layer of real wood on top of a plywood base. This tends to be more stable than solid timber and able to withstand humidity, but always check with your supplier for suitability before purchase. Do not use in wet rooms or areas prone to lots of splashing.
This Habitation Great Hall Parquet engineered wood flooring costs $11 per square foot (£89.99 per square meter), shown with an Apollo basin in Forest Green, both from Claybrook.
What to pay for bathroom floor installation?
As an approximate guide, labor costs start from around $200 per day (£150 per day), but will vary according to area, choice of flooring and expertise required, and the size and complexity of your project.
Ideally, obtain several quotations for comparison. Check whether the quotes include sealant (if required), adhesives, grout and other installation materials, as well as area preparation and protection and clean up, in addition to labor costs.
How do I find an installer for my bathroom flooring?
Ask your flooring supplier for recommendations, as many showrooms keep a list of approved installers. Also consult friends and neighbors for their personal recommendations, and check local neighborhood websites, magazines and social media to prepare a shortlist. Meet, ask to see pictures of previous work, check references, consider their timescales and review quotations thoroughly before making your choice.
Sign up to the Homes & Gardens newsletter
Decor Ideas. Project Inspiration. Expert Advice. Delivered to your inbox.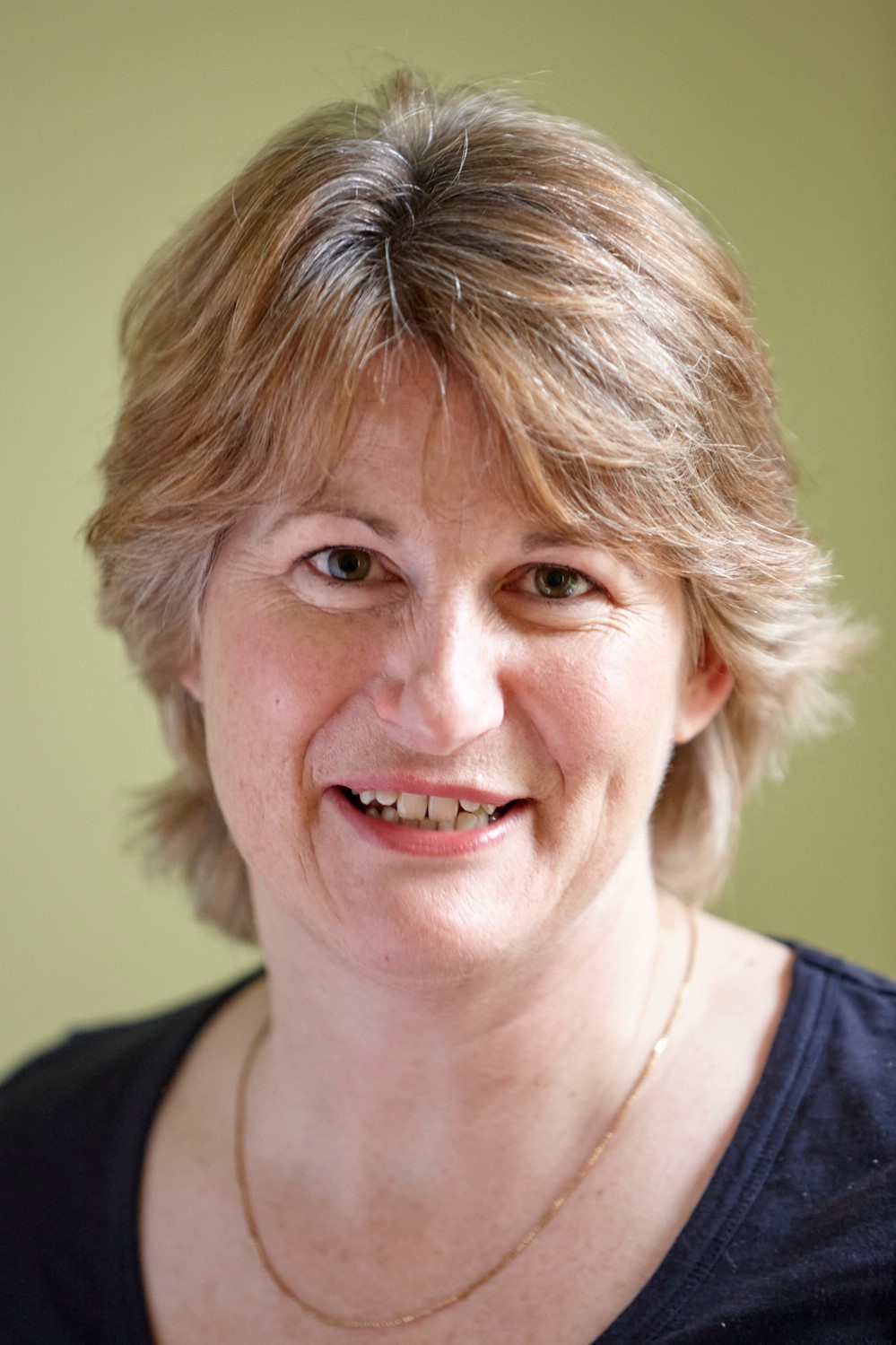 Amelia Thorpe is a specialist interiors and design journalist, covering every topic to do with homes from fabrics, furniture and lighting to surfaces, kitchens and bathrooms.
As the daughter of an antique dealer and a lifelong collector of old cookery books and vintage graphics herself, she also has a particular expertise in antiques, mid-century and decorative arts of all kinds.
Drawn to homes because of their importance in the happiness of our lives and the enjoyment they can bring, Amelia has been writing about the topic for more than fifteen years. She has interviewed some of the most influential designers of our time, from Piero Lissoni, Antonio Citterio, Jaime Hayon and Arik Levy to Nina Campbell and Robert Kime.